Instant PC: 10 Will Clark Cards That Help Tell the Story of His Career
With so many different base cards, subsets, parallels, memorabilia cards and autographs, building out a collection for a single player can be overwhelming.
Luckily, the 10-Card Instant PC article series is here to help.
There are more than 4,000 Will Clark cards, according to the Beckett database.
So where does one begin putting together a Will Clark PC?
These 10 cards serve as an excellent representation of his playing career and footprint on the hobby, making them a great place to start.
1. 1986 Topps Traded #24T Will Clark XRC
There was a window of time in the 1980s where cards in traded and update sets were not considered true Rookie Cards since they were only distributed in factory set form. The XRC distinction was removed following the 1988 product release, but Clark debuted during that time and he has three XRC cards in the 1986 Donruss Rookies, Fleer Update and Topps Traded sets. All three are worth grabbing, but it's the Topps Traded card that stands out as the must-own from the group.
Buy on: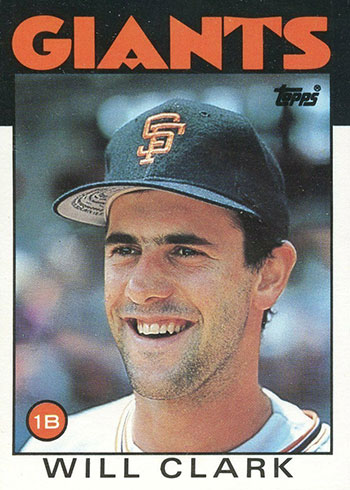 2. 1987 Donruss #66 Will Clark RC
The No. 2 overall pick in the 1985 draft, Clark debuted the following year and hit .287/.343/.444 with 11 home runs and 41 RBI in 111 games to finish fifth in NL Rookie of the Year voting. Since he had exhausted his rookie eligibility heading into the '87 season, he was not given the "Rated Rookie" distinction, but he's still one of the top rookies in an iconic set.
Buy on: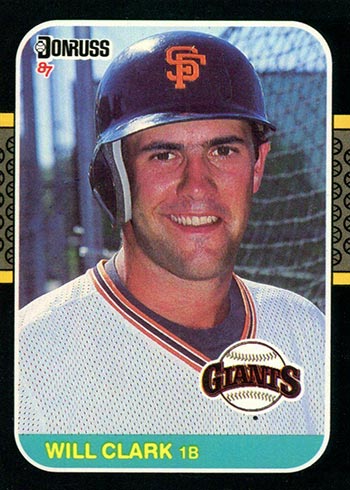 3. 1987 Fleer #269 Will Clark RC
The 1987 Fleer set has held its value as well as any mass-produced set from the Junk Wax Era thanks to a sharp design and a strong 1987 Rookie Card crop. Alongside Barry Bonds, Bo Jackson and Barry Larkin, the Clark rookie is one of the headliners in the set.
Buy on: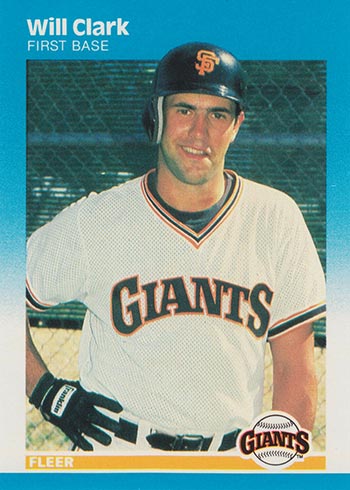 4. 1987 Topps #420 Will Clark RC
Who doesn't love the wood grain borders of the 1987 Topps set? Since it's one of the most overproduced sets of all-time, this Clark rookie can be had for the equivalent of loose pocket change, but it's still a no-brainer addition to round out his three major Rookie Cards.
Buy on: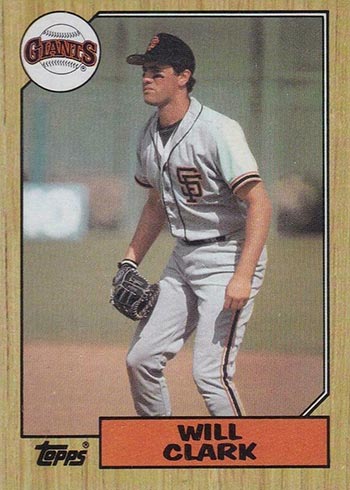 5. 1992 Donruss Elite #11 Will Clark
The 1991 Donruss release was largely panned as a forgettable set, but it did give collectors one of the first big insert sets to chase. The "Elite Series" inserts were a staple in Donruss flagship products from 1991 through 1998, with each card serial numbered to 10,000. Clark was part of the '92 set, and if there's a must-have 1990s insert to add to his PC it's this one.
Buy on: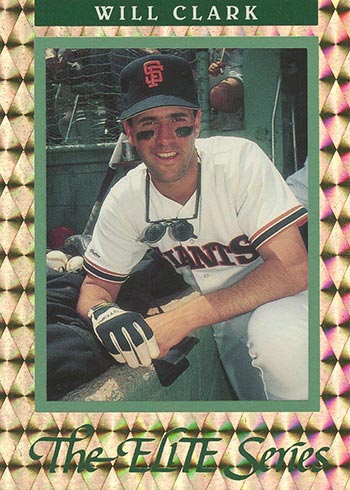 6. 1992 Topps Dairy Queen Team USA #2 Will Clark
The 1985 Topps set is best known for the Mark McGwire Rookie Card in which he is pictured as a member of Team USA from the '84 Olympics. Many don't realize that Hall of Famer Barry Larkin and Clark also played on that team, but since they still had a year of college eligibility remaining, they were not allowed to be included in the set per NCAA rules. This 1992 Topps Dairy Queen card serves as a stand-in for what could have been in 1985.
Buy on: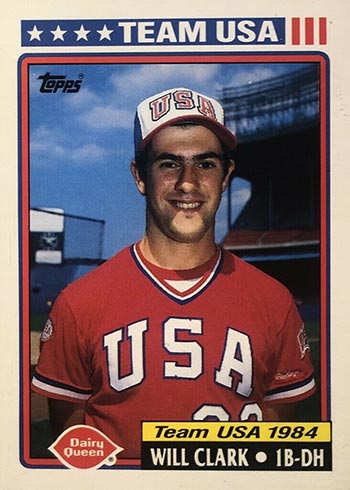 7. 1994 Topps Traded #115T Will Clark
After eight seasons with the Giants, Clark departed in free agency prior to the 1994 season and signed a five-year, $30 million contract with the Rangers. He hit .329/.431/.501 with 13 home runs and 80 RBI during a strike-shortened debut in Texas, and he posted a 124 OPS+ and 15.1 WAR over the life of that contract. His first Topps card in a Rangers uniform came in the '94 Traded set.
Buy on: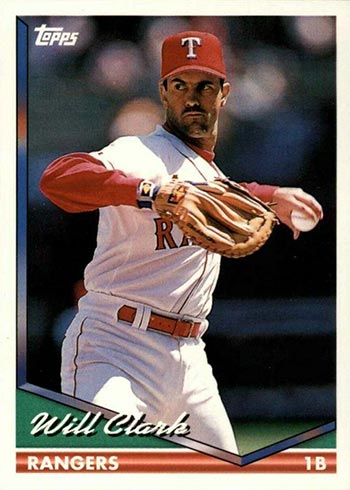 8. 1996 Leaf Signature Autographs Will Clark
The groundbreaking 1996 Leaf Signature set was the first to include one autographed card in every pack, and Clark is one of a number of players who had their first autographed card included in that set. It's not a Giants card, but it's an affordable first auto to grab for the PC with a $15-$20 price point on eBay and plenty of options.
Buy on: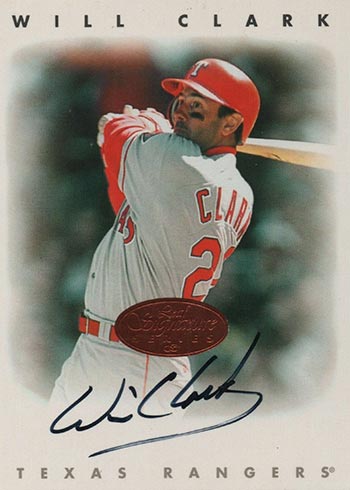 9. 2000 Topps Traded #T129 Will Clark
A lot of fans might not even realize that Clark suited up for the Cardinals at the end of his career. With Mark McGwire sidelined with a knee injury, Clark was acquired at the 2000 trade deadline to fill a void at first base and he found the fountain of youth in St. Louis. In 51 games, he hit .345/.426/.655 with 12 home runs to help the Cardinals win 95 games and reach the NLCS. Despite that stellar production, he called it a career at the end of the season.
Buy on: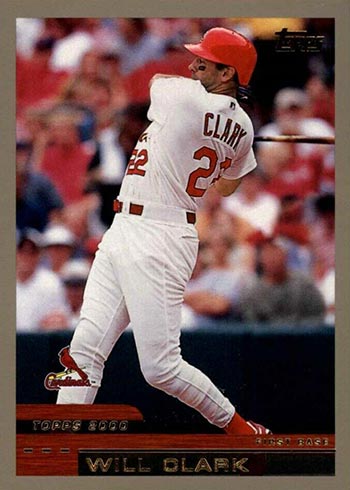 10. 2015 Panini Contenders Collegiate Connections #1 Rafael Palmeiro/Will Clark
Known as "Thunder and Lightning" during their time as teammates at Mississippi State, Palmeiro and Clark were far from friends off the field, but they were extremely productive on it. Entering the 2021 season, Palmeiro is still the career leader in home runs (67), while Clark (61) is a close second and the career leader in batting average (.391) and slugging percentage (.811).
Buy on: