Instant PC: 10 Mark Grace Cards That Chart His MLB Career
With so many different base cards, subsets, parallels, memorabilia cards and autographs, building out a collection for a single player can be overwhelming.
Luckily, the 10-Card Instant PC article series is here to help.
There are more than 3,500 Mark Grace cards, according to the Beckett database.
So where does one begin putting together a Mark Grace PC?
These 10 cards serve as an excellent representation of his playing career and footprint on the hobby, making them a great place to start.
1988 Donruss #40 Mark Grace RC
One of two true Grace Rookie Cards, the 1988 Donruss "Rated Rookie" is an easy choice to kick off the PC. That year's Rated Rookie crop was a relatively thin one, headlined by Hall of Fame second baseman Roberto Alomar. Other notables included Lance Johnson, Al Leiter and 1993 AL Cy Young winner Jack McDowell.
Buy on: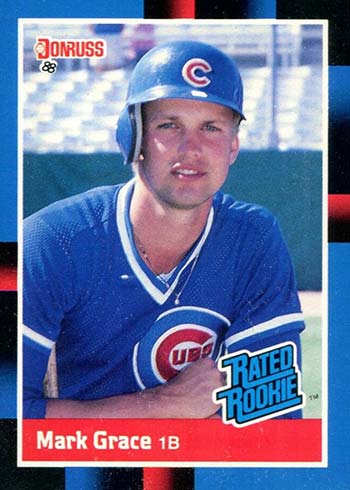 1988 Fleer #641 Mark Grace / Darrin Jackson RC
The split "Major League Prospects" cards were a Fleer staple from 1985 through 1990, and Grace shares his only other true Rookie Card with Darrin Jackson. Both players would receive a standalone card in the 1988 Fleer Update set after seeing significant playing time during the 1988 season.
Buy on: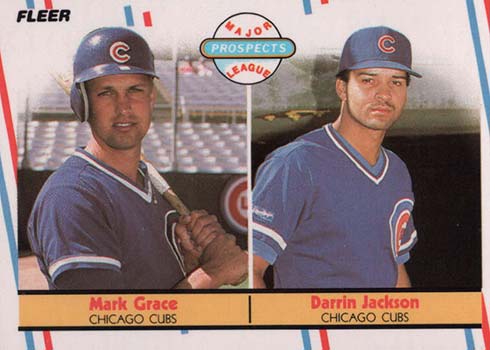 1988 Score Rookie/Traded #80T Mark Grace XRC
1988 was the final year of the confusing "XRC" era where cards from boxed sets like Score Rookie/Traded and Topps Traded were not considered true Rookie Cards because of their limited hobby shop distribution. The 1988 Score Rookie/Traded set had a low print run relative to everything else being produced at the time. As a result, the set has held its value well.
Buy on: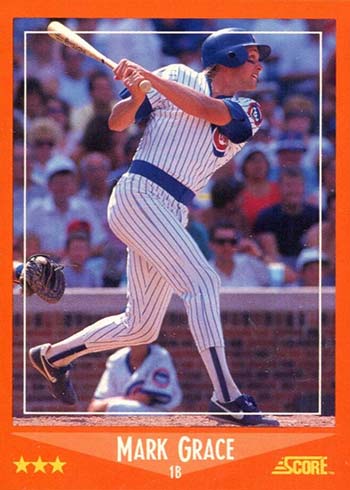 1988 Topps Traded #42T Mark Grace XRC
After he hit .333/.394/.545 with 29 doubles, 17 home runs and 101 RBI at Double-A in 1987, it's a bit surprising that Topps whiffed on including Grace in the 792-card base set. However, that was rectified in that year's Topps Traded set. This is a must-own as Grace's first Topps card.
Buy on: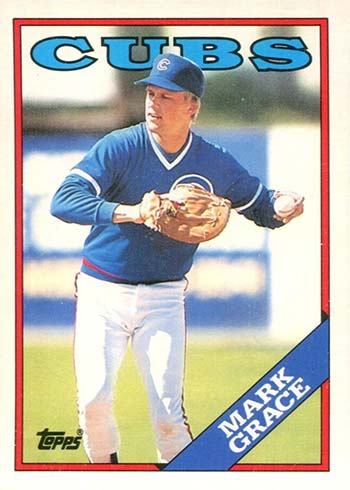 1989 Topps #465 Mark Grace
With a .296/.371/.403 line and 34 extra-base hits in 134 games, Grace finished runner-up to Chris Sabo in 1988 NL Rookie of the Year voting. He was a no-brainer to receive the Topps Rookie Cup distinction the following year. Grace wore No. 28 as a rookie and No. 17 the remainder of his career, so the No. 53 jersey pictured on the card must be from an early spring training appearance.
Buy on: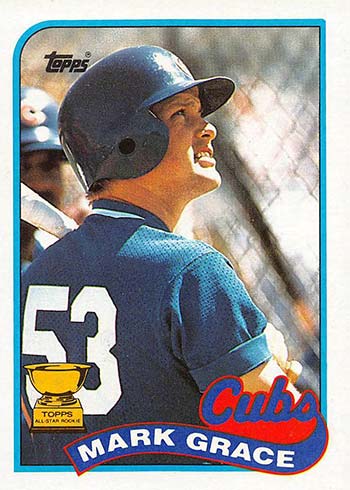 1990 Fleer League Standouts #6 Mark Grace
Inserted one-per-pack in rack packs, the 1990 Fleer League Standouts set was an early ancestor to the modern day insert card. The six-card checklist included Barry Larkin, Don Mattingly, Darryl Strawberry, Jose Canseco, Wade Boggs and Grace and the multi-image effect gives it a timelessly cool look.
Buy on: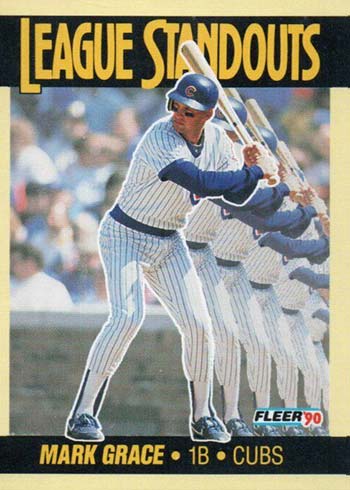 1993 Leaf Gold All-Stars #R12 Mark Grace
It's a bit surprising that this is the only card from their playing days that features both Grace and Frank Thomas. Two of the best first basemen of the 1990s, they shared the city of Chicago spotlight from the time Thomas debuted in 1990 until Grace departed in free agency after the 2000 season. The pair also shared the field at the All-Star Game in 1993, 1995 and 1997.
Buy on: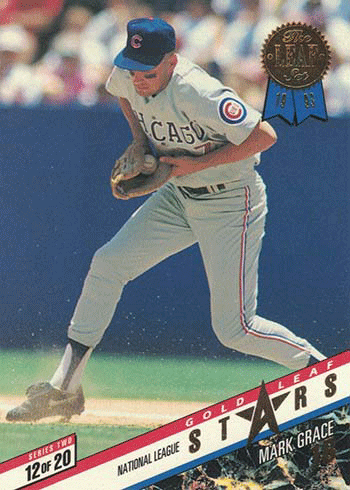 1996 Zenith Mozaics #6 Mark Grace / Ryne Sandberg / Sammy Sosa
I actually picked this card up for my Cubs PC recently, and I'm seriously considering tracking down the entire 25-card set. Zenith was the "super-premium" product line from Pinnacle and the insert cards from those sets still fetch a decent price. The Mozaics cards are found in 1:10 packs, and a Cubs collector can't go wrong with the trio of Grace, Sammy Sosa and Ryne Sandberg.
Buy on: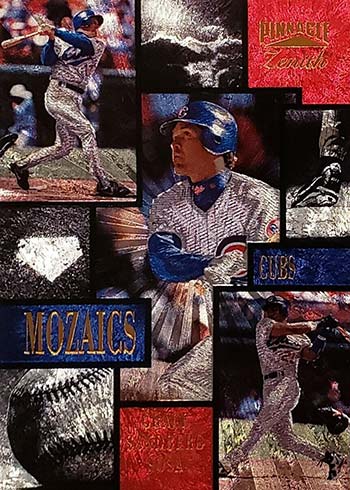 2003 Topps #581 Mark Grace
Most would agree a player's Topps flagship Rookie Card is a must-own for any PC, but I'm also a fan of bookending that with his final Topps card. For Grace, that game in the 2003 Topps set ahead of his final MLB season. He wrapped up his 16-year career with 2,445 hits, 1,146 RBI and a .303/.383/.442 batting line.
Buy on: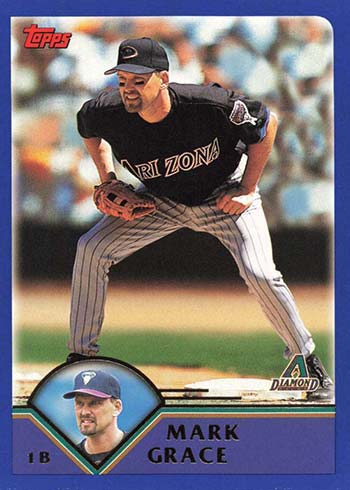 2015 Topps Archives Fan Favorites Autographs #FFAMGR Mark Grace
There were no certified autographs of Grace in a Cubs uniform released during his playing career, so unless you're a Diamondbacks collector, an autograph from a more recent product is the way to go. With a 1989 Topps throwback design and an on-card auto, the 2015 Topps Archives Fan Favorites set is a great option, and can usually be found for around $20-30.
Buy on: