Instant PC: 10 Joe Carter Baseball Cards That Help Tell the Story of His Career
With so many different base cards, subsets, parallels, memorabilia cards and autographs, building out a collection for a single player can be overwhelming.
Luckily, the 10-Card Instant PC article series is here to help.
There are more than 1,800 Joe Carter cards, according to the Beckett database.
So where does one begin putting together a Joe Carter PC?
These 10 cards serve as an excellent representation of his playing career and footprint on the hobby, making them a great place to start.
1984 Donruss #41 Joe Carter RR RC
After the Seattle Mariners selected right-hander Mike Moore with the No. 1 overall pick in the 1981 draft, the Chicago Cubs grabbed Wichita State outfielder Joe Carter with the second selection. He made his MLB debut in 1983, playing in just 23 games with the Cubs before he was traded to Cleveland the following year in the Rick Sutcliffe blockbuster.
Carter's only Rookie Card was included in the 1984 Donruss set, and he is part of the brand's inaugural "Rated Rookie" class. Other notable players who earned the Rated Rookie distinction that year include Tony Fernandez, Ron Darling and Kevin McReynolds.
Buy on: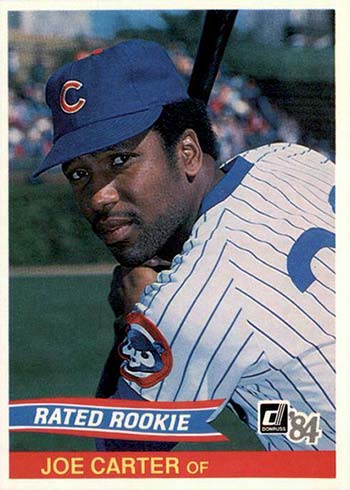 1985 Topps #694 Joe Carter
After hitting .275 with 13 home runs and 41 RBI in 66 games following his trade to Cleveland in 1984, Carter took over as the team's primary left fielder the following year. He led the AL in RBI (121) in 1986, and he tallied 151 home runs and 530 RBI in six seasons in Cleveland.
He was somewhat surprisingly not included in the 1984 Topps Traded set, so his first Topps card in a Cleveland uniform came the following year in the 1985 base set.
Buy on: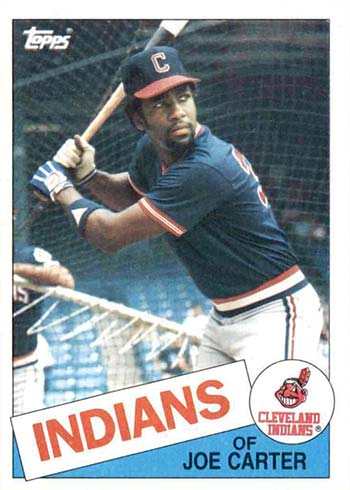 1990 Leaf #379 Joe Carter
Following the 1989 season, Carter was traded to the San Diego Padres in exchange for catcher Sandy Alomar Jr., second baseman Carlos Baerga and outfielder Chris James. It would go down as one of the better trades in Cleveland franchise history.
There are no shortage of options to highlight Carter's one and only season in San Diego, but we opted for his base card from 1990 Leaf, a set that has stood the test of time in an era of mass production and limited long-term value.
Buy on: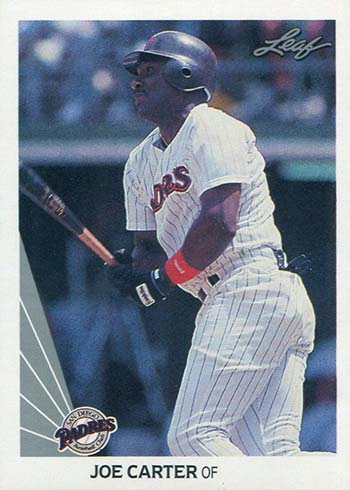 1991 Topps Traded #20T Joe Carter
After one year in San Diego in which had 24 home runs and 115 RBI, Carter was traded again, this time to the Toronto Blue Jays along with second baseman Roberto Alomar in exchange for slugger Fred McGriff and shortstop Tony Fernandez. It was a trade that set in motion Toronto's back-to-back World Series titles in 1992 and 1993.
Buy on:
The trade went down on Dec. 5, 1990, yet he was still included as a member of the Padres in most 1991 base products. With that in mind, the 1991 Topps Traded card is the choice to commemorate him joining the Blue Jays.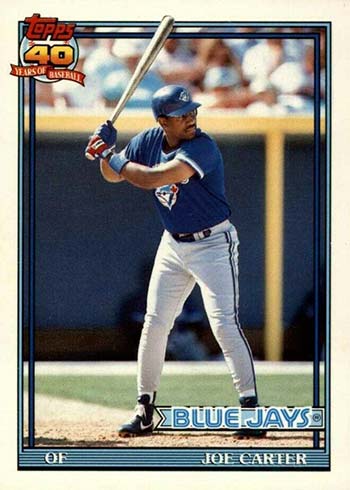 1992 Donruss Elite #10 Joe Carter
During the 1992 season, Carter finished third in AL MVP voting when he hit .264 with 30 doubles, 34 home runs, 119 RBI, and he started the All-Star Game for the first time alongside Ken Griffey Jr. and Kirby Puckett in the AL outfield.
Very few Junk Wax Era inserts have held their value as well as the iconic Donruss Elite cards. After they debuted with an eight-card checklist in 1991, they added 10 more players to the mix the following year with cards numbered to 10,000. It's not quite as valuable as the Ken Griffey Jr. from the same year, but this is one of the more valuable Carter inserts of the 1990s.
Buy on: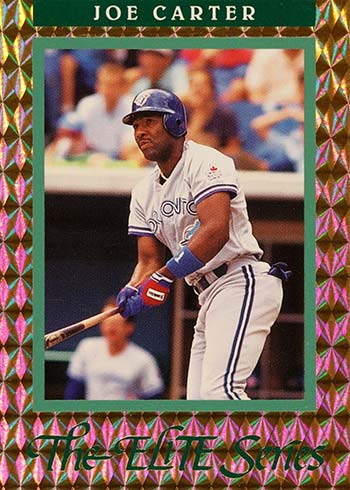 1994 Score Gold Rush #625 Joe Carter WS
Carter hit one of the most memorable home runs in baseball history when he launched a walk-off blast in Game 6 of the 1993 World Series to clinch a second straight title for the Blue Jays. Not surprisingly, it was commemorated on a number of cards the following year.
The 1994 Score base set included a subset card with Carter rounding the bases, and it also comes in a Gold Rush parallel that were found one-per-pack and generally carry 3-4x the value of the base card.
Buy on: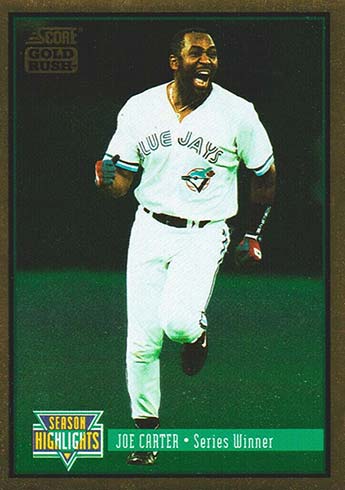 1995 Stadium Club Power Zone #PZ4 Joe Carter
In seven seasons in Toronto, Carter posted a 104 OPS+ with 203 home runs and 736 RBI. He earned five All-Star selections and won a pair of Silver Slugger Awards as one of the most productive sluggers of the 1990s.
Who doesn't love a good over-the-top 1990s insert? The 1995 Stadium Club set featured a Hi-Series release that followed Series 1 and Series 2, and the "Power Zone" inserts were the chase cards inserted one every 24 packs.
Buy on: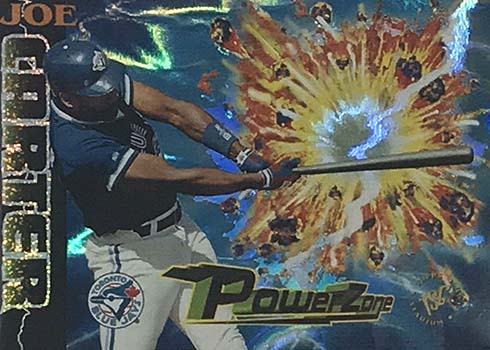 1995 Upper Deck Steal of a Deal #SD6 Roberto Alomar/Joe Carter
We've already discussed the Blue Jays trade to acquire Alomar and Carter from San Diego prior to the 1992 season, but it's worth revisiting as it truly did spark a pair of title-winning teams. The two combined for 30.8 WAR and 10 All-Star appearances during their time in Toronto.
The 1995 Upper Deck release honored some of the most memorable deals in MLB history with their 15-card "Steal of a Deal" insert set. They were inserted one every 30 packs in Series 1, and singles still fetch a premium thanks to those long odds.
Buy on: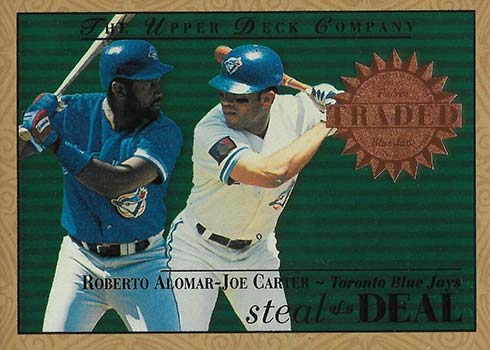 1999 Upper Deck Century Legends Memorable Shots #HR9 Joe Carter
One of the first products to include retired players and active players side-by-side, the 1999 Upper Deck Century Legends set was groundbreaking in the industry and helped pave the way for the way many products build their checklist today.
Alongside an impressive array of autographs and memorabilia cards, there was a 10-card "Memorable Shots" insert set that commemorated some of the biggest home runs in baseball history. Not surprisingly, Carter's World Series winning blast made the cut.
Buy on: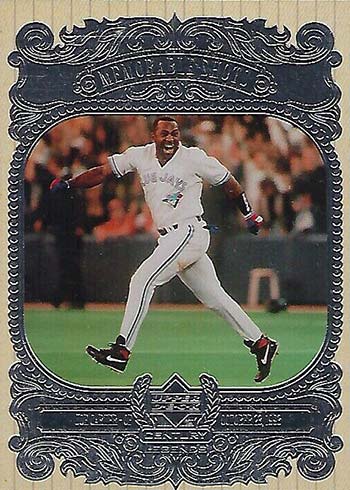 2001 Greats of the Game Autographs #18 Joe Carter
Carter's only certified autographs while he was an active player came in the 1998 Donruss Signature set. He was pictured as a member of the Baltimore Orioles, who he played for at the start of his final MLB season after signing with them in free agency.
Shortly after he retired, he was included in the 2000 and 2001 Fleer Greats of the Game sets with autographs pictured as a member of the Blue Jays. The 2000 card is a short-print, so it commands a premium price, but the 2001 version carries a far more affordable price tag.
Buy on: