Instant PC: 10 Career-Defining Wade Boggs Baseball Cards
With so many different base cards, subsets, parallels, memorabilia cards and autographs, building out a collection for a single player can be overwhelming.
Luckily, the 10-Card Instant PC article series is here to help.
There are more than 8,000 Wade Boggs cards, according to the Beckett database.
So where does one begin putting together a Wade Boggs PC?
These 10 cards serve as an excellent representation of his playing career and footprint on the hobby, making them a great place to start.
1981 TCMA Pawtucket Red Sox #15 Wade Boggs
The Red Sox selected Boggs in the seventh round of the 1976 MLB draft out of H.B. Plant High School in Tampa, Florida. That's the same high school that Houston Astros rising star Kyle Tucker attended.
Despite putting up stellar numbers in the minors, Boggs was brought along slowly, spending two full seasons each at Double-A and Triple-A. He hit .306 with a .396 on-base percentage in his Triple-A debut in 1980, and his first officially licensed card appeared in the 1981 TCMA set.
Buy on: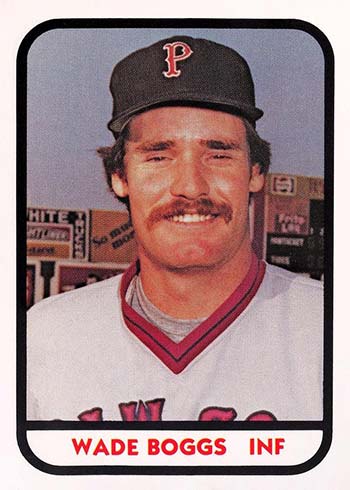 1983 Topps #498 Wade Boggs RC
As a rookie in 1982, Boggs split his time between first base and third base, hitting .349/.406/.441 with 20 extra-base hits in 381 plate appearances to finish third in AL Rookie of the Year balloting behind Cal Ripken Jr. and Kent Hrbek.
He was part of the same 1983 Rookie Card class as Ryne Sandberg and Tony Gwynn the following year, and like those two Hall of Famers, he has three true rookies across the 1983 Donruss, Fleer and Topps sets. The Topps is the most sought after of the bunch, but all three are must-haves for any PC.
Buy on: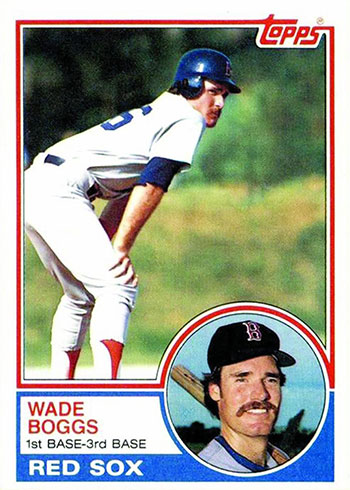 1984 Topps #131 Wade Boggs/Bill Madlock LL
In his second season in the big leagues, Boggs won the first of what would be five AL batting titles in a span of six years. He hit .361 and began a run of seven straight years with at least 200 hits by tallying 210 knocks.
Pittsburgh Pirates star Bill Madlock won his fourth career batting title in 1983 with a .323 average on the National League sides of things, and this card is a fitting choice to commemorate Boggs' first batting title.
Buy on: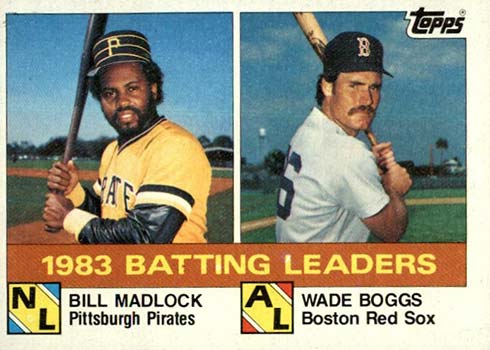 1991 Topps Desert Shield #450 Wade Boggs
This card doesn't represent a pivotal moment in Boggs' card. It's just a really cool photo and part of an iconic and extremely sought after Desert Shield set.
For modern collectors, chasing down a 1991 Topps flagship, 1991 Topps Tiffany and 1991 Topps Desert Shield would be the 1990s version of completing a rainbow. The Desert Shield card isn't quite a 1-of-1, but it's not easy to track down by any means.
Buy on: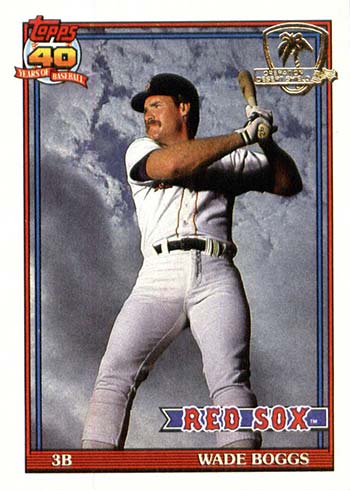 1993 Topps Traded #47T Wade Boggs
After 11 seasons with the Red Sox, Boggs bolted in free agency following the 1992 season and joined the rival New York Yankees on a three-year, $11 million contract. The 1992-93 offseason was a wild one, as it also saw Barry Bonds (PIT to SF), Greg Maddux (CHC to ATL), David Cone (TOR to KC) and Paul Molitor (MIL to TOR) change teams, while Mark McGwire and Kirby Puckett re-upped on new contracts.
That makes the 1993 Topps Traded set a fun one, as it features those players in their new uniforms on a Topps card for the first time. That set also includes the only Rookie Card of Todd Helton pictured as a member of Team USA.
Buy on: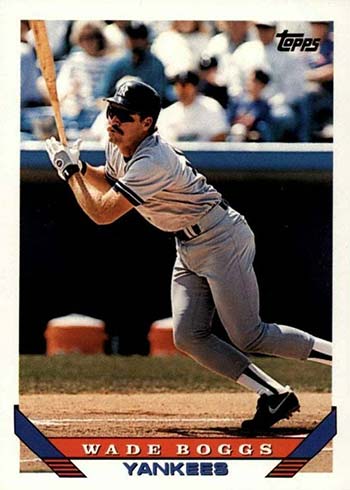 1996 Leaf Signature Autographs #27 Wade Boggs SP
In his 15th MLB season and at 38 years old, Boggs finally won his first World Series title in 1996. He hit .311 with a .389 on-base percentage to earn his 12th and final All-Star selection manning the hot corner for the New York Yankees at the onset of their dynasty.
Like many 1990s stars, Boggs had his first certified autograph card in the groundbreaking 1996 Leaf Signature set. His was among the short-printed cards, with a print run of just 700 for the base version.
Buy on: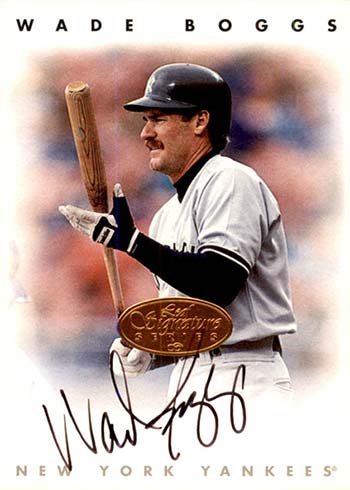 1999 Pacific Omega Debut Duos #10 Wade Boggs/Tony Gwynn
Boggs and San Diego Padres star Tony Gwynn won a combined 13 batting titles over the course of their Hall of Fame careers. They played different positions, but were very similar hitters with a hits-over-power approach and a minuscule strikeout rate that speaks to a different era.
The two players were featured on a handful of cards together during their playing career, and this insert from Pacific Omega is as good a choice as any to highlight the duo.
Buy on: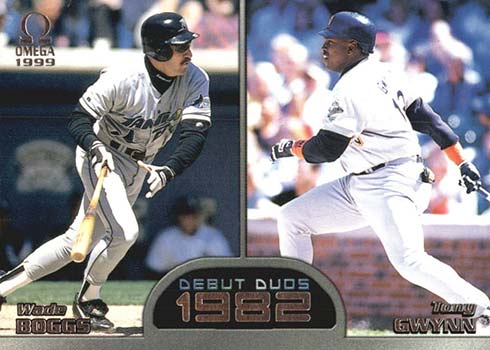 2000 Finest Moments Refractors #FM4 Wade Boggs
On August 7, 1999, Boggs homered off Cleveland reliever Chris Haney for the 3,000th hit of his storied career. He hit .301/.377/.377 in 334 plate appearances at the age of 41 in what would be the final season, and it was his third hit of the game.
There were a number of 2000 cards made to honor him joining the 3,000-hit club, and the Finest Moments insert is the most visually appealing of the bunch. There is a base version, Refractor, and an autographed version of the card.
Buy on: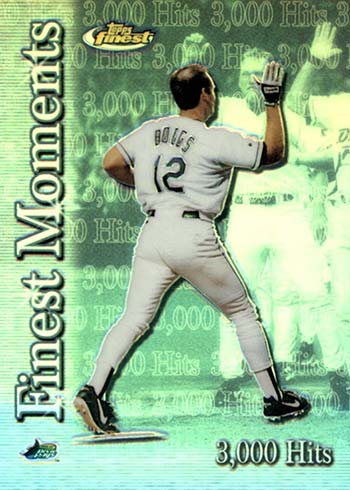 2000 Topps #3 Wade Boggs
In 2,439 career games, Boggs hit .328/.415/.443 with 3,010 hits and almost twice as many walks (1,412) as strikeouts (745). He racked up 91.4 WAR in his 18 big league seasons, and he was a first-ballot Hall of Famer in 2005 when he received 91.9 percent of the vote.
Despite the fact that he retired in 1999 after suffering a knee injury, Boggs was still included in the 2000 Topps flagship set. His addition to the set means his final Topps card offers his full career statistics on the back.
Buy on: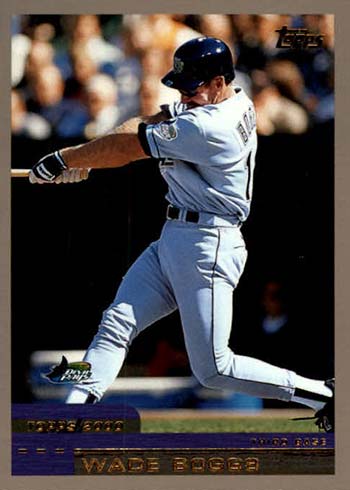 2017 Donruss Variations #191 Wade Boggs "Chicken Man"
One of baseball's most well-known superstitions was Boggs eating chicken before every game, and former teammate Jim Rice called him "Chicken Man" which stuck as one of baseball's most unique nicknames.
That nickname was featured on a short-printed variation of his 2017 Donruss card. Frank Thomas ("1993 MVP"), Pete Rose ("Charlie Hustle"), Nolan Ryan ("The Express") and Ryne Sandberg ("Ryno") were among the other SP cards in the set.
Buy on: