Instant PC – 10 Career-Defining Mo Vaughn Cards
With so many different base cards, subsets, parallels, memorabilia cards and autographs, building out a collection for a single player can be overwhelming.
Luckily, the 10-Card Instant PC article series is here to help.
There are more than 2,700 Mo Vaughn cards, according to the Beckett database.
So where does one begin putting together a Mo Vaughn PC?
These 10 cards serve as an excellent representation of his playing career and footprint on the hobby, making them a great place to start.
1988 Ballpark Cape Cod Prospects #16 Maurice Vaughn
As a freshman at Seton Hall in 1987, Vaughn hit .429 with 28 home runs and 90 RBI in 53 games. By the end of his sophomore season, he was one of the most prolific hitters in college baseball, and he spent that summer playing in the prestigious Cape Cod League.
That stint with the Wareham Gatemen gives us this early card of a 20-year-old Vaughn courtesy of Ballpark Cards.
Buy on: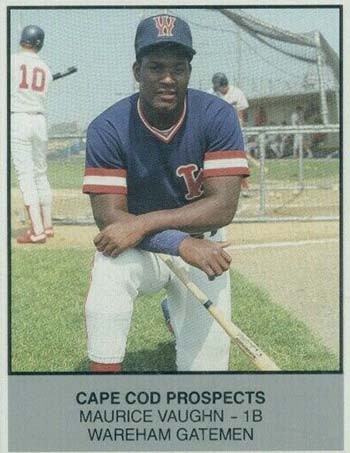 1990 Bowman #275 Mo Vaughn RC
The Bowman brand returned for the first time since 1956 when Topps released the oversized 1989 Bowman set. The following year, it began to more closely resemble today's rookie-packed product. The 1990 Bowman set was one of two major releases to include a Rookie Card for Vaughn, who was the No. 23 overall pick in the 1989 draft.
The set also includes Rookie Cards of Frank Thomas, Sammy Sosa, Larry Walker, Bernie Williams, Juan Gonzalez, Moises Alou and Ray Lankford.
Buy on: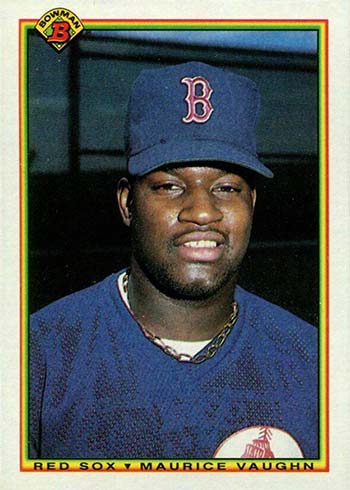 1990 Score #675 Mo Vaughn RC
Sent straight to Double-A to begin his pro career, Vaughn hit .278/.350/.437 with 15 doubles, eight home runs and 38 RBI in 73 games in 1989. That was enough to earn him the No. 76 spot on Baseball America's Top 100 prospect list, and he began his first full professional season at Triple-A Pawtucket.
Vaugn is part of the 22-card draft picks subset in the 1990 Score set, which highlighted some of the top selections in the 1989 draft class.
Buy on: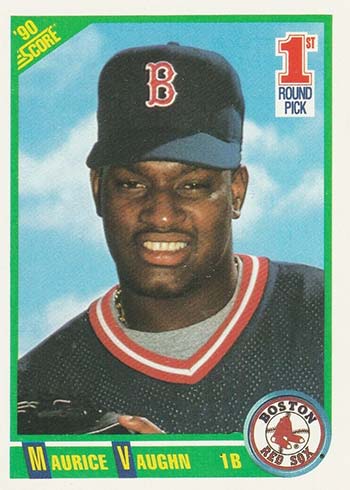 1990 Topps TV Boston Red Sox #64 Mo Vaughn
The 1990 Topps TV product was a collection of six different 66-card sets that were available for purchase through a TV offer and a 1-800 number. The sets focused on the Cardinals, Cubs, Mets, Red Sox and Yankees for local markets, as well as an All-Star set that was distributed nationally.
As the team's most recent first-round pick, Vaughn was included despite the fact that he had not yet been featured on a standard release Topps card. Singles can be hard to find, but the complete sets pop up on eBay pretty regularly.
Buy on: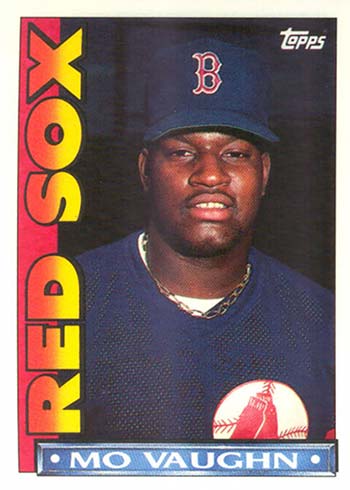 1991 Donruss #430 Mo Vaughn
After hitting .295/.374/.539 with 26 doubles, 22 home runs and 72 RBI in 108 games at Triple-A in 1990, Vaughn climbed to No. 10 on the Baseball America Top 100 prospect list heading into the 1991 season. That performance also put him on the cusp of reaching the big leagues, and earned him the "Rated Rookie" distinction on his first Donruss card in 1991.
He made his MLB debut on June 27, 1991, and hit .260/.339/.370 with 12 doubles and four home runs in 74 games to stake his claim to the starting first base job entering the following year.
Buy on: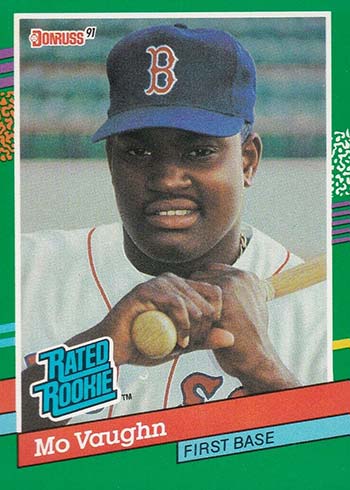 1991 Topps Traded #123T Mo Vaughn
Not counting the 1990 Topps TV set which falls into the "oddball" category, Vaughn did not have his first flagship Topps card until the 1991 Topps Traded set. Following his successful 74-game debut, he was an easy choice to be included in the update set after not being featured in the base set.
The 1991 Topps Traded set also includes Rookie Cards of Jeff Bagwell, Ivan Rodriguez, Luis Gonzalez and Jason Giambi who is pictured as a member of Team USA.
Buy on: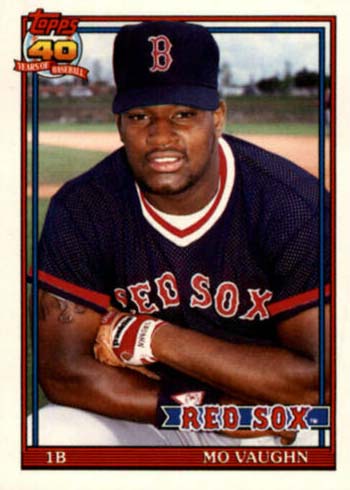 1995 Fleer Team Leaders #2 Roger Clemens/Mo Vaughn
As the two faces of the franchise for the Red Sox during the 1990s, it's a bit surprising that this is one of just three cards in the Beckett database that features Vaughn and Roger Clemens pictured together during their playing days. The other two—1996 Select Team Nucleus (Jose Canseco) and 1996 Zenith Mosaics (John Valentin)—include a third player.
Bonus points for the fact that this one was released in 1995. Vaughn went on to win the AL MVP that year when he hit .300/.388/.575 with 39 home runs and an AL-leading 126 RBI for a Red Sox team that won the AL East title.
Buy on: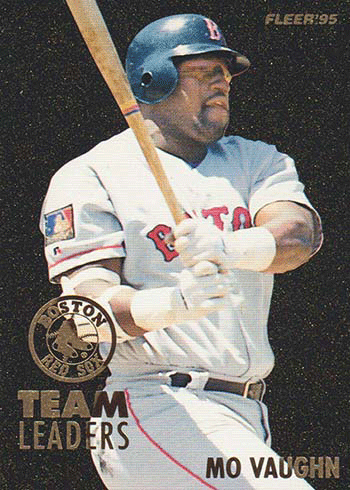 1996 Leaf Signature Autographs Mo Vaughn
There is a long list of players who had their first certified autograph card included in the 1996 Leaf Signature set, and Vaughn is among them. He was one of the star players included in the original base set with a limited print run of 700.
He also has a card in the Extended Series update set with a print run of 1,000, and either card is a great addition to any Vaughn PC.
Buy on: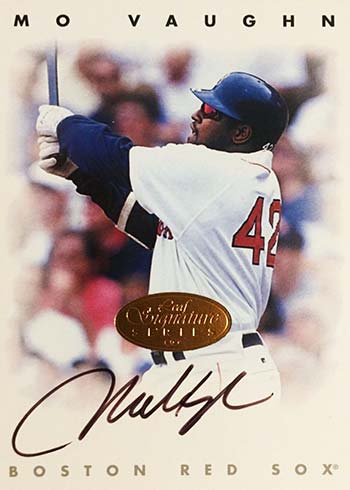 1996 Pinnacle Slugfest #5 Mo Vaughn
Who doesn't love the Dufex technology that Pinnacle utilized during the 1990s to create some of the coolest looking insert sets of the time?
The 1996 Pinnacle Slugfest set is a perfect example and a great representation of what the cream of the crop during the insert card boom looked like. The Slugfest inserts were found 1:35 packs of Series 2 retail and the biggest names in the set still fetch a premium.
Buy on: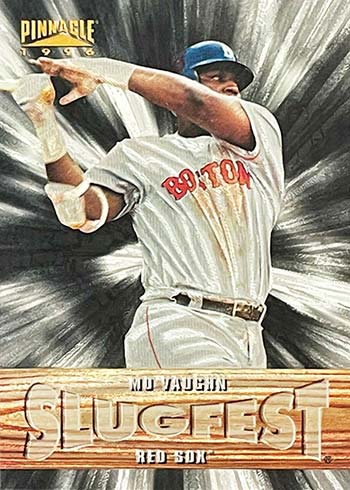 1999 Topps Traded #T82 Mo Vaughn
After eight seasons with the Red Sox, Vaughn departed in free agency after the 1998 season. He signed a six-year, $80 million contract with the Angels that made him the highest-paid player in the game in terms of average annual value, surpassing the seven-year, $91 million deal Mike Piazza had signed with the Mets.
Vaughn averaged 34 home runs and 112 RBI in the first two seasons in Anaheim, but injuries derailed his career from there. In 12 MLB seasons, he hit .293/.383/.523 while tallying 1,620 hits, 328 home runs, 1,064 RBI and 27.1 WAR.
Buy on: