Instant PC: 10 Career-Defining Kirk Gibson Cards
With so many different base cards, subsets, parallels, memorabilia cards and autographs, building out a collection for a single player can be overwhelming.
Luckily, the 10-Card Instant PC article series is here to help.
There are more than 1,200 Kirk Gibson cards, according to the Beckett database.
So where does one begin putting together a Kirk Gibson PC?
These 10 cards serve as an excellent representation of his playing career and footprint on the hobby, making them a great place to start.
1981 Fleer #481 Kirk Gibson RC
After a standout two-sport career at Michigan State where he was also an All-American wide receiver and eventually earned enshrinement into the College Football Hall of Fame, Gibson was selected with the No. 12 overall pick in the 1978 MLB draft.
In 1981, Fleer rejoined the mainstream baseball card market for the first time since 1963, and Gibson is one of the marquee Rookie Cards in that set along with Fernando Valenzuela, Harold Baines and future NBA star Danny Ainge.
Buy on: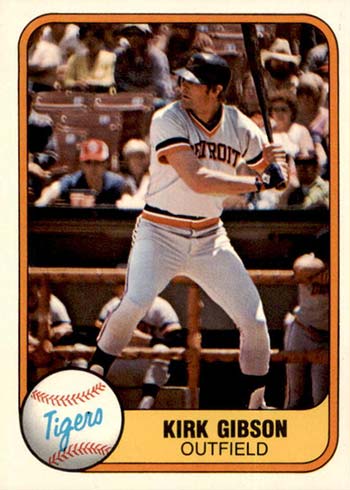 1981 Topps #315 Kirk Gibson RC
After a 12-game cup of coffee in 1979, Gibson saw his first extended action in the big leagues the following year. The 23-year-old began the season as Detroit's starting center fielder, and he posted a 100 OPS+ with nine home runs in 189 plate appearances.
That solid showing earned him a spot in the 1981 Topps flagship set, and unlike several of the other marquee rookies in the set–Fernando Valenzuela, Tim Raines and Mookie Wilson–he received a standalone card rather than sharing it with two other players.
Buy on: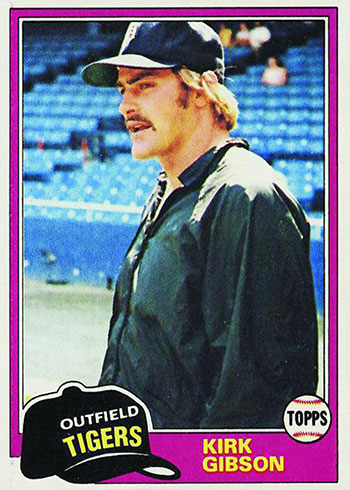 1984 Topps #65 Kirk Gibson
The 1984 season was a breakout year for Gibson, who hit .282/.363/.516 with 27 home runs, 91 RBI and 29 steals in a 5.2-WAR season. He finished sixth in AL MVP voting and helped lead the Tigers to a World Series title. He tallied three home runs and nine RBI in eight postseason games and won ALCS MVP.
With a timeless design and a great batting practice action shot, this 1984 Topps card is a classic and serves as a great representation of his peak in Detroit.
Buy on: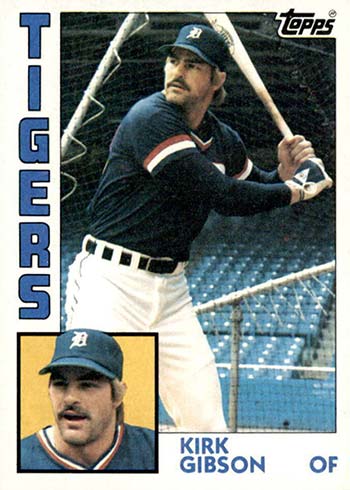 1988 Topps Traded #40T Kirk Gibson
After nine seasons with the Tigers, Gibson reached free agency for the first time following a 1987 season where he logged a 130 OPS+ with 24 home runs and 26 steals.
He inked a three-year, $4.5 million deal with Los Angeles Dodgers on Jan. 29, 1988 as part of an offseason roster retooling that resulted in a trip to the World Series. Gibson was the driving force, hitting .290/.377/.483 for a career-high 148 OPS+ with 25 home runs and 31 steals.
Still pictured as a member of the Tigers in the 1988 Topps base set, his inclusion in that year's Topps Traded set is his first in a Dodgers uniform.
Buy on: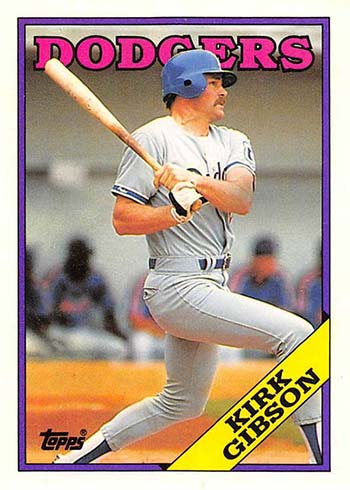 1989 O-Pee-Chee #382 Kirk Gibson WS
The Canadian-produced O-Pee-Chee sets generally mirrored the flagship Topps release, albeit with a smaller checklist focused on the Expos, Blue Jays and other players of relevance to that market.
However, this tribute to Gibson's legendary walk-off home run from Game 1 of the 1988 World Series is special to the 1989 O-Pee-Chee set. The uniqueness of the card and the moment it honors makes this a must-own addition to any PC.
Buy on: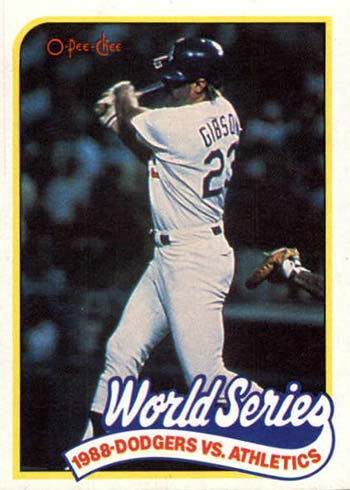 1989 Upper Deck #666 Kirk Gibson WS
For a Gibson collector, there is no such thing as too many cards honoring his improbable home run off Oakland Athletics closer Dennis Eckersley to give the Dodgers a 5-4 victory and set the tone for a World Series win.
This card from the inaugural Upper Deck release carries a slightly higher price tag than his base card, which speaks to the significance of what remains one of the all-time great baseball highlights. It's also worth noting that the card number was intentional, an inside joke of sorts done by some Upper Deck staff who weren't fans of the Dodgers.
Buy on: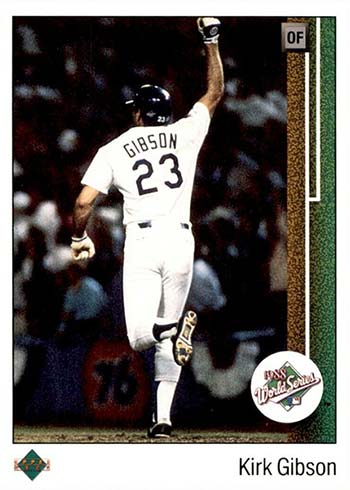 1996 Collector's Choice #142 Kirk Gibson
After his three-year deal with the Dodgers expired, Gibson spent one year each with the Kansas City Royals and Pittsburgh Pirates before returning to Detroit to finish out his career. He played his final game on Aug. 10, 1995 at the age of 38.
Upper Deck often gave retired players "Tribute" cards during the 1990s the year after they retired, and Gibson received one in the 1996 Collector's Choice set. With his full stat line on the back, it's a nice bookend to his Rookie Cards.
Buy on: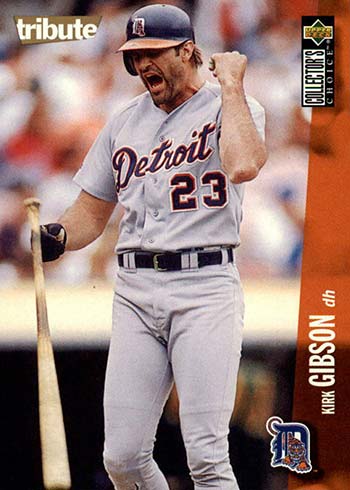 2003 Topps All-Time Fan Favorites Archives Autographs #KGI Kirk Gibson
Gibson spent 12 of his 17 MLB seasons playing for the Tigers, and he still ranks among the franchise's all-time leaders in home runs (195, 11th) and stolen bases (194, sixth).
The 2003 Topps All-Time Fan Favorites set featured a sprawling autograph set that featured 165 different former players. Gibson is included as a member of the Tigers, with a card design that mirrors the 1995 Topps base set.
Buy on: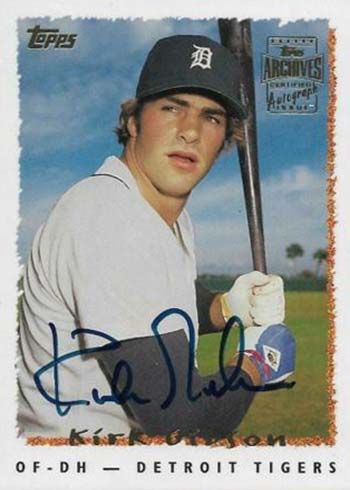 2004 Topps All-Time Fan Favorites #38 Kirk Gibson
Despite spending just three seasons with the Dodgers, Gibson has been pictured frequently in products as a member of the team since his retirement. That's what happens when you hit one of the most memorable home runs in the history of the sport.
A year after he was included in the 2003 Fan Favorites set as a member of the Tigers, Gibson is represented in the 2004 set as a member of the Dodgers. It's interesting that the card is a throwback to the 1989 Topps design, considering Gibson was also featured in the original set.
Buy on: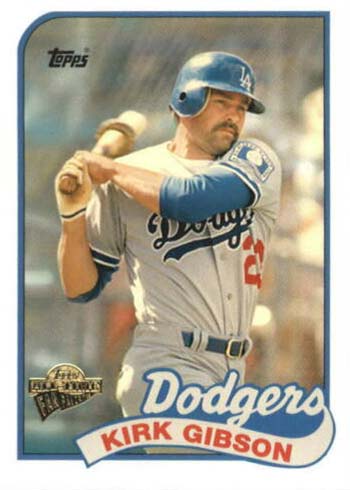 2012 Topps Heritage #166 Kirk Gibson MG
After his playing career concluded, Gibson spent parts of five seasons as the manager of the Arizona Diamondbacks. A year after the team lost 97 games, he led the D-backs to a 94-68 record and an NL West title in his first full year as manager in 2011.
He has manager cards in the 2012, 2013 and 2014 Topps Heritage sets, and they are all a worthy addition to any Gibson PC.
Buy on: