Instant PC: 10 Career-Defining Julio Franco Cards
With so many different base cards, subsets, parallels, memorabilia cards and autographs, building out a collection for a single player can be overwhelming.
Luckily, the 10-Card Instant PC article series is here to help.
There are more than 600 Julio Franco cards, according to the Beckett database.
So where does one begin putting together a Julio Franco PC?
These 10 cards serve as an excellent representation of his playing career and footprint on the hobby, making them a great place to start.
1983 Donruss #525 Julio Franco RC
The Phillies signed Franco out of the Dominican Republic on April 23, 1978, when he was 19 years old. He slowly climbed the minor league ranks over five seasons, hitting over .300 every step of the way, before making his MLB debut as a September call-up in 1982.
His 16-game cup-of-coffee was enough for him to earn a spot in the 1983 Donruss base set, and it is the only true Rookie Card with Fleer and Topps both failing to include him in their base sets.
Buy on: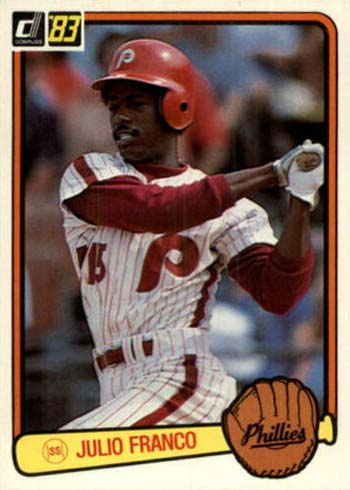 1983 Topps Traded #34T Julio Franco XRC
Following the 1982 season, Franco was traded from Philadelphia to Cleveland as part of the five-player package used to acquire young outfielder Von Hayes who had just finished seventh in AL Rookie of the Year voting.
Franco immediately took over as the starting shortstop in Cleveland, hitting .273 with 40 extra-base hits, 80 RBI and 32 steals to finish runner-up to Ron Kittle in the 1983 AL Rookie of the Year voting. His stellar rookie performance earned him a spot in the 1983 Topps Traded set, but since he had not yet appeared in the base set, it is considered an XRC.
Buy on: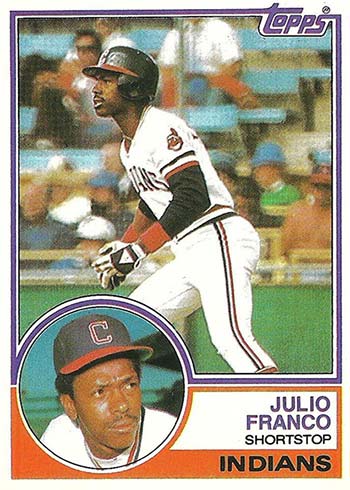 1989 Topps Traded #34T Julio Franco
After six seasons in Cleveland, during which time he racked up 13.8 WAR and won a Silver Slugger at second base in 1988, Franco was traded to the Texas Rangers in exchange for Jerry Browne, Oddibe McDowell and Pete O'Brien prior to the 1989 season.
Franco was still pictured in a Cleveland uniform in the 1989 Topps base, so his first Topps card in a Rangers uniform came in the 1989 Topps Traded set. That set also featured Nolan Ryan's first card in a Rangers jersey, along with the iconic Ken Griffey Jr. Rookie Card.
Buy on: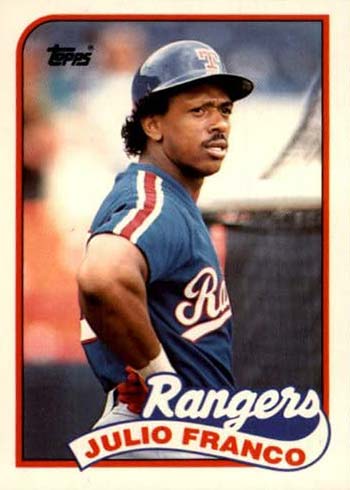 1992 Donruss Diamond Kings #DK-4 Julio Franco
With a .341 average, Franco won the 1991 AL batting title over Wade Boggs (.332), Willie Randolph (.327), Ken Griffey Jr. (.327) and Paul Molitor (.325). He won his fourth straight Silver Slugger Award at second base that year, while also finishing 15th in AL MVP voting.
On the heels of that performance, Franco earned a spot in the 1992 Diamond Kings insert set. He was part of the 13-card group released in Series 1 on a 26-card checklist.
Buy on: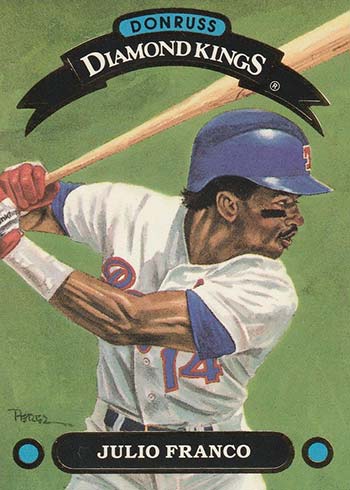 1993 Pacific Spanish Prism #13 Julio Franco
Franco played his fifth and final season with the Rangers in 1993, hitting .289/.360/.438 with 31 doubles, 14 home runs and 84 RBI in 144 games while serving exclusively as a designated hitter in his age-34 season.
Pacific has some of the coolest-looking cards of the 1990s, and one of their first attention-grabbing inserts was the Prism cards found in Series 1 of the 1993 release. The cards have a print run of 10,000, though they are not serial numbered.
Buy on: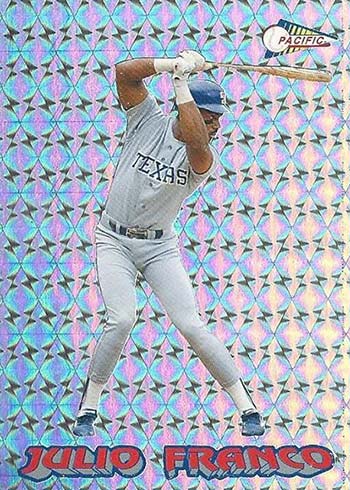 1994 Leaf Limited #21 Julio Franco
With George Bell and Bo Jackson both gone, the White Sox had an opening at designated hitter in 1994 and Franco was signed to a one-year deal to fill the void. It proved to be a good fit as he hit .319/.406/.510 with a career-high 20 home runs to win his fifth career Silver Slugger and finish eighth in MVP voting.
It was his one and only season with the White Sox, and it's immortalized here on one of the best-looking sets of the 1990s. The super-premium Leaf Limited set carried a $4.99 price tag per five-card pack. According to BaseballCardPedia.com, an estimated 36,375 sets were produced.
Buy on: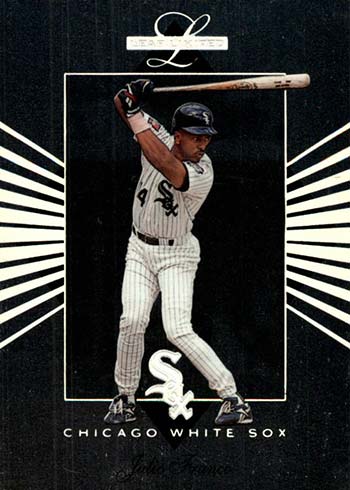 1995 BBM Late Series #628
With Major League Baseball in the midst of a strike, Franco signed with the Chiba Lotte Marines of the Japanese League on Dec. 28, 1994. He hit .306/.385/.435 with 25 doubles, 10 home runs and 58 RBI in 127 games playing for manager Bobby Valentine and alongside former teammate Pete Incavigila.
There are a handful of cards from his time in Japan, and any of them would be a unique addition to a Franco PC.
Buy on: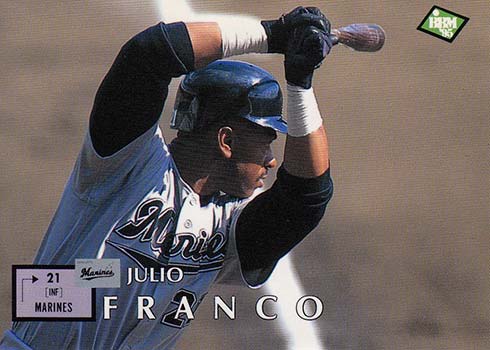 1996 Leaf Signature Autographs #72 Julio Franco
After a year overseas, Franco returned stateside when he signed with Cleveland on Dec. 7, 1995. He hit .322/.407/.470 with 20 doubles, 14 home runs and 76 RBI as the team's primary first baseman in 1996, but he was released the following August.
There is a long list of players who had their first certified autographed card in the groundbreaking 1996 Leaf Signature set, and Franco is among them. The base version has a print run of 3,500, while there are also Silver (1,000 copies) and Gold (500 copies) parallels.
Buy on: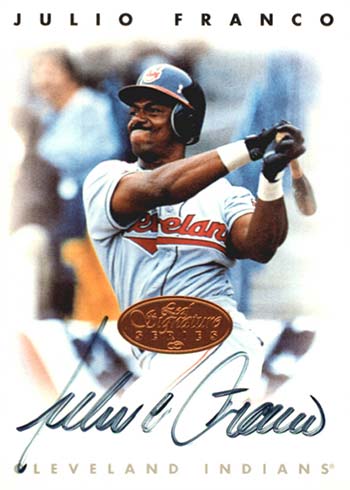 2002 Topps #424 Julio Franco
After a brief stint with the Milwaukee Brewers following his release in 1997, Franco went on a baseball odyssey of sorts. He returned to Chiba Lotte and the Japanese League in 1998, spent 1999 in the Mexican League (playing one game with the Tampa Bay Rays), played for the Samsung Lions in the KBO in 2000, and spent another year in the Mexican League in 2001.
With an absurd .437/.497/.678 line and 57 extra-base hits in 110 games for the Tigres Capitalinos in 2001, Franco had his contract purchased by the Atlanta Braves on Aug. 31, 2001, as he made his triumphant return to MLB at the age of 42.
He ended up replacing underperforming veterans Rico Brogna and Ken Caminiti at first base, and he spent five seasons as a semi-regular player with the Braves before moving on to the Mets in 2006 for his age-47 season.
Buy on: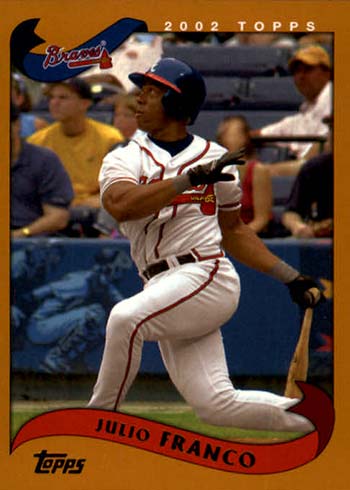 2008 Topps Year in Review #YR34 Julio Franco
On April 20, 2006, Franco hit a pinch-hit, two-run home run off Padres reliever Scott Linebrink to become the oldest player in MLB history to hit a home run.
He would homer again on Sept. 30, 2006 and May 4, 2007 to extend his lead in the record books, with that final blast coming when he was 48 years, 8 months, 12 days old.
All told, he wrapped up a 23-year career with 2,586 hits and a .298 career batting average, tallying 43.6 WAR along the way, and that's just his MLB production.
Buy on: