Instant PC: 10 (Baseball) Career-Defining Deion Sanders Cards
When you click on links to various merchants on this site, like eBay, and make a purchase, this can result in this site earning a commission.
With so many different base cards, subsets, parallels, memorabilia cards and autographs, building out a collection for a single player can be overwhelming.
Luckily, the 10-Card Instant PC article series is here to help.
There are more than 1,400 Deion Sanders cards, according to the Beckett database.
So where does one begin putting together a Deion Sanders PC?
These 10 cards serve as an excellent representation of his playing career and footprint on the hobby, making them a great place to start.
1989 Topps Traded #110T Deion Sanders RC
The New York Yankees selected Sanders in the 30th round of the 1988 MLB draft. A few months later, he was the No. 5 overall pick in the 1989 NFL draft.
He moved quickly through the minor leagues, making his MLB debut on May 31, 1989. He went on to hit .234/.280/.404 with two doubles and two home runs in 50 plate appearances during the 1989 season. That was enough for him to have Rookie Cards in a trio of update sets, with Donruss Rookies and Fleer Update joining his Topps Traded rookie.
Buy on: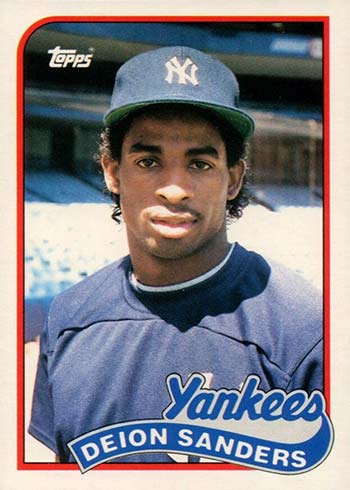 1990 Classic Blue #21 Deion Sanders
The late-80s and early-90s Classic sets were a fun oddball option tied to a board game, and aside from being a great photo, this Sanders card also comes with a fun backstory that led to two variations.
An estimated 10 percent of the 20,000-card print run features just "PRIME TIME" as his name on the front of the card. After the initial release, Sanders requested that his full name be added, so the remaining print run reads "Deion PRIME TIME Sanders" on the front.
Buy on: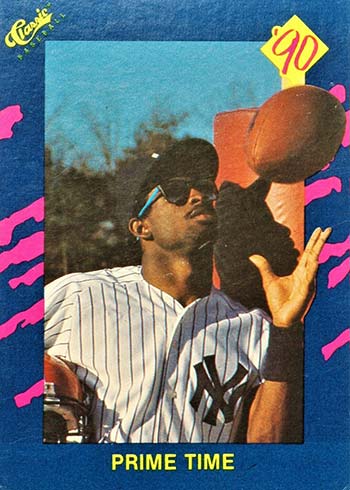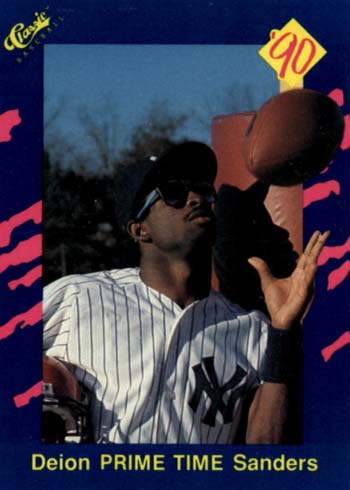 1990 Upper Deck #13 Deion Sanders
Sanders made the Yankees Opening Day roster in 1990, but he hit just .158 with eight steals in 57 games before reporting to NFL training camp at the end of July. The Yankees placed him on waivers in September and ultimately released him.
While he was not included in the landmark 1989 Upper Deck set, he does have a "rookie" card in the 1990 release that's a worthy early addition to any Sanders collection.
Buy on: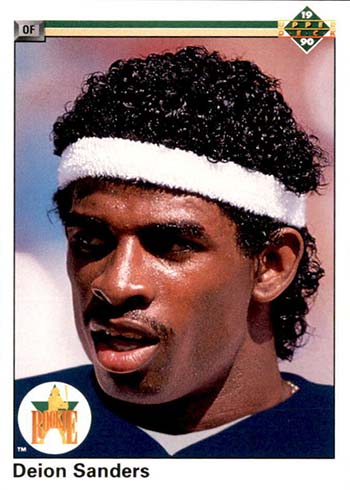 1992 Upper Deck #SP3 Deion Sanders
After he was released by the Yankees, Sanders joined the Atlanta Braves in free agency. Playing baseball in the same city as his NFL team the Atlanta Falcons made it easier for him to juggle both sports, and he turned a corner on the baseball diamond in 1992 when he hit .304/.346/.495 with an NL-leading 14 triples and 26 steals in 97 games.
With the success of the SP1 (Michael Jordan) and SP2 (Nolan Ryan/Rickey Henderson) insert cards in the 1991 release, Upper Deck put out another supremely cool card in this dual-sport beauty that can be found in Lo-Series packs.
Buy on: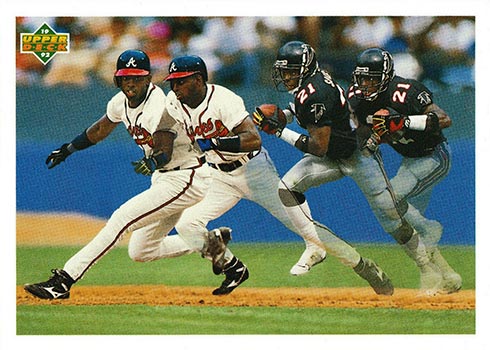 1993 Triple Play Nicknames #8 Deion Sanders
With a retail price of just 59 cents, the 1993 Triple Play release from Donruss was geared toward a younger audience. That said, there are a few cool insert sets in the product, including the Gallery of Stars set that mirror the Diamond Kings look and the simple-but-effective Nicknames set featured here.
The 10-card set also includes Frank Thomas (Big Hurt), Roger Clemens (Rocket), Ryne Sandberg (Ryno), Will Clark (The Natural), Ken Griffey Jr. (Junior), Dwight Gooden (Doc), Nolan Ryan (Express), Ozzie Smith (Wizard) and Fred McGriff (Crime Dog).
Buy on: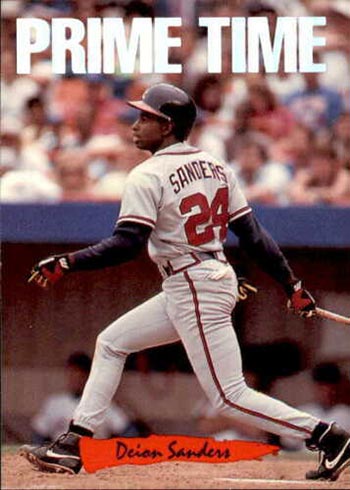 1996 Metal Universe #245 Deion Sanders
Sanders spent the second half of the 1994 season and the first half of the 1995 season with the Cincinnati Reds before he was traded to the San Francisco Giants ahead of the '95 trade deadline in an eight-player deal.
He hit .285/.346/.444 with 19 extra-base hits, 29 runs scored and eight steals in 52 games with the Giants, and that earned him a place on the 250-card checklist for the inaugural Metal Universe baseball set in 1996.
Buy on: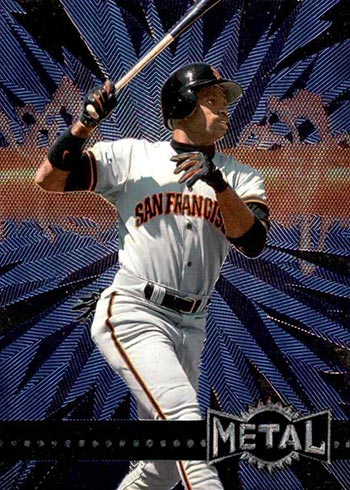 1998 Sports Illustrated Covers #C9 Deion Sanders
After sitting out the 1996 season, Sanders returned to baseball in 1997 as a member of the Reds. He played in a career-high 115 games during the '97 season and finished second in the NL with 56 steals, trailing only Pirates rookie Tony Womack (60).
He was featured on the cover of Sports Illustrated for the May 26, 1997 edition, and that picture was subsequently included in the 10-card "Covers" insert set in the Fleer Sports Illustrated product the following year.
Buy on: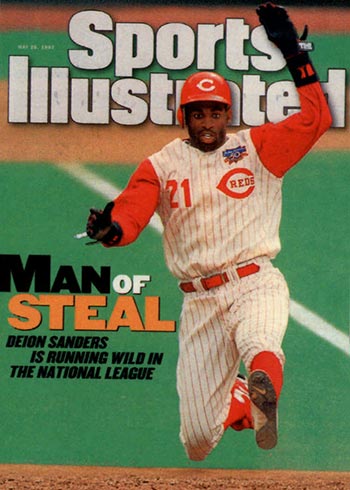 2000 Upper Deck #357 Deion Sanders
Following two years away from baseball, Sanders played 25 games for Cincinnati's Triple-A affiliate in 2000. That was enough for him to be included in Series 2 of the Upper Deck base set, with the back of the card discussing his comeback attempt.
He didn't make it back to the majors in 2000, but it laid the groundwork for his eventual return the following year.
Buy on: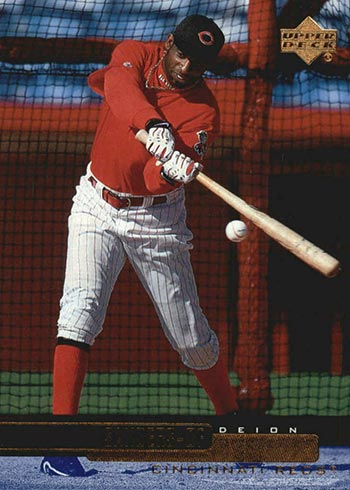 2001 Absolute Memorabilia #109 Deion Sanders
This is the only Sanders card that was released during the 2001 season when he saw his final MLB action.
The 33-year-old hit .173/.235/.240 with two doubles, one home run and three steals in 83 plate appearances over 32 games with the Reds before he was released in June.
Buy on: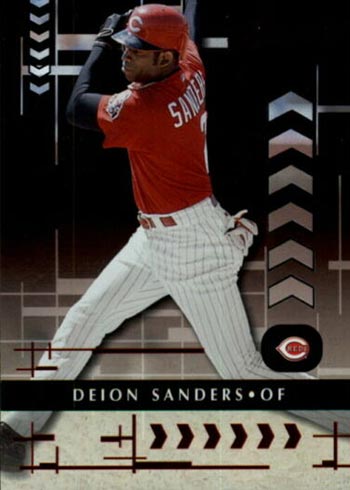 2015 Stadium Club #82 Deion Sanders
When all was said and done, Sanders played 641 games in the majors, roughly the equivalent of four full seasons.
He hit .263 with 558 hits in 2,325 career plate appearances, checking in among the 1990s leaders in both steals (182, 35th) and triples (43, t-21st). He remains the only athlete to ever play in both the World Series and the Super Bowl, reaching the Fall Classic with the Braves in 1992.
His enduring legacy as one of the greatest two-sport athletes of all-time has made him a regular inclusion in recent releases, and there's no beating Stadium Club's photography if you're looking to round things out with a current card.
Buy on: