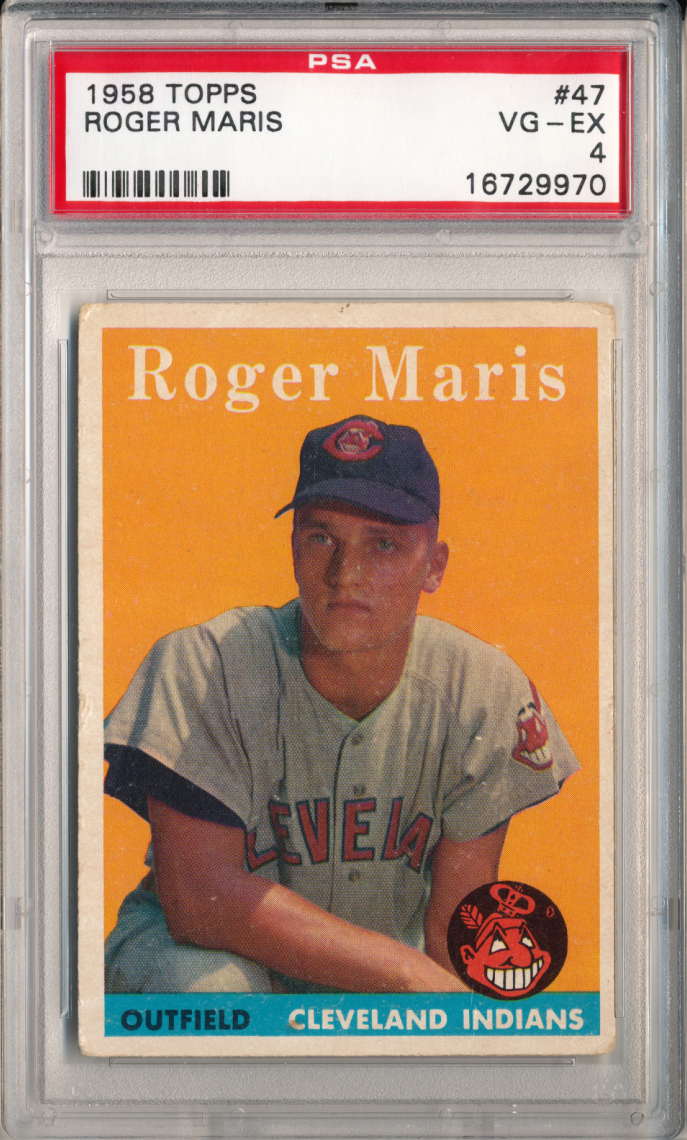 By Chris Olds | Baseball Editor
Visit any sports card and collectibles forum and you'll likely see one of these types of posts — a recap of what arrived into a collector's possession that's one part "Check This Out!" and one part bragging. It's one part a reflection of a hobby and, perhaps, a reflection of the madness that is what we do as collectors.
It's the mailday report.
I tested the waters of live online video to a select few Twitter followers late Monday afternoon with a UStream mailday report after I received a big ol' box of goodness from CheckOutMyCards.com at lunchtime. The video was one part to show a curious few the end result of how that sales site works and to examine my stuff — a stash that had been amassed over the last few months of buying — while subtlely showing off — ok, maybe not so subtlely — what I collect. (As if you didn't know, as a regular reader, already …)
This time, though, it was a little less Swisheriffic. Don't get me wrong, there was plenty of Nick Swisher — and Jose Canseco on Topps Tiffany cards (a recently completed kick) — but the big guns were something else. It was a selection of cards that caught my eye for one reason or another. A couple were cards I had always wanted and the specimens presented themselves, while a few others were just good buys or unique cards that grabbed my attention. I did some spring cleaning of sorts in the ol' collection recently — something long overdue — and turned some not-so-wanted cards into these you see here (and more).
So, here's a rare mailday post from me. (Do you have a cool mailday to report? Start a thread at the first link above or comment below.)
The biggie, was a Roger Maris 1958 Topps Rookie Card in PSA 4 condition. It's not the prettiest specimen, as seen above, but I've seen worse-looking copies — in lower condition with higher prices to boot. Unlike many of you guys out there, dropping $500 on a single card just isn't an option here — but a lesser-grade guy, one that's pretty well-centered and free of a heavy dose of 1958 Topps "snow" (white spots in the photo) was. To top that, I got it for roughly the price of a PSA1 or 2 after making an offer to the previous owner. Yes, it's still a rough copy … but I won't be able to top it without a firesale from someone who deals in higher-grade vintage. (When's the last time that happened?)
—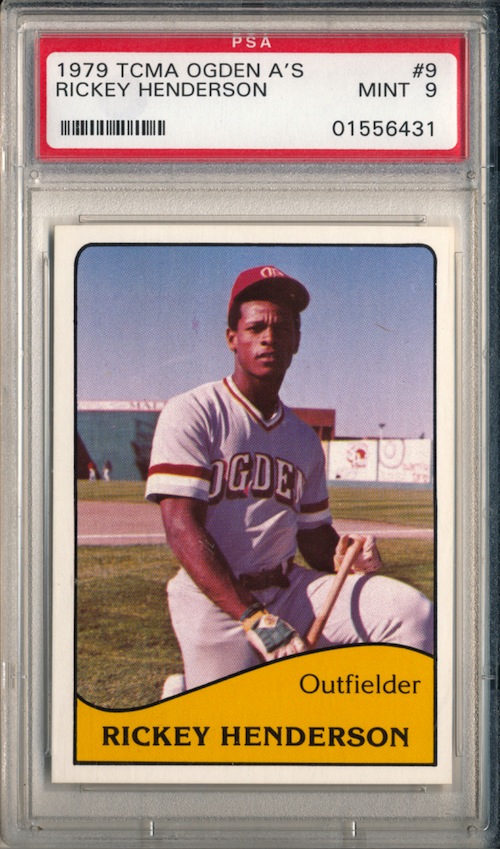 The second biggie was another long-term want — a copy of an early Rickey Henderson minor league card. This 1979 TCMA release pre-dates his 1980 Topps RC but isn't his first MiLB release. It is the earliest one I could ever afford, though. I made an offer to the seller, which turned out to be a deal. This one cost me far less than the roughed-up and ungraded copy on that site right now.
—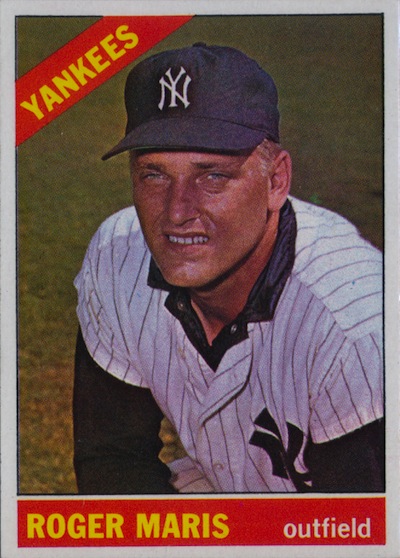 My third biggie wasn't really a card that I had been targeting at all — my run of Roger Maris cards basically focuses on 1958-61 — but this card just looked too good to pass up. It's not a perfect specimen, but it's very close. It looked good enough for me to buy and I'll consider getting this 1966 Topps Maris graded by the BGS crew. Better yet? I got it for $20 less than high book price after making an offer.
—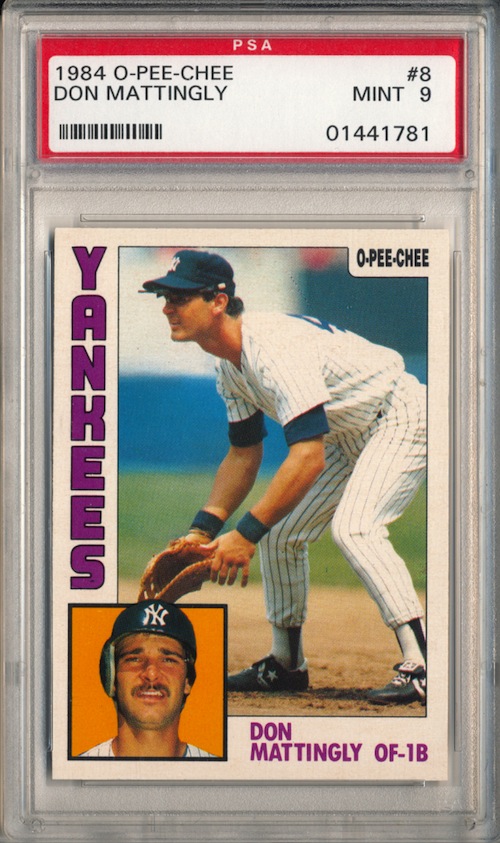 This is a card that I'll readily admit that I probably slightly overpaid for … but it looked pretty darn good, too. I'm not a member of the Donnie Baseball Fan Club by any means, but the O-Pee-Chee print job here looked very, very clean — much brighter and crisper than its ungraded Topps brother already at home. Was it worth the price of two blaster boxes? Maybe not, but I took it. Or, maybe I had been working on the upcoming 1980s issue of Beckett Sports Card Monthly too closely and thought it was 1985 all over again …
—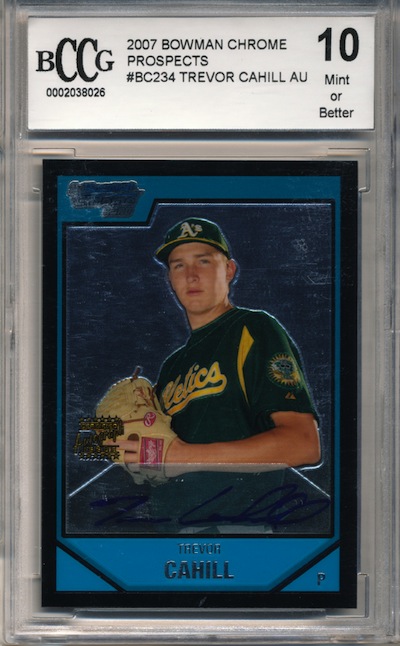 This next one might have scared off a few potential buyers with a scuffed up BCCG case, but the card inside — an autographed Trevor Cahill 2007 Bowman Chrome card — looks pretty solid to me. It'll likely get upgraded to a clean BGS case someday … though I've had a stash of cards I've been aiming to send in grouped together since roughly 2004. (It's like that 2004 Topps 205 Series 2 mini master set I'm working on … slowly but surely … I swear.)
—
You had enough Oakland and pinstripes, right? (Just imagine if you had seen all 40 cards I had shipped … the entire video was full of them.)  Well, this buy — a 2010 Topps National Chicle printing plate — was a complete late-night impulse buy. Why? The price was right — about the price of five retail packs of that red-hot 2011 Topps Heritage. Not a Tim Wakefield fan at all, but that painting was cool enough I put it on a Beckett Baseball cover last summer. Now, I own one of four plates that helped make the card.
—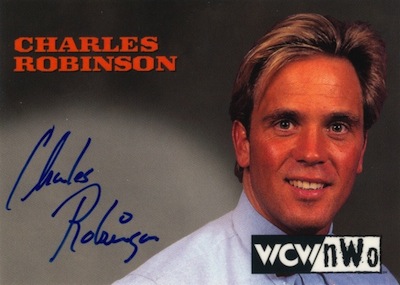 There were 30-some other inclusions in my mailing, but this one was one of the more unique ones — something I just haven't seen often. It's an obligatory pro wrestling inclusion (especially if you know my Tweeting habits) — a 1998 Topps WCW/nWo autograph of a pretty memorable WWE referee also known as "Lil' Naitch" … a piece of trivia that prompted a quick discussion about the origins of "The Nature Boy" Ric Flair's nickname that prompted a miniature lesson, err, discussion, about the history of pro wrestling and "The Nature Boy" Buddy Rogers. The card cost me a couple the same as a couple of packs at retail but the ability to spark a story about something — one of the reasons I bought such an odd card — was priceless.
Perhaps we'll bring you more maildays — or more live video/chat sessions — soon.
Until then, keep on collecting.
Chris Olds is the editor of Beckett Baseball. Have a comment, question or idea? Send an e-mail to him at colds@beckett.com. Follow him on Twitter by clicking here.