Insert Card Craze: Leaf Gold Rookies Baseball Cards of the 1990s
When you click on links to various merchants on this site, like eBay, and make a purchase, this can result in this site earning a commission.
Before there was the iconic 1992 Fleer Rookie Sensations that helped the insert card craze explode, there were Leaf Gold Rookies. One of the first insert sets to focus solely on rookies, it debuted in 1991 and became a staple in the Leaf flagship line, with a total of six Hall of Famers included over the set's five-year run.
1991 Leaf Gold Rookies
Cards: 26
Hall of Famers: 4
The 1990 Leaf set is one of the few from the Junk Wax Era that has held its value relatively well, and there was not a single insert set in that inaugural release from Donruss that was meant to be a premium product to compete with Upper Deck.
One insert set was added for 1991 Leaf, Gold Rookies. Found in 1:4 packs, with 1991 NL Rookie of the Year Jeff Bagwell helped to drive interest in the set as he progressed through his breakout debut campaign.
He is joined by Mike Mussina, Mo Vaughn and Ryan Klesko as other notable names in the set. Veterans Nolan Ryan (seventh no-hitter) and Rickey Henderson (all-time SB record) also have bonus cards in the set to commemorate their milestone achievements.
Despite having a wide variety of Rookie Cards spread across 1991 products, both Bagwell and Mussina were excluded from the 1991 Leaf base set so the Gold Rookies were their only cards in that year's product.
Buy on: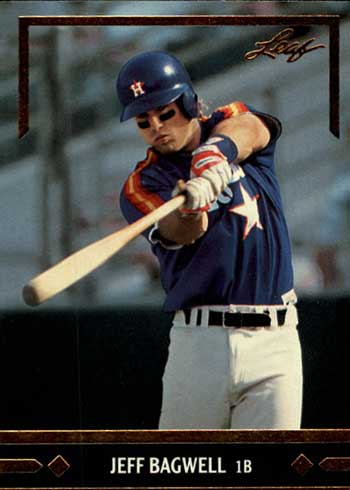 1992 Leaf Gold Rookies
Cards: 24
Hall of Famers: 1
The 1992 Leaf Gold Rookies inserts share a similar design as their 1991 counterpart. Again, they are the only standalone insert set in the product, though Leaf also introduced the Black Gold parallels which were found one-per-pack, similar to the Topps Gold parallels of the same time.
Hall of Fame pitcher Pedro Martinez, seen still sporting a Los Angeles Dodgers uniform, is the headliner on the 1992 checklist, with Kenny Lofton, Bret Boone, Raul Mondesi and Matt Stairs among the other notable names in the 24-card set.
The first 12 cards on the checklist are found in Series 1 packs, while the remaining dozen are exclusive to Series 2 packs. For anyone looking to chase the Pedro card, he is No. 3 on the checklist and can be found in Series 1.
Buy on: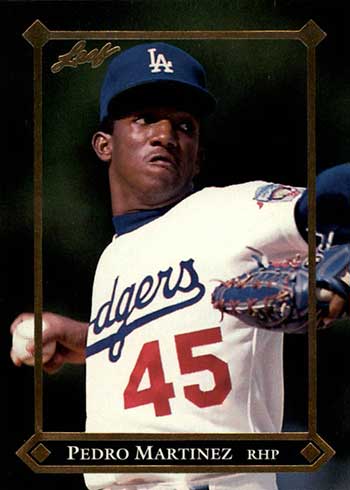 1993 Gold Leaf Rookies
Cards: 20+5 update
Hall of Famers: 2
The 1993 Leaf set brought a new design to its longest running insert set, and also a slight wording tweak as the set was called Gold Leaf Rookies instead of Leaf Gold Rookies.
Chipper Jones, Tim Wakefield and Tim Salmon are the biggest names in the 1993 set, with Jones found in Series 2 packs after he made his MLB debut on Sept. 11, 1993.
Leaf also produced an Update set in 1993 and included five more Gold Leaf Rookies cards. These are a relatively tough pull at 1:18 Update packs. Mike Piazza is among the players in the update set. His inclusion was a no-brainer after he won NL Rookie of the Year in 1993 with one of the best debut seasons the sport has ever seen.
Buy on: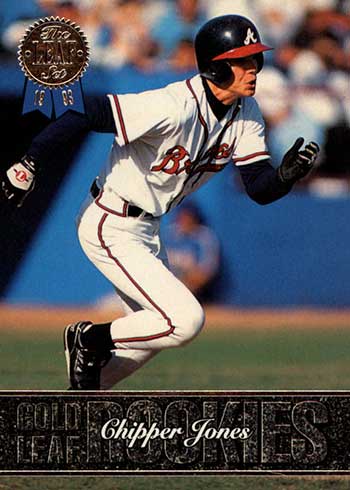 1994 Gold Leaf Rookies
Cards: 20
Hall of Famers: 0
After collectors were treated to Mike Piazza and Chipper Jones in 1993, the 1994 Gold Leaf Rookies checklist stands as quite the letdown.
The cards featured a much bolder design with a gold foil background and large "94 Gold Leaf Rookie" text behind the player's picture on the front, with two more photos on the reverse side along with stats and a quick write-up.
Aside from Manny Ramirez and Carlos Delgado, the checklist is lacking in star power, with Javy Lopez, Cliff Floyd and Rondell White among the second-tier names. All of those players, aside from Floyd, are found in the Series 1 portion of the set.
Buy on: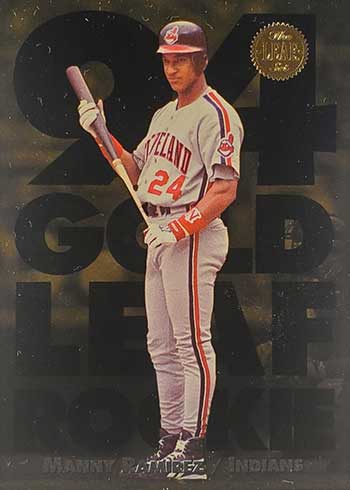 1995 Gold Leaf Rookies
Cards: 16
Hall of Famers: 0
In their fifth and final year of inclusion in 1990s Leaf products, the Gold Leaf Rookies inserts were exclusive to Series 1 and an extremely easy pull at 1:2 packs.
Alex Rodriguez is the big name in the '95 set. He is joined by Shawn Green, Garret Anderson, Charles Johnson and Chan Ho Park, among others.
Buy on: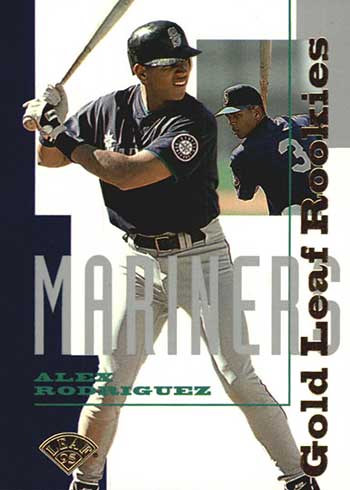 In 1996, Leaf focused more heavily on serial-numbered inserts and press proof parallels, casting aside the Gold Leaf Rookies set after a five-year run.
The inserts were resurrected for the 2002 Leaf release and had a second four-year run before the Leaf product line was discontinued after the 2005 season when Donruss' MLB license was not renewed.