Insert Card Craze: Fleer Team Leaders Baseball Cards of the 1990s
In the days before serial numbers, relic cards, certified autographs and countless parallels, simple base insert cards ruled the hobby.
The first modern insert cards arrived on the market in the late 1980s, but it wasn't until the early 1990s that the insert card craze truly swept the hobby, aided in part by rising young superstars Ken Griffey Jr. and Frank Thomas.
In the coming weeks, we will be taking a look back at some of the more memorable insert sets from that era and their progression over the years.
We turn our attention this week to the Fleer Team Leaders inserts, which were a staple in the insert-loaded Fleer products of the 1990s.
1992 Fleer Team Leaders
Cards: 20
Hall of Famers: 8
Fleer had its long-running All-Stars insert cards dating back to 1986. Pro-Visions inserts had just debuted in 1991, but it was not until 1992 that they started to expand their insert card offerings.
While the Rookie Sensations inserts are the chase cards in the 1992 set, that year's product release also brought the inaugural Team Leaders insert set.
Every 1992 Fleer rack pack contained either a Team Leaders insert or a Roger Clemens Career Highlights insert. Team Leaders cards were found exclusively in rack packs.
Wade Boggs, Andre Dawson, Carlton Fisk, Tom Glavine, Ken Griffey Jr., Tony Gwynn, Kirby Puckett and Cal Ripken Jr. are the eight Hall of Famers in the first Team Leaders set, which had a simple design with a bright green card stock and gold lettering.
Buy on: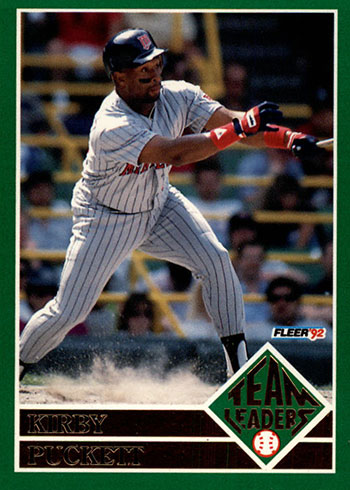 1993 Fleer Team Leaders
Cards: 20
Hall of Famers: 6
In 1993, the Team Leaders were split between Series 1 and Series 2 packs, with American League stars in Series 1 and National Leaguers in Series 2.
The inserts were once again rack-pack exclusives. They feature a silver border with the player names and the words "team leaders" along the left side in boxes that corresponds with the player's team colors.
The Series 1 checklist is a heavy-hitting group that includes Ken Griffey Jr., Frank Thomas, Mark McGwire, Kirby Puckett, Roberto Alomar and Juan Gonzalez. Series 2 is headlined by Ryne Sandberg and Jeff Bagwell.
Buy on: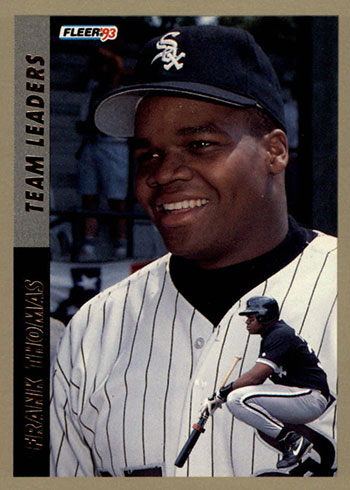 1994 Fleer Team Leaders
Cards: 28
Hall of Famers: 10
The Team Leaders cards are among 11 different insert sets that could be found in the 1994 Fleer release, up from seven the previous year. This marks the first time Team Leaders were available in regular wax packs.
A relatively easy pull at 1:6 packs, the checklist expanded from 20 to 28 with one representative from each MLB team.
The 1994 design might be the best of the insert set's six-year run, with a dual photo front that included a large headshot and a smaller action shot accompanied by a team logo, and the wording on the back imposed over another team logo.
Barry Larkin, Paul Molitor and Mike Piazza are the first-time inclusions among 10 Hall of Famers included in the set, while Brian McRae (Royals), Gregg Jefferies (Cardinals) and Jay Bell (Pirates) are among the more outside-the-box inclusions.
Buy on: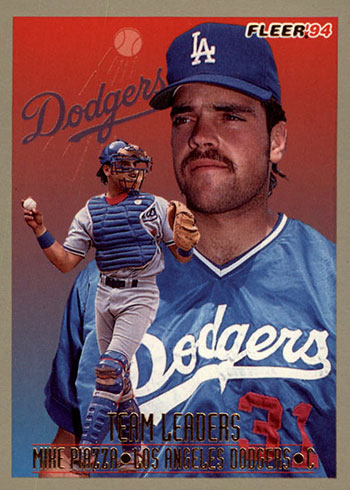 1995 Fleer Team Leaders
Cards: 28 (double-sided)
Hall of Famers: 11
The 1995 Fleer Team Leaders inserts are a significantly tougher pull at 1:24 packs in a product that features at least one insert card in every pack.
For the first time, they were also double-sided, with each team's top hitter on the front and top pitcher on the back, with a sparkly black and gold background on the cards that gave them a high-end feel.
The top combinations include the Braves (David Justice and Greg Maddux), Orioles (Cal Ripken Jr. and Mike Mussina), Red Sox (Mo Vaughn and Roger Clemens), Mariners (Ken Griffey Jr. and Randy Johnson) and Yankees (Don Mattingly and Jimmy Key). The cards have held their value better than many mid-90s inserts.
Buy on: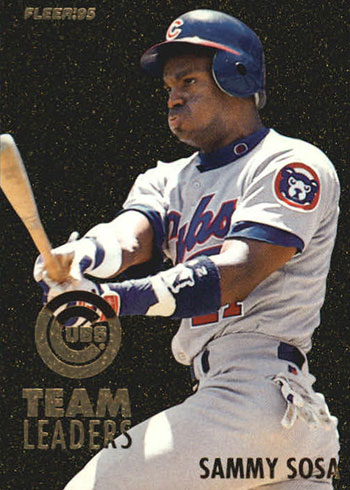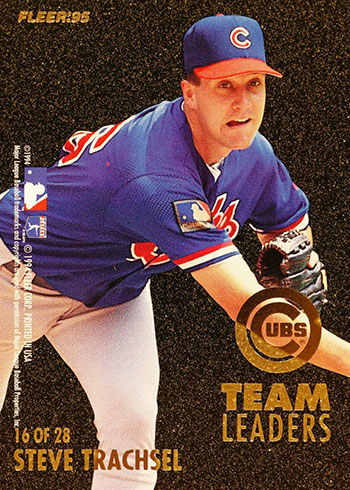 1996 Fleer Team Leaders
Cards: 28
Hall of Famers: 9
Fleer overhauled its flagship set in 1996, introducing a borderless, matte-finished design that gives the set a vintage feel.
However, insert cards continued to drive the product line with 11 different insert sets available to collectors, though this time the Team Leaders inserts were among the easier finds with a 1:9 packs pull rate.
The Team Leaders cards were exclusive to hobby packs in 1996, and the double-sided approach was scrapped after just one year in favor of a return to one player-per-team on a foil, logo-heavy design.
Buy on: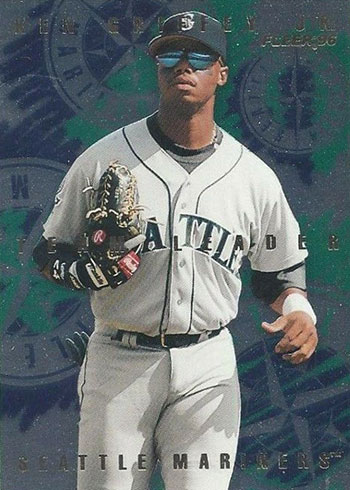 1997 Fleer Team Leaders
Cards: 28
Hall of Famers: 9
The final Fleer Team Leaders set was released in 1997 with a die-cut design that caused some initial problems.
The cards are die-cut along each player's face in a close-up head shot.
Atlanta Braves rising star Chipper Jones is the only first-timer among nine Hall of Famers on the 28-card checklist. Cards are found in 1:20 hobby and retail packs.
The Fleer Team Leaders inserts returned in 2006 with a 30-card insert set that featured a dual-photo card highlighting a hitter and a pitcher from each team.
Buy on: