Insert Card Craze: Fleer All-Stars Baseball Cards of the 1980s and '90s
In the days before serial numbers, relic cards, certified autographs and countless parallels, simple base insert cards ruled the hobby.
The first insert cards arrived on the market much earlier, but it wasn't until the early 1990s that the insert card craze truly swept the hobby, aided in part by rising young superstars Ken Griffey Jr. and Frank Thomas.
In the coming weeks, we will be taking a look back at some of the more memorable insert sets from that era and their progression over the years.
We'll start where it all began with the Fleer All-Stars inserts that were first included in the 1986 Fleer product line.
1986 Fleer All-Stars
Cards: 12
Hall of Famers: 4
This is where it all began.
While 1986 Fleer is best known on the basketball side of things as the set that contains the iconic Michael Jordan Rookie Card, that year's baseball release also had a profound impact on the hobby by featuring the first modern insert cards. Others came before it, but one could argue this is what really set the wheels in motion for what would come.
The Fleer All-Stars inserts were randomly inserted in cello and wax packs, while rack packs had a different insert chase in the form of a six-card future Hall of Famers set.
With an eye-popping design on superior card stock, the Fleer All-Stars cards felt special. The fact that they couldn't be found one-per-pack made for one of the hobby's first true chase cards.
Don Mattingly, Cal Ripken Jr., George Brett, Rickey Henderson and Dwight Gooden are the headliners for the set's inaugural checklist. The cards still sell for good money relative to most of what was released in 1986.
Buy on: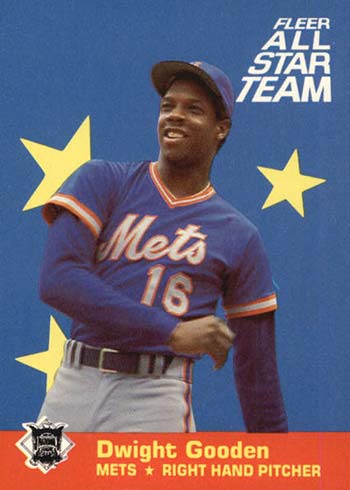 1987 Fleer All-Stars
Cards: 12
Hall of Famers: 4
Fleer rolled out the same design for the 1987 Fleer All-Stars set, switching from red and blue background to differentiate between the AL and NL selections to a more muted black and gray color palette.
Mattingly was included for a second consecutive year. He was the only holdover from the 1986 set. Notable newcomers included Roger Clemens, Mike Schmidt, Kirby Puckett, Gary Carter and Tim Raines.
Buy on: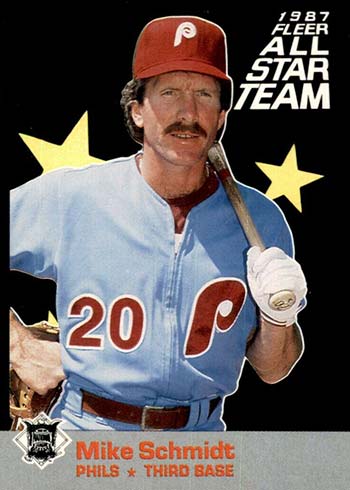 1988 Fleer All-Stars
Cards: 12
Hall of Famers: 4
After rolling out the same design the first two years, the 1988 Fleer All-Stars set pivoted to a green striped background for all 12 players, no longer differentiating between AL and NL players with different colors.
Wade Boggs, Andre Dawson, Paul Molitor and Alan Trammell are the Hall of Famers on a checklist that also features Roger Clemens for a second straight year and Reds star Eric Davis.
Buy on: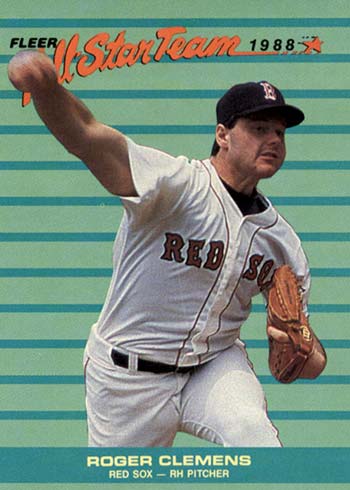 1989 Fleer All-Stars
Cards: 12
Hall of Famers: 3
The 1989 Fleer All-Stars set is the first one where odds are available. They were a relatively easy pull at 1:3 cello packs and 1:6 wax packs. The new design featured an action shot of the player, accompanied by an inlaid head shot in the lower right corner, perhaps drawing some inspiration from the 1983 and 1984 Topps flagship sets.
Paul Molitor, Alan Trammell and Dennis Eckersley are the three Hall of Famers on a rather lackluster checklist, with Jose Canseco checking in with the highest book value.
Buy on: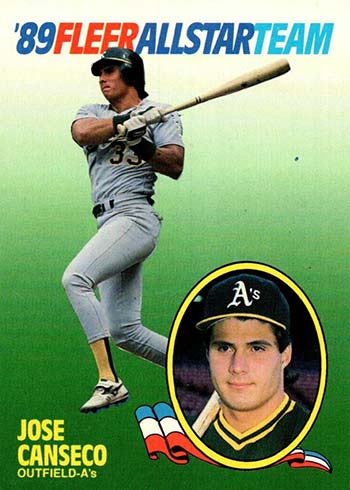 1990 Fleer All-Stars
Cards: 12
Hall of Famers: 4
This might be where things bottomed out from a design standpoint, with a white and gray color scheme and the player's headshot now taking up more real estate than the action shot for some odd reason.
Cubs star Ryne Sandberg was included on the checklist for the first time in the 1990 set, and he's joined by Harold Baines, Kirby Puckett and Cal Ripken Jr. among Hall of Famers. This is also where the inserts hit peak over-production and prices reflect that.
Buy on: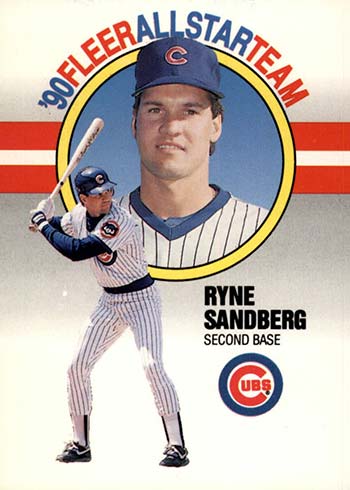 1991 Fleer All-Stars
Cards: 10
Hall of Famers: 4
In 1991, the Fleer All-Stars checklist was trimmed to 10 cards, and the inserts were only available in jumbo and super jumbo packs. The cards also featured a landscaped design for the first time, and returned to prioritizing the action shot over the head shot in terms of size. 
Mariners superstar Ken Griffey Jr. was included for the first time, while Rickey Henderson, Barry Larkin and Ryne Sandberg joined him among current Cooperstown inductees. 
Buy on: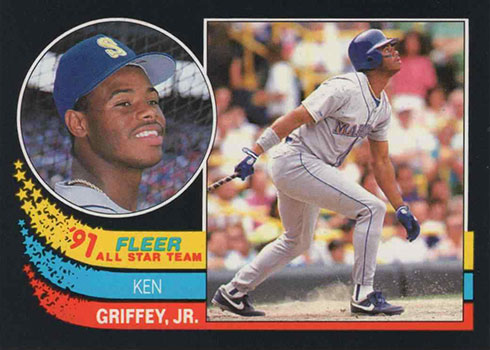 1992 Fleer All-Stars
Cards: 24
Hall of Famers: 9
1992 Fleer Baseball is best known for the Rookie Sensations insert set, specifically the Frank Thomas card that helped launch the 1990s insert card boom.
The Fleer All-Stars inserts don't command quite the same attention, but the checklist was expanded to 24 cards and features a sleek, black design with gold foil lettering. This set also contains an early Frank Thomas card, along with Ken Griffey Jr., Cal Ripken Jr. and six other Hall of Famers.
Buy on: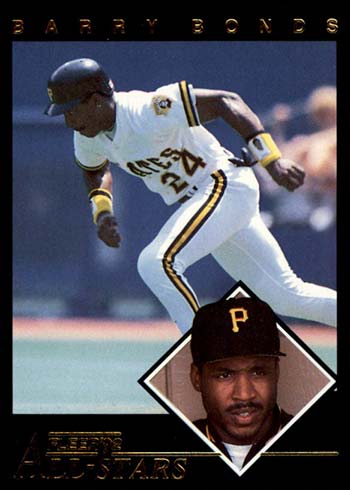 1993 Fleer All-Stars
Cards: 24
Hall of Famers: 10
The 1993 Fleer All-Stars set was split into two smaller 12-card sets, with National League players featured in Series 1 wax packs. American League players rolled out in Series 2 wax packs.
They are more high-design than previous releases with a color headshot over top of a black-and-white action photo. For the second time, the inserts were presented in a landscaped layout.  
Buy on: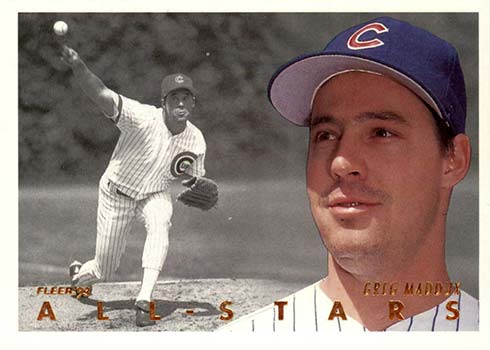 1994 Fleer All-Stars
Cards: 50
Hall of Famers: 16
The 1994 Fleer All-Stars set was expanded to a whopping 50 cards, highlighting players who participated in the 1993 MLB All-Star Game. The cards had an American flag background with a close-up action shot of each player, and most of the 90s biggest stars are represented on the checklist.
The cards were a very easy pull at 1:2 packs, but thanks to the attractive patriotic design, the biggest names in the set still regularly sell for a couple bucks. All told, an impressive 16 Hall of Famers made the cut in the 50-player set.
If you're looking for a cheap, fun, 1990s insert set to build, this is a good one.
Buy on: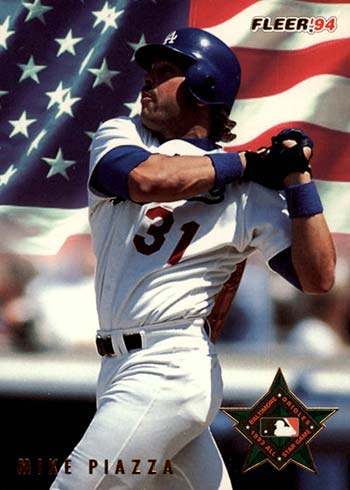 1995 Fleer All-Stars
Cards: 25 (double-sided)
Hall of Famers: 17
The 1995 Fleer All-Stars inserts were 1:3 packs. This made them the easiest pull in a product that featured one insert per pack. There were 25 cards in the set, but 50 players represented, thanks to a double-sided design.
The best combinations on the checklist came at shortstop (Cal Ripken Jr. and Ozzie Smith), outfield (Ken Griffey Jr. and Tony Gwynn), catcher (Ivan Rodriguez and Mike Piazza) and designated hitter (Paul Molitor and Jeff Bagwell).
Despite including 11 different insert sets in the 1996 Fleer release, the All-Stars inserts were eliminated after a 10-year run.
Buy on: