Inscriptions add character to autograph cards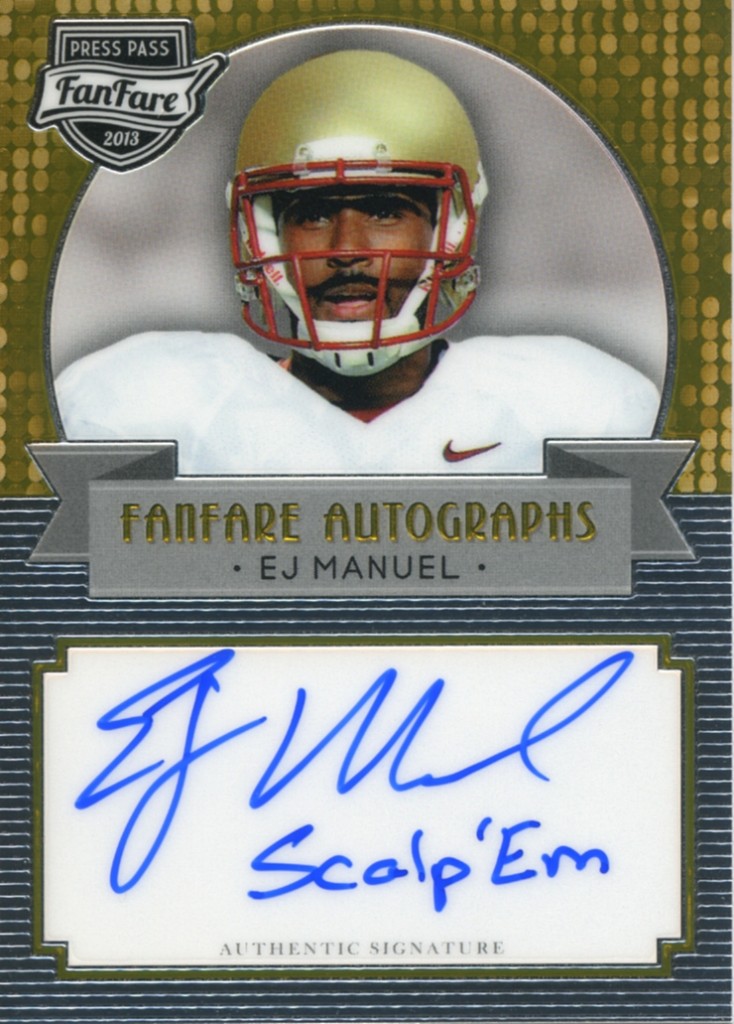 By Susan Lulgjuraj | Beckett Football Editor
Inscriptions can change the value of an autograph card. A funny or unique saying can cause a buzz with collectors just as it recently did with an Isaiah Pead 2012 Five Star autograph.
"Get Pead On"
We get it. And so do card companies. That's why they seek athletes to personalize cards in a way that will grab attention.
Press Pass showed off several inscriptions from 2013 Fanfare Football. Many athletes stuck to nicknames or rooted on their college teams.
Dee Milliner got creative and included about eight different inscriptions ranging from "Milli Island" to "The Best DB."
Quarterback EJ Manuel, a first round draft pick for the Buffalo Bills, had all his cards focus on the Florida State Seminoles, including a line from the FSU fight song "Scalp 'Em."
Those who casually see the card may not understand the significance of the saying. The Seminoles use it on bumper stickers and t-shirts. Other players and coaches have also inscribed the saying throughout the years.
Inscriptions are interesting to follow as you see what's important to the players who are signing them. Many go with bible verses or show their school spirit.
But occasionally you get someone like Pead who just tries to have a little fun.
Susan Lulgjuraj is an editor of Beckett Football. You can email her here with questions, comments or ideas. Follow her on Twitter here. Follow Beckett Media on Facebook and Twitter.