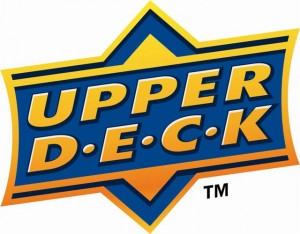 By Susan Lulgjuraj | Beckett Sports Card Monthly Editor
LAS VEGAS – Upper Deck's Diamond Dealers were invited to the company's corporate address at the Industry Summit on Monday.
Upper Deck gave out prizes during a contest geared around the eBay sales of popular UD cards. But more importantly, it addressed many new products dealers can expect.
However, its big announcement was that Upper Deck reacquired an MLB Players Association license (read more about that here).
Upper Deck created its Diamond Dealer program a couple of years ago for hobby shop owners. Currently, it has 1,639 certified Diamond Dealers with 1,244 in the United States and 395 in Canada – a 12 percent increase from 2012. Upper Deck takes the rules for Diamond Dealers seriously and removed 180 from its program for various reasons.
Here is information on several upcoming products:
Hockey
The 2013-13 double rookie class will be a point of focus for Upper Deck in next season's products that will begin to appear in July.
Trilogy: Upper Deck is bringing it back. It will have a 100-player checklist, but the highlight will be the rookie autographs. There will be 33 holdover rookies from the 2012-13 season and three autographs for each of those players. Those 33 will take up 99 autographs in the product. Upper Deck will have a new card in Trilogy called UD Crystal, which will be similar to Ice, but modifying the acetate cards.
2013-14 O-Pee-Chee: One of the first products on the market for next season. The wrapper redemption program is coming back. There will be black-bordered hot boxes and on-card buy back autographs in OPC.
Football
2013 SPx: Upper Deck reconfigured the set. There will be 10 packs with five cards per box. There will be a hit in every pack.
NEW! 2013 Eminence: This is one-pack per box product. The cards will be acetate coated with autographs on the acetate. Eminence will feature Museum Relic Redemptions for vintage college football items.
Basketball
2013 All-Time Greats: There will be a number of new signers including Karl Malone, Reggie Miller, Allen Iverson, Jason Kidd and Gary Payton.
Michael Jordan Master Collection: Upper Deck is bringing this back from the late 1990s and early 2000s. This product will showcase Jordan with North Carolina and have four autographs in every box. "To be able to bring back Master Collection in this way with really powerful content is going to be exciting for collectors," Upper Deck's Chris Carlin said.
Susan Lulgjuraj is an editor of Beckett Sports Card Monthly. You can email her here with questions, comments or ideas. Follow her on Twitter here. Follow Beckett Media on Facebook and Twitter.