2013 Industry Summit: Panini America's corporate address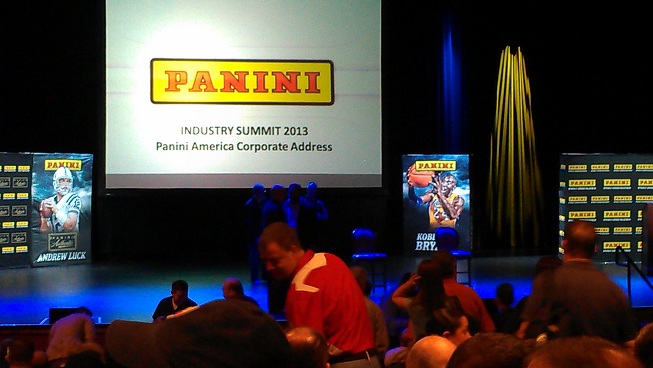 By Susan Lulgjuraj | Beckett Sports Card Monthly Editor
LAS VEGAS – The crowd at The Industry Summit shuffled into a showroom at The Orleans in Las Vegas on Tuesday. The room is usually reserved for concerts or big shows at the casino, but instead Panini America spoke to a room full of dealers.
It did not feel like a typical corporate address at The Industry Summit. The stage had three chairs in the center, banners of Panini's exclusive athletes and purple lighting, giving the address of far different feel than those held in a conference room.
Panini discussed the company's growth and where it believes it is headed. Here are the highlights from the address:
1. Panini has seen 60 percent growth of its company as it has generated more content than the other card companies. Panini has licenses in the four major sports, including several entertainment licenses, and its Panini Authentic department.
2. Panini has made a strong push into social media and has tried to leverage that success into stronger sales for its products. One of its biggest successes has been The Knight's Lance blog. In 2011, the blog drew 1.7 million pageviews. It grew to 5.5 million in 2012 and in 2013 has already had 9.3 million pageviews.
3. The company is going to push soccer products starting with 2014 World Cup stickers. In 2010, the stickers sold in over 100 countries. Eventually, there will be soccer cards, including a high-end brand. In the meantime, if dealers want to acquire soccer cards Panini makes in Europe, it could put dealers in touch with a distributor
4. Panini is making Prizm Hockey. Collectors can first find these cards in 2012-13 Rookie Anthology as a bonus pack.
Promos
Basketball: The Starting 5 promo was held in 260 hobby shops this year. It was capped, but Panini will open it up to more stores next year. Along with providing packs of cards to shops, one collector will win a trip to the NBA Rookie Premiere in New York in August.
NFL Player of the Day: This was used in 540 card shops this year with about 50 new stores participating. In a survey done with the card shops, 89 percent said the shop saw an increase in sales of Panini products.
The POD promotion ended with an NFL player meeting with the national grand prize winner. On April 27, a New Jersey resident will host Hakeem Nicks who won in a contest held by the Attack of the Baseball Cards in Union, NJ.
Hockey Player of the Day: In 2012, 266 shops participated with 112 of them in Canada. The next season's POD will have a heavy focus on the double rookie class on cards.
Redemptions
Panini processed 34,000 redemptions this year – 9 percent of the redemptions have taken more than a year with 91 percent taking less than a year to fulfill. In 2012, Panini processed a whopping 120,000 redemptions.