Industry Summit Day 1: Informative and Exciting Events Fill Day for Attendees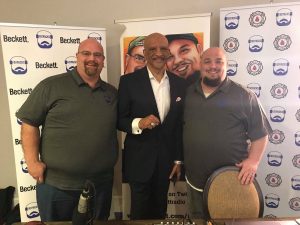 The Industry Summit for 2018 officially kicked off today (Feb 26th) in Dallas, TX as some of the most influential members of the Hobby gathered for the first full day of the three day brainstorming event. The conference features appearances by manufacturers, distributors, shop owners, breakers, vendors, Beckett Media and Grading, athletes, and more. This year's Summit is packed with guest speakers, fun events and even a few surprises for attendees.
One such surprise was unveiled very early on Day 1. After a Welcome by GTS Distributors at 7 am and Opening Remarks by Bill Sutherland (VP of Beckett Media) and Ray Schulte (NSCC Director of Communications), attendees enjoyed the Keynote Address by Dr. Jim Beckett, founder of Beckett Media and a true pioneer and innovator of the Hobby. At the conclusion of the address, Dr. Beckett was presented with the Dr. James Beckett Lifetime Achievement Award by Dallas Cowboys Legend, Drew Pearson. Mr. Pearson shared with the crowd that he was a collector himself and had long been familiar with Dr. Beckett's work.
After the Keynote Address, a panel including Gabe Flores (Texas Motor Speedway's Interactive Marketing Manager), Taylor Stern (Social Media Coordinator for the Dallas Cowboys), Tracy Hackler (Panini) and Mike Fruitman (Mike's Stadium Sportscards) spoke at length on the topic of Social Media Best Practices. This was a lively discussion that featured one of the major topics the industry is navigating in 2018. When asked about the session, Marlin Carlson of SpartyHawk Cache LLC said, "I found it very educational to learn about things that would help me expand my brand. An online presence is critical in 2018 and I thought the panel was very good."
Social Media Best Practices was followed up by a discussion on Email Marketing, led by Tarsha Polk, a leading email marketing specialist and Constant Contact expert. Ms. Polk has worked with the NFL and AFL and was part of the business team for Super Bowl XLV. After lunch, the Summit shifted to an introduction to some of the major players in the business with Meet the Industry, Part 1. This presentation featured representatives from Handbid, Ultra Pro, GTS, eBay and more.
There is no question that the long term success of our hobby rests in the hands of young collectors and future collectors. The next panel addressed that specific topic as Beckett Media, Southern Hobby, TriStar and eBay led a discussion on Growing the Youth Audience. This discussion included ideas for retailers to make shop visits and other hobby interactions an exciting and memorable experience for kids. There were a lot of ideas in this discussion that, if implemented, can help build the youthful base of collecting.
The leading football card producer in the hobby, Panini, took the stage at 2:30 for the Panini Meet and Greet – Football. The NFL Product Development Team took questions from attendees covering topics such as autographs, inscriptions, affect of NFL Policies on the industry, Tom Brady and much more. There was also discussion about what products may not be returning in 2018 and what new products we can expect. Panini is constantly reviewing their offerings and making every effort to provide what the market is looking for.
The event closed out with the much anticipated Breakers Panel. The panel featured experts Brad Wagoner (Southern Hobby), Kelly Wrangham (Dakota Gaming Supply), Michael Hodges (STL Sports Gaming Supply), Daniel Anderson (Mojobreak) and Kevin Haake (Panini). The panel took questions about innovation, player involvement, manufacturer development and the relationship between breakers and brick & mortar. This panel was followed up by an exclusive breaker event hosted by Southern Hobby.
One of the liveliest spots at the Summit was the Fat Packs Podcast booth. Eric Norton and Paul Wirth opened the day with a fun interview with Drew Pearson of the Cowboys. They discussed several topics with him ranging from his collection to his memories of the "The Hail Mary". They also spoke with Gabe Flores of TMS, Mark Massey of Handbid, Mike Fruitman of Mike's Stadium Sportscards, Curtis Falany with Monster Breaks and with Dave Amerman of Steiner Auctions. As always, go find the Fat Packs podcast on iTunes, SoundCloud, Stitcher, Twitter (@FatPacksPodcast), Facebook (Fat Packs) and Instagram (the_fat_packs_podcast).
Attendees finished up Day 1 with a trip to the Dallas Mavericks game. Tuesday promises to be another fun and informative day for all involved.