In The Shot: Beckett Pricing Insider
This edition of the Beckett Pricing Insider is sponsored by Grizzly Sports Cards.

If you have followed social media at all over the last few days you would know that all the talk in the hobby was about a Mark Jackson card from '90-91 Hoops that may or may not feature Lyle and Erik Menendez, heavy on the "may" side. Our own Ryan Cracknell did a fabulous job of breaking down the evidence, and the card when the buzz started.  In his piece, he also brought up Patrick Kane's first appearance on a licensed card, the  '94-95 Pinnacle Sylvain Turgeon which features Kaner as a wide-eyed Sabres fan gazing in awe at Dale Hawerchuck.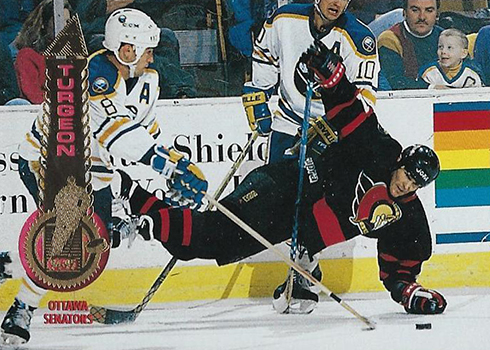 It's the public fascination with the morbid or macabre that sometimes keeps cards featuring figures like OJ Simpson, Aaron Hernandez, and now Mark Jackson just below the surface of mainstream collecting, however, in the case of the Turgeon card it's just the opposite. Rather, it's the pure joy of a young hockey fan sitting on the ice as the action is right in front of him.  In a set that may otherwise just be an afterthought, much like '90-91 Hoops, this card, two decades later, has made it relevant in recent years with realized final prices constantly in the $15 to $40 range. Of course, there is an Artist Proof parallel that will fetch you a little more on the secondary market if you have it in your collection.
I love when these kinds of details come to light and breathe new life into an otherwise forgotten set. So, as the market reacts to the latest addition to the "OMG, is that really him" club, don't forget about the card that set the standard for the cameo in the modern era.