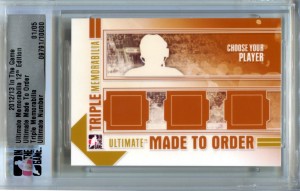 By Stephen Laroche | Beckett Hockey Editor
For over a decade, some of the most desired cards among hockey collectors have been from the Made To Order program that was a major part of several In The Game brands.
Made To Order was a true game-changer as it allowed collectors to submit the redemption cards to In The Game and they would receive a special 1/1 card featuring a player of their choosing. The cards began to appear in 2001-02 as part of Ultimate Memorabilia 2nd Edition and the program expanded over time to include varying themes over a wider array of products that included Between The Pipes, Heroes & Prospects and Sportkings.
"All redemption programs must come to an end and with the amalgamation between In The Game, Inc. and Leaf Trading Cards, now was the time for the Made To Order redemption program," said In The Game's Dr. Brian Price. "Remember, some of these cards are more than ten years old."
While the physical cards do not have an expiration date on them, expiration dates had been posted on the In The Game website in recent months. All Made To Order cards from before the 2008-09 season had expired on May 1, 2014 and the remainder of the cards were given an expiration date of December 31, 2014 with the intention of wrapping up the program.
Due to collectors not being widely made aware of the change, Price made the decision to extend the expiration dates of all Made To Order cards, regardless of the year they were issued, to the latter date. He encourages collectors to submit their Made To Order redemption cards as soon as possible.
"I can't speak for Sportkings but that is the case for the In The Game, Inc. cards," he noted. "For any new information on Sportkings redemptions you would have to contact Leaf Trading Cards, but I do know that the Series F Made To Orders expire on December 31, 2014."
It should also be noted that player and memorabilia selection is limited to those that are still available.
Redeemed Made To Order cards have gathered an impressive following due to the strong selection of game-used memorabilia pieces. Since they often go into the hands of private collectors, they only occasionally come up for sale. They leave behind an fine legacy that Price is pleased with.
"I feel that the Made To Order cards are some of the best cards in hobby, but then again, I am biased," he said. "The cards are collector-driven and filled the specific needs of the collectors who had them made."
Stephen Laroche is the editor of Beckett Hockey and Beckett Basketball magazines. Have a comment, question or idea? Send an e-mail to him at SLaroche@beckett.com. Follow him on Twitter @Stephen_Laroche.