In the Game's Brian Price speaks out over Enforcers controversy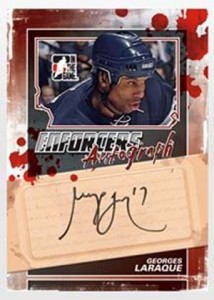 By Susan Lulgjuraj | Contributing Editor
Dr. Brian Price and In The Game have spent nearly a year working on its Enforcers hockey trading card set. As a fan of hockey, Price said he was looking for a way to honor a part of the game that doesn't get enough credit in the daily box score.
But a month away from the release of Enforcers, ITG found itself surrounded in controversy based designs where some cards show blood spatter. Critics cried that the sets were depicting violence and sent the wrong message.
ITG says that's wholly untrue.
"I have heard a lot of negative comments, but they aren't from card collectors," Price said. "I have been a collector for 55 years. I am very close to the game and I respect the game. I am paying them tribute as a card collector, hockey fan and hockey purist.
"The support I have gotten from collectors, dealers and distributors has been overwhelming. That's who I make hockey cards for."
The most vocal critic of the product has been Georges Laraque, one of the subjects in the set. The former NHLer told news agencies he asked to be taken off the card or to have the card remade without the blood.
However, ITG has no plans on doing either. Laraque signed a contract with the company and will appear in the Enforcers autograph insert set, which has around 80 players on the checklist.
Laraque played 13 seasons in the NHL and had a reputation as a fighter. He amassed more than 1,100 penalty minutes in his career.
But Laraque has found a career after hockey. The 35-year-old has jumped onto the political scene and is a deputy leader for the Green Party of Canada. One of the core values of the Green Party of Canada is non-violence.
"If George Laraque didn't have another agenda, I would take it more seriously," Price said. "I know he is out trying to get media attention."
Price said Laraque is the only player he has heard from that has spoken negatively about the set.
In fact, he's heard the opposite.
"I just talked to Dave Schultz, who embodies the role of an enforcer," Price said. "Dave Schultz said to us, 'I am an enforcer. I did it with pride. I have two Stanley Cups for all my hard work. And the game of hockey owes me a lot. I don't know what all the fuss is about.'"
This controversy has gained international attention with news agencies across the United States and Canada reporting on it.
"I was shocked when the stories started and the amount of traction they got," Price said.
Reports appeared on CBC TV in Canada and over news wires. But all the attention hasn't necessarily been bad for In The Game. Price says the company would have probably sold out of all the 7,000 boxes that were made, but this will ensure that now. Dealers and distributors have called the company based on customers demands after they read the news.
"I am really passionate about what we do," Price said. "I can't react based on people who don't collect cards and don't really enjoy hockey. The boxes for these are around $70 or something. These aren't for kids. They are for collectors. These are not going to be sold at a corner store where you buy a bottle of pop and bag of chips."
Susan Lulgjuraj is a contributing editor for Beckett Media. You can email Susan here. Follow her on Twitter here.