In the Game reveals redemptions, VIP cards for NSCC
By Andrew Tolentino | BSCM Editor
Joining the growing list of manufacturers unveiling plans for the 32nd annual National Sports Collectors Convention, In The Game just announced its on-location allure. Making its presence known at the traveling hobby Mecca, ITG will arrive at the Donald E. Stephens Convention Center ready with VIP perks and other redemption programs.
ITG VIP program
Nestled among a stockpile of goodies inside VIP bags, specially-marked ITG cards can be exchanged for the company's 10-card set. Ranging from hockey, baseball and Canadiana subjects, the VIPs for VIPs are:
Mario Lemieux
Patrick Roy
Steve Yzerman
Mark Messier
Tim Thomas
Steven Stamkos
Mike Trout
Manny Machado
William Shatner
Pamela Anderson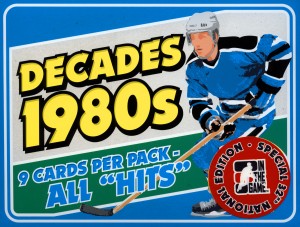 In The Game Hockey redemption program
Promoting its latest period piece, the manufacturer will offer one game-used memorabilia card (stamped 1/1 for the event, of course) to attendees who open any box of Decades 1980s at the ITG booth.
Additionally, collectors who purchase the special, National-exclusive version of Decades 1980s will receive a free Mark Wells autograph.
In the spirit of the windy city, ITG has replaced one of the three memorabilia cards from the specially-marked National box with a Chicago Blackhawks Decades Quad card.
The show-exclusive box will also randomly yield autograph cards from Dominik Hasek — whose signatures were not packed out with other shipments of Decades 1980s.
Heroes and Prospects Baseball redemption program
Not to leave out baseball hobbyists, ITG will also offer limited, game-used memorabilia cards to booth-goers breaking boxes of Heroes and Prospects Baseball Series One and Series Two Low Numbers. Again, these cards are National exclusives and fall in the form of single, double and triple-memorabilia formats. Headlining the redemption roster are:
Dave Winfield
Rickey Henderson
Roberto Alomar
Paul Molitor
Bert Blyleven
Reggie Jackson
Bob Gibson
Stan Musial
Mike Trout
Adam Warren
Cam Greathouse
Deck McGuire
Brice Bentz
Stay tuned to Beckett.com for more updates on niceties at this year's National.