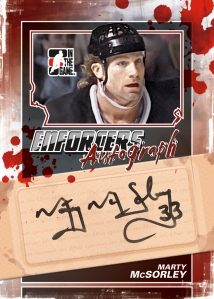 By Susan Lulgjuraj | Contributing Editor
When it comes to hockey, fans loves scorers. Guys who swish around the ice and have that uncanny way of finding the back of the net.
When it comes to a second favorite type – you can surely expect enforcers to be at the top of the list. In The Game is commemorating this group of burly guys and creating an Enforcers set.
"Fighting in hockey is as old and important as the blueline," ITG wrote in a release. "It's the one event in a game that always brings the crowd to its feet and Enforcers will celebrate the blue-collar players who toil in the trenches and work to give the stars more skating room."
Each box will contain 12 hand-picked cards by an ITG representative to ensure each box contains exactly what the product promotes.
That includes:
・ 5 autographs
・ 2 game-used memorabilia cards
・ 5 base cards (Subsets include: Record Holders, Tale of the Tape, Battles and Tough Franchise)
Some of the names in the set are Donald Brashear, Tony Twist and Marty McSorley.
This product is considered limited by ITG. It will release in early next year and allocations to distributors will be based on pre-orders of the product.
Susan Lulgjuraj is a contributing editor for Beckett Media. You can email Susan here. Follow her on Twitter here.