The Most Important Things the 2016 Topps Heritage Throwback Variations Have Taught Us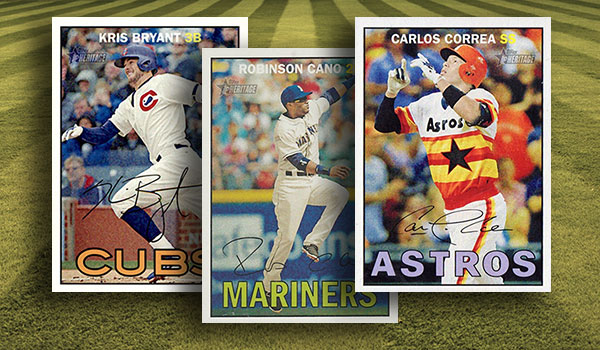 By Ryan Cracknell | Hobby Editor | Commentary
Nostalgia comes in a lot of forms in the hobby. We can look back on not only our favorite players and designs but how we collected. A lot has changed over the years. In a lot of regards, that's not a bad thing. But it has also created expectations where the vast majority of modern cards now considered "valuable" come with autographs or pieces of memorabilia.
But every now and again an exception comes along and a $750 Yordano Ventura card is born. Look at what the 2016 Topps Heritage Throwback Variations are bringing in. As far as formatting goes, an insert can't get any more simple. Yet, they're all selling for hundreds of dollars.
They show that sick hits can be basic cards. The stars have to align perfectly. A couple of deep-pocketed buyers help matters too.
"The prices we are seeing are from master set collectors," says Brent Williams, bulk case breaker and seller brentandbecca on eBay. "Often after the first few weeks of release these cards rarely pop up, and collectors know that, so they are willing to pay that premium to obtain all the cards for their set versus chasing them down the road if they even show up."
The idea behind the Heritage Throwbacks is a simple one. Featured players are pictured in "Turn Back the Clock" uniforms. That's it. They don't have pieces of said jerseys. They're not signed. They're not even serial numbered.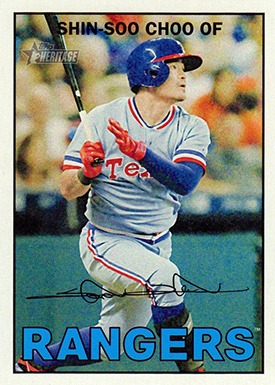 What they do have is history, at least in Heritage. Throwbacks have been in Heritage for a few years now.
They're also exceptionally tough to find. How hard? Topps hasn't released odds, print run info or even a verified checklist. But given how popular Heritage traditionally is and how few have surfaced in what should be the product's busiest period, it doesn't look like much.
Here are a few numbers of what the 2016 Topps Heritage Throwback Variations sold for on eBay in the product's first couple weeks of release (through March 13, 2016):
Jose Abreu
$799 (Mar 7)
Mookie Betts
$699.99 (Mar 9)
$699.99 (Mar 12)
Kris Bryant
$999.99 (Mar 4)
$600 (Mar 2)
Robinson Cano
$499.99 (Mar 5)
$300 (Mar 7)
$249.95 (Mar 9)
Matt Carpenter
$499.99 (Mar 6)
$400 (Mar 7)
$202.50 (Mar 12)
$200 (Mar 13)
$155.05 (Mar 10)
$155 (Mar 9)
Shin-Soo Choo
$299.99 (Mar 6)
$199.99 (Mar 5)
Carlos Correa
$590 (Mar 14)
$575 (Mar 13)
$450 (Mar 10)
$400 (Mar 4)
$395.99 (Mar 4)
$340 (Mar 3)
$299.99 (Mar 3)
Maikel Franco
$750 (Mar 6)
$400 (Mar 8)
$330 (Mar 13)
Paul Goldschmidt
$600 (Mar 9)
$500 (Mar 12)
$499.99 (Mar 5)
Matt Kemp
$499.99 (Mar 6)
$300 (Mar 12)
Dallas Keuchel
$500 (Mar 8)
$489 (Mar 7)
David Ortiz
$799 (Mar 9)
Brandon Phillips
$195 (Mar 3)
Carlos Rodon
$177.50 (Mar 8)
$119.99 (Mar4)
$80 (Mar 3)
Alfredo Simon
$205.10 (Mar 7)
$159.99 (Mar 3)
Yordano Ventura
$750 (Mar 9)
Joey Votto
$749.95 (Mar 6)
These stats have a few takeaways:
1. 2016 Topps Heritage Throwback Variations are rare.
The most obvious is that not many Throwbacks were printed. Given how much 2016 Topps Heritage has been ripped, these are small quantities. More than just the ones that have been sold on eBay exist. Several have changed hands privately as well. Still, they're definitely the toughest of the variation types.
Based on what he's opened himself and seen from other breakers, Williams estimates the Throwbacks are inserted about 1:30 cases and limited to about ten copies each. In the past they have been tough, but not nearly to this extent.
2. It's not one just person buying them.
Although it has been reported on several message boards that Keith Olbermann is putting together the Throwbacks set, it's more than just the newscaster. If it were only him, prices would be dropping quickly with each ensuing sale. They're not.
If you look at when these were sold, the base line for the cards has risen as a whole. When Heritage first came out, $300 seemed to be a good starting point. A few days later, copies were fetching $500. Then you have a Yordano Ventura card selling for $750.
2016 Topps Heritage Throwbacks probably won't stick around are such high levels, but don't expect them to shrink much. These will settle for a lot more than $10 each. Supply and demand basics dictate this. With so few out there and several people willing to pay large amounts for them means that you're probably looking at some of the most expensive inserts of the year.
3. Inserts can be compelling without autographs and swatches.
Heritage isn't for everyone. No brand is. But over the years, it has tapped into something with many collectors and made it compelling for them. They want it all. The variations and limited print runs are gimmicks by definition in that they exist deliberately to sell more packs and boxes.
But their popularity runs deeper and it looks like Topps has found the sweet spot with these.
Most basic inserts are tossed aside today. Often, they can seem like additions to make a checklist bigger and add a feeling of value. But no matter how rare the cards are, if they don't resonate with collectors, it doesn't matter much. They simply won't bring big prices because not enough people care.
In today's hobby, being rare isn't enough. It certainly helps, but there are more factors involved. They need something more.
Look at inserts from the late 1990s, particularly in basketball. Some of these have reached ridiculous levels and prices. Part of that is because they're so hard to find. Part of it has to do with the presence of Michael Jordan. But the biggest part is that a group of collectors have become passionate about them.
There were fewer autographs and memorabilia cards as the 1990s gave way to the new millennium but they were still around. These hits will always have a certain appeal, but wouldn't it be great if more inserts got prices like the 2016 Topps Heritage Throwback Variations? Great checklists would be easy. You wouldn't have to worry about redemptions.
The hard part is making it work. Autographs and memorabilia cards are proven sellers when it comes to getting product out initially. Cutting back comes with risks. And there's no guarantees that what works in one set will translate into another product.
But whenever we see cards of any type catch on with collectors, that makes for stronger products in both the short-term and over time. So even if you're not a fan of the Heritage Throwbacks you should be a fan of what they're proving.
Comments? Questions? Contact Ryan Cracknell on Twitter @tradercracks.