Iconic cards headed for auction appear at Beckett booth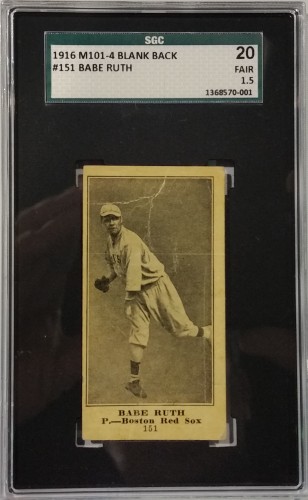 By Stephen Laroche | Beckett Media
Collectors that stopped by the Beckett Media booth at the 36th National Sports Collectors Convention had an opportunity to get an up-close look at some of the hobby's most coveted cards that will soon be available for bidding in upcoming events from Beckett Auctions and Goodwin & Co.
These slabbed and graded treasures are the cards collectors dream about owning and the display included sporting legends such as Babe Ruth, Mickey Mantle, Gordie Howe, Roberto Clemente, Johnny Unitas, and Lou Gehrig.
"In both auction houses, it's zero percent consignment," said Rob Springs of Beckett Auctions. "Goodwin is always zero percent, but Beckett dropped it down this month as well. For Beckett, we've got some cool items for Beckett. We've got a couple of autographed Babe Ruth baseballs and Bill Goodwin is out today doing a lot of consignments. You can see there's a 1952 and 1953 Topps Mantle, the 1968 Topps 3-D Clemente test proof. There's a gorgeous Gordie Howe, and Sport Kings Babe Ruth. So there is a lot of stuff coming in. Both auctions will be in August. The Beckett auction starts on August 9 and Goodwin will come a little bit later."
Read on after the jump for an up-close look at these pieces of cardboard history.
Beckett Auctions also displayed the BGS 9.5 2010 Bowman Chrome Prospects Superfractor of Stephen Strasburg which had sold that year for $16,400. It will be a part of their September auction.
Stephen Laroche is the editor of Beckett Hockey and a contributor to other Beckett Media publications. Have a comment, question or idea? Send an e-mail to him at slaroche@beckett.com. Follow him on Twitter @Stephen_Laroche.