Ichiro Suzuki Rookie Cards Ranked
Ichiro Suzuki Rookie Cards came out at a time that the world of sports cards was undergoing some big changes. Print runs were shrinking, memorabilia cards were quickly becoming the norm and premium products were growing. But a lot of traditional elements and lower-tier products still existed. The result: collectors have a lot of variety to choose from when it comes to Ichiro Rookie Cards.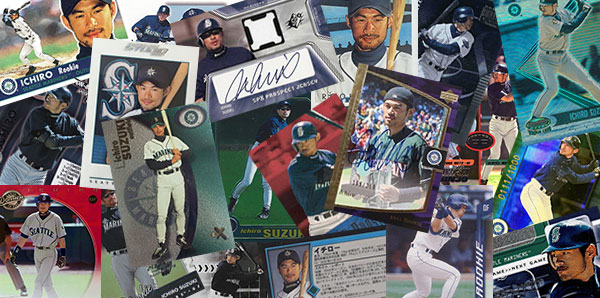 When he arrived with the Mariners in 2001, Ichiro was already a superstar in Japan. It didn't take long for him to become a sensation in both baseball and the hobby. Combine that with the out-of-nowhere emergence of Albert Pujols at the same time and its easy to see why a lot of 2001 baseball card products have such an endearing quality.
The Beckett Baseball Card Database has nearly 50 Ichiro Rookie Cards listed. Today, in raw form, they range in value from a few dollars all the way up to the thousands. Although production values and print runs vary greatly, the majority are basic cards without a lot of frills outside of a serial number. A few have memorabilia but only a couple are autographed.
So what are the most valuable Ichiro Suzuki rookie cards? This detailed guide counts down all 48 of them and then some.
Japanese Ichiro Suzuki Rookie Cards
Although Ichiro didn't make his MLB debut until 2001, he has cards dating back as far as 1993 from playing in Japan. Although not your traditional Rookie Cards, Ichiro is an international superstar and these cards (as well as many of his other Japanese cards) are an important part of that. Before we delve into his MLB rookie cards, here's a brief look at the three most well known 1993 Ichiro Suzuki Japanese cards.
1993 BBM Ichiro Suzuki #239
The 1993 BBM Ichiro Suzuki is his most recognized Japanese card. It's also the most readily available. But that's all a matter of perspective because of its international distribution. Besides Ichiro, the set also features Hideki Matsui so a fair amount did make its way over to the United States. Besides singles on the secondary market, the 1993 BBM Ichiro card is available in packs and a factory set.
Because of the popularity of the card, fakes have become an issue. Some of these fakes can be spotted by the position of the "I" in "Suzuki" on the front. Real cards have it below the middle part of the leg. On fakes, that "I" can be lined up with the edge of his leg.
Buy on: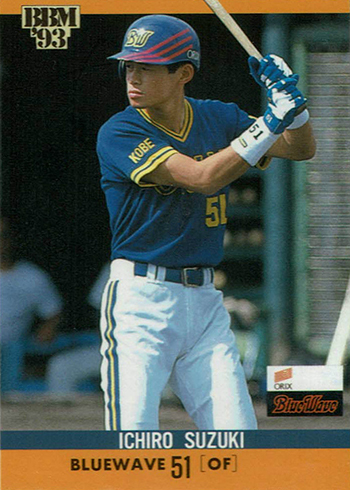 1993 Takara Ichiro Suzuki #BW51
Issued as part of a 30-card Blue Wave team set, the 1993 Takara Ichiro Suzuki resembles the dimensions of a playing card. It has rounded corners and is slightly smaller than a traditional baseball card. The look is a lot more busy that either of Ichiro's other major 1993 cards.
Buy on: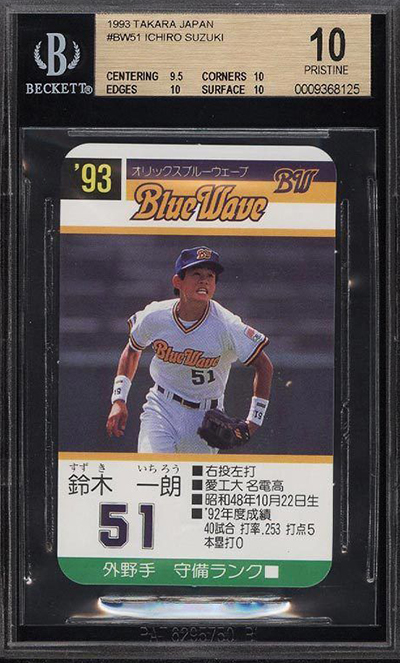 1993 Tomy ID Ichiro Suzuki #102
Looking for a scarce early Ichiro card that has traditional elements (and a layout similar to 1990 Topps Baseball)? Enter the 1993 Tomy ID Ichiro Suzuki. It is much tougher to find than his BBM card. Thanks to the dark borders, finding one in top condition adds another aspect to the chase.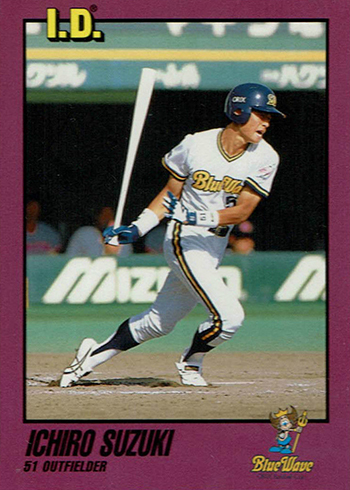 It can also be found with two slight variations. Like Upper Deck's early years, Tomy released an expansion to the main set that also included the first series cards as well. The code on the back of the first release ends in 001. For the second (and much scarcer) series, it's 002. While the second may be more valuable, it's all relative as this is a popular Japanese Ichiro card.
Buy on: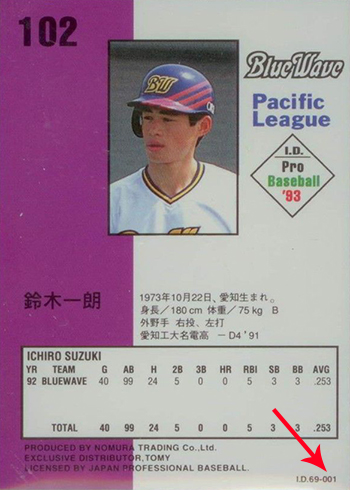 Most Valuable Ichiro Suzuki Rookie Cards
It is worth noting that Ichiro has hundreds of 2001 cards. Most of these are inserts and, therefore, not considered Rookie Cards in the Beckett database. Some consider these and other cards like the 2001 eTopps Ichiro to be a Rookie Card. Only cards with the RC tag are ranked here. This shouldn't take away from the popularity of any of these cards.
Rankings are based on values in the Beckett Baseball Card Price Guide. Values are available to OPG subscribers.
49. 2001 Upper Deck Vintage Ichiro Suzuki RC/Ryan Christianson/Ryan Franklin #346
Is there anything more vintage than pairing a Hall of Famer with some less than Hall of Famers? Maybe floating heads. The 2001 Upper Deck Vintage Ichiro Suzuki rookie card has them both. But in this case, more faces don't mean more interest. Not only did the two Ryans not pan out, these aren't even their rookie cards. Big on quirk, this is also at the bottom of the heap when it comes to value.
Buy on: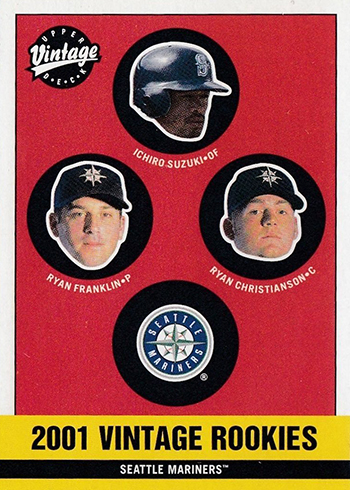 48. 2001 Upper Deck Victory Ichiro Suzuki RC #564
With Collector's Choice on hiatus, Victory became Upper Deck's cheap, no frills release. The simplicity of the price tag, low entry point and plentiful quantities keep prices in check even still today. For those who like big photos but with some design elements, this one fits the description.
Buy on: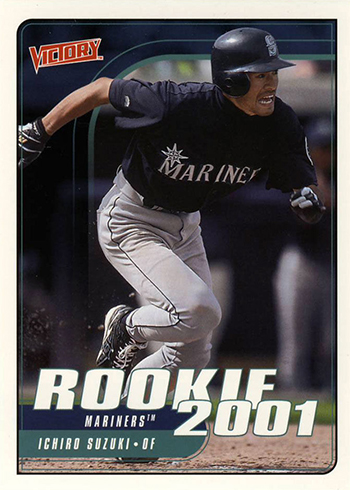 47. 2001 Upper Deck MVP Ichiro Suzuki RC #60
Back in 2001, Upper Deck provided a lot of balance when it came to low- and high-end brands. This is another one of their more affordable offerings. And while far from premium as far as overall quality goes, the card stock has some gloss and there are hints of foil stamping which may make it more appealing to some looking at the cheaper end of the market.
Buy on: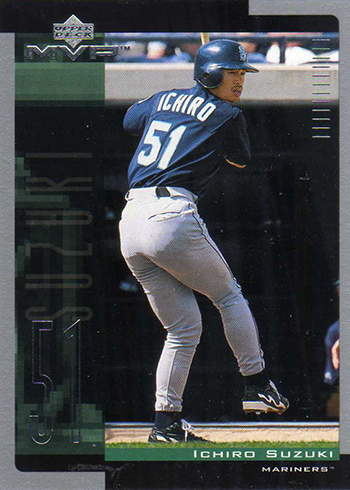 46. 2001 Bowman Draft Ichiro Suzuki RC #BDP84 $10
Although Topps didn't get an Ichiro rookie card into their main 2001 Bowman release, he was included in the Bowman Draft factory set that came out towards the end of the year. This is the only version of the card as the set has no parallels.
Buy on: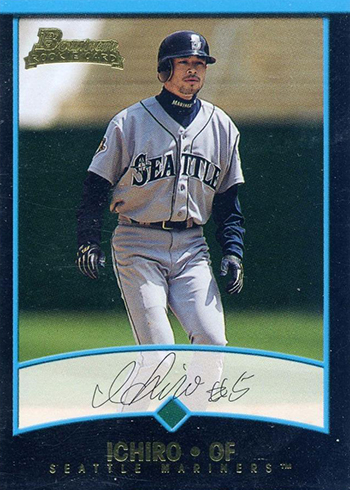 45. 2001 Upper Deck Ichiro Suzuki RC #271
It's tough to go wrong with most of Upper Deck's flagship baseball releases. They might not carry a lot of value, but they can usually be counted on for great photography and a simple but slick feel. Ichiro's rookie is no exception. One of his more readily available cards, it usually carries a reasonable price tag.
Buy on: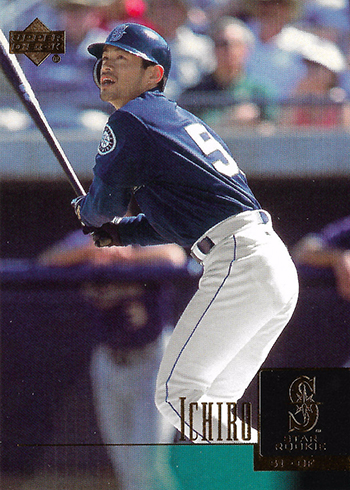 44. 2001 Topps Ichiro Suzuki RC #726 $12
The situation with the Topps Ichiro rookie is similar to that of Upper Deck. It might not feel quite as premium, but what it loses there it makes up for in tradition as far as being part of the lineage of the hobby's most recognized brand.
In addition to the inexpensive regular version, there are a trio of tougher ones that came with factory sets. The first is stamped with the Topps HTA logo. These are exclusive to sets sold by select hobby shops. There's also the Limited Edition version that's a lot like the Topps Tiffany sets from the 1980s and early '90s. These are printed on thicker stock and have "Limited Edition" stamped on the front. Finally, there's the Topps Employee version. As the title suggests, these were given to Topps staff. They can be identified by an embossed logo on the front.
Buy on: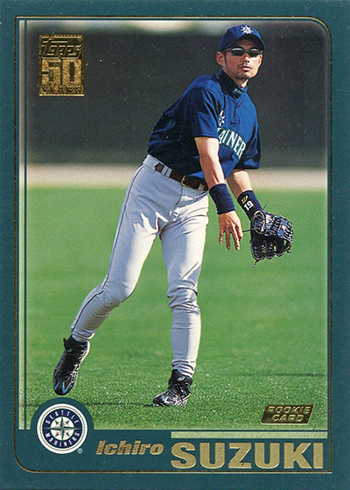 43. 2001 Topps Reserve Ichiro Suzuki RC #151 /1500
2001 Topps Reserve was a product that tried to be a lot of things. First came a signed baseball in every hobby box. They also included a PSA-slabbed rookie card that also came with a signed label. With Ichiro only signing autographs for Upper Deck early in his career, his appearance in the product is limited to the base set. His card is numbered to 1500. That's not a huge number but the brand failed to fully catch on. As a result, it still carries a value similar to a lot of his low-end cards.
Buy on: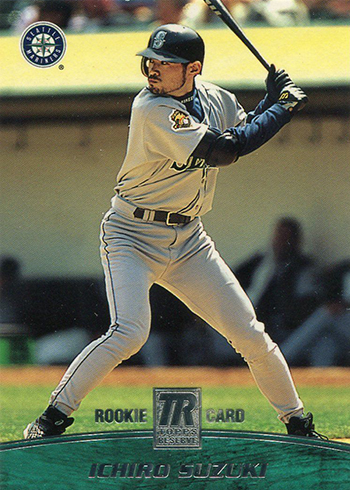 41 (tie). 2001 Topps Gallery Ichiro Suzuki RC #151 English
2001 Topps Gallery Ichiro Suzuki RC #151 Japanese
Topps took a little artistic license of their own with their 2001 Topps Gallery Ichiro Suzuki rookie cards. They come in two similar but distinct versions. First off, there's the regular one that's done in English. The second has Japanese text. Both are available in roughly equal supply. Because Topps wasn't able to complete the cards in time for inclusion in packs, the base cards were distributed via redemption.
Buy on: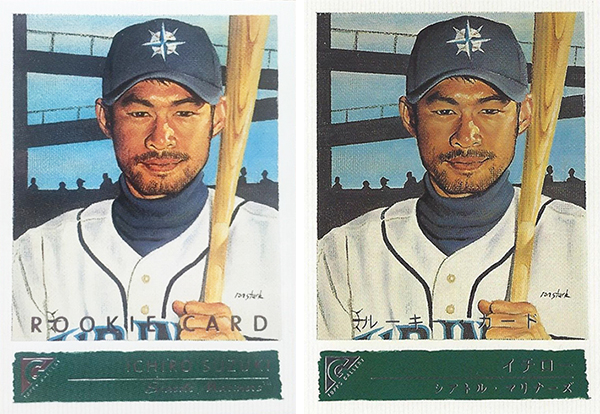 40. 2001 Fleer Genuine Ichiro Suzuki RC #101 /1500
In the company's latter years, Fleer liked to serial numbers in a lot of their base sets. It was a trend many of the manufacturers were getting on board with, but Fleer in particular had a love for it. Like Topps Reserve, Fleer Genuine isn't a brand that resonates today. Translation: this one is worth more than some, but less than a lot of others.
Buy on: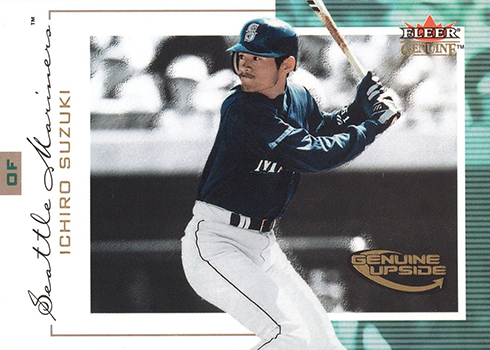 39. 2001 UD Reserve Ichiro Suzuki RC #181 /2500
Topps wasn't the only company to have a set called "Reserve" in 2001. Upper Deck did as well. In most regards, this is a fairly forgettable Ichiro RC. However, it is serial numbered so that's a plus to many.
Buy on: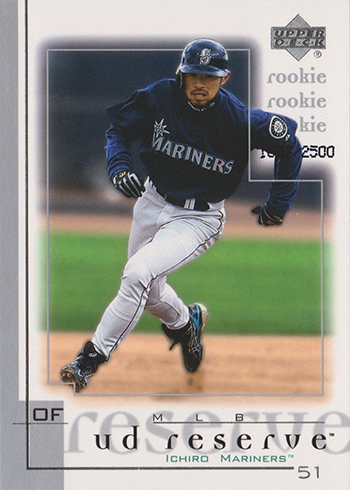 38. 2001 Fleer Tradition Ichiro Suzuki RC #452
2001 Fleer Tradition Baseball channels a very retro vibe. Not only is the layout similar to something Topps might have released in the 1950s (although the "artistic" Photoshopping on the action photo is a little heavy), but it's printed on vintage-style card stock. This cards isn't available in packs. Rather it is an update card to the main set that was only offered in the factory set.
Buy on: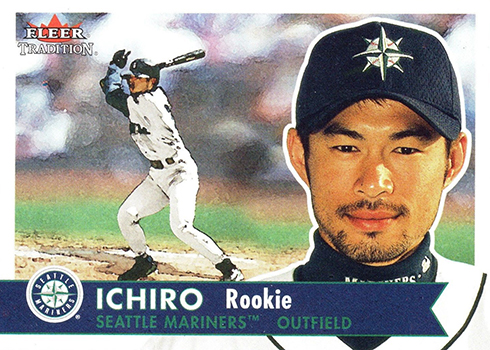 37. 2001 MLB Showdown Pennant Run Ichiro Suzuki RC #169 Foil
MLB Showdown was supposed to be the baseball version of Magic: The Gathering or Pokemon. Although it lasted a couple of years, it never emerged from the hobby fringes. Ichiro's foil card is found in the Pennant Run expansion release for the product.
Similar promo versions were handed out at both the 2001 National Sports Collectors Convention and 2001 MLB FanFest. Both have logos added to the front noting where they came from. Because of their concentrated availability, don't expect to have to pay a premium for the promo versions. In fact, they opposite is likely true.
Buy on: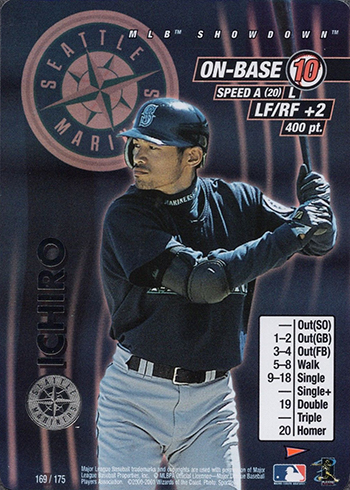 36. 2001 Fleer Platinum Ichiro Suzuki RC/Elpidio Guzman RC #252
Looking for the best Elpidio Guzman rookie card? Here it is. Unfortunately, the career minor leaguer isn't doing Ichiro any favors. Just like the nostalgia the set tries to evoke, the dual-rookie format didn't work out very well. It's one of 51 short prints from Series 1 that are inserted 1:6 hobby packs and 1:2 jumbo packs.
Buy on: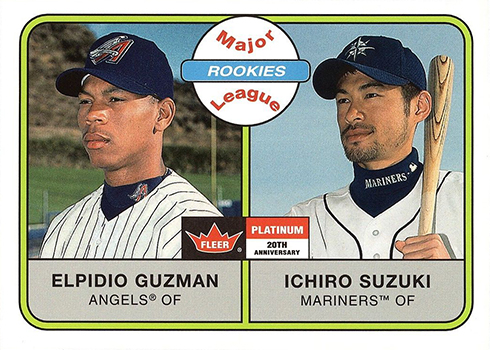 35. 2001 Upper Deck Evolution Ichiro Suzuki RC #91 /2250
2001 Upper Deck Evolution was one of the earliest products to embrace the online world with cards that could potentially unlock autographs and memorabilia cards. But those were rarities. For the rest of us, there was a traditional product that surrounded it.
Although it's numbered, this isn't one of Ichiro's most desirable rookie cards. The brand didn't last long as the hobby continued to evolve without it. The design doesn't stand out much, either, opting for a look that's similar to the flagship 2001 with a lot less color.
Buy on: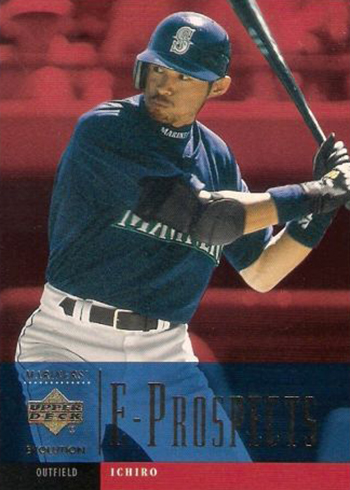 34. 2001 Fleer Futures Ichiro Suzuki RC #230 /2499
At 2499 copies, this is one of the more plentiful serial-numbered cards Fleer made of Ichiro in 2001. And its relatively low value reflects that. Although the fonts are similar to the ones used in Focus and Game Time, the horizontal layout and other design elements make it stand out on its own a little. Like a few of Ichiro's other rookies from the card maker, this card was actually inserted with 2001 Fleer Platinum.
Buy on: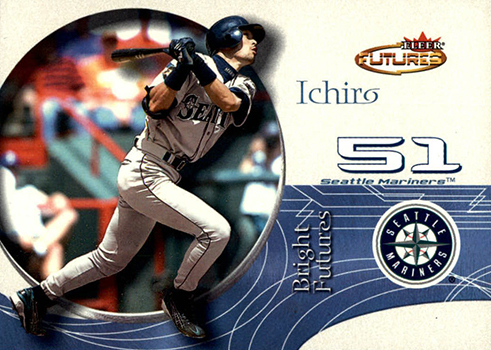 33. 2001 Fleer Premium Ichiro Suzuki RC #231 /1999
This Fleer offering does stand out a little more than their similar Ichiro rookies. It starts with the dark border and continues with the foil and flow of the design. Numbered to 1999, it's not rare but given its age today, it's unlikely you'll find many at any given time.
Buy on: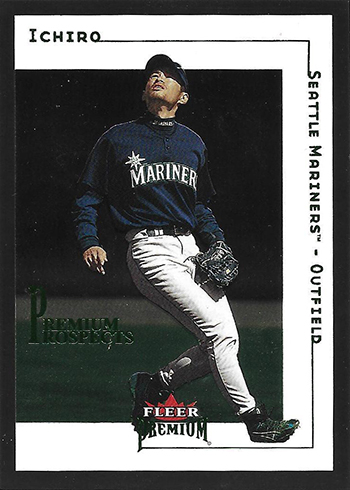 32. 2001 Fleer Authority Ichiro Suzuki RC #101 /2001
2001 Fleer Authority took a bit of a different approach for the rookies. While all can be found in packs, most were sent to BGS to be graded. These graded rookies were inserted to per hobby box. Ichiro, like the others, are serial numbered to 2001 copies.
Buy on: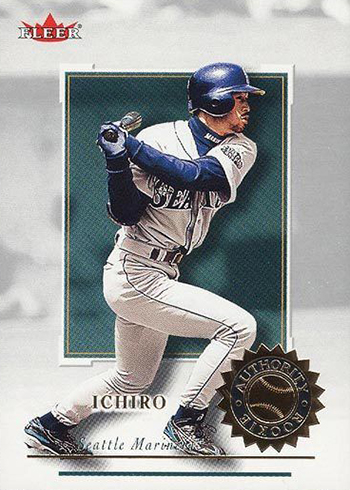 31. 2001 Topps Chrome Traded Ichiro Suzuki RC #T266
2001 Topps Chrome Traded was a little bit different at the time. It came in the same packs as the base 2001 Topps Traded cards, albeit in smaller numbers. The configuration has been duplicated by Bowman for years now, but this set helped pave the way. Given the wider appeal of the product and the perception of being a short print of sorts (versus the base Topps Traded singles), this card holds a little more value than some of Ichiro's more plentiful serial numbered cards.
Buy on: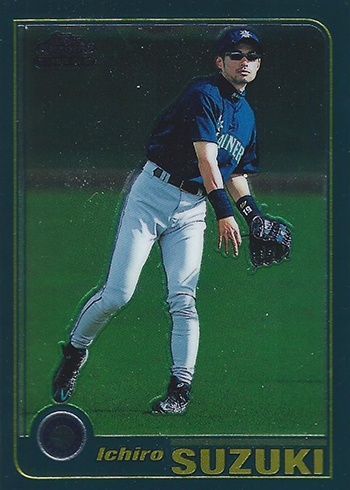 30. 2001 Bowman Heritage Ichiro Suzuki RC #352
Topps Heritage wasn't the only "Heritage" set in 2001. The black and white 1948 Bowman design was resurrected for 2001 Bowman Heritage. Ichiro is one of 110 short prints that combine to land every other pack.
Buy on: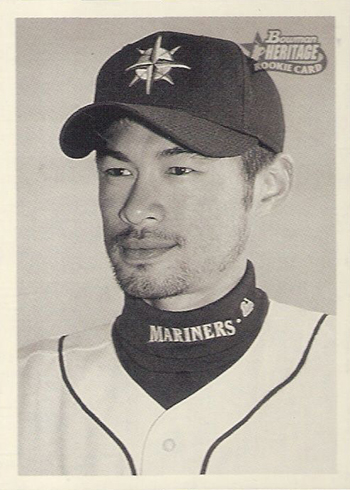 29. 2001 Donruss Class of 2001 Ichiro Suzuki RC #251 /625
If the 2001 Donruss Class of 2001 Ichiro Suzuki rookie card has any major significance it's in its rarity. It's certainly not in the brand, which was a one-and-done. Playoff, who had taken over Donruss and brought it back to baseball in 2001, didn't do a follow-up "Class of" release. Cards were actually a secondary component as each box came with a bobblehead as well. This is a tough card to find today.
Buy on: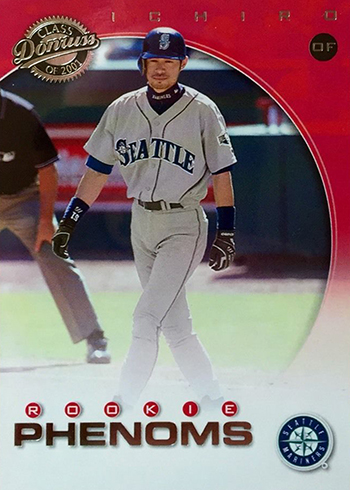 28. 2001 Fleer Triple Crown Ichiro Suzuki RC #306 /2999
Fleer was big into serial numbered Rookie Cards at the time. By today's standards, 2,999 copies isn't all that rare. Even back then it wasn't. Combine that with being one of several similar cards from Fleer and you've got something that's nice but doesn't really stand out.
Buy on: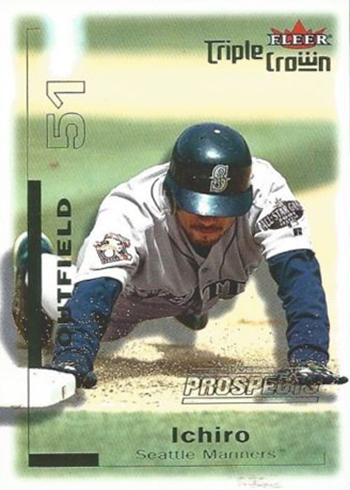 27. 2001 Fleer Game Time Ichiro Suzuki RC #91 /2000
Here's another card from Fleer that's not horrible by any means but it struggles to find an identity today. Numbered to 2000, it's right around where several other rookies from the card maker are. It's also another card without a lot of brand history behind. Ultimately, it's there — with some sparkle highlights on the front. That and its design that appears to be trying to be futuristic are what make it a little distinct.
Buy on: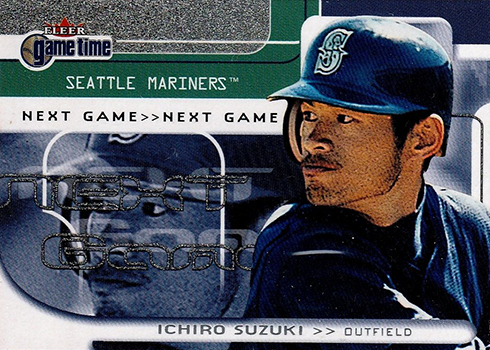 26. 2001 Upper Deck Ovation Ichiro Suzuki RC #76 /2000
When Upper Deck debuted Ovation in 1999, the brand was unique thanks in large part to the textured feel of the base cards that were reminiscent of a baseball. Just a couple of years later, the angle was starting to tire and the set, overall, got lost in the shuffle. At least most of it did. Ichiro is part of the World Premiere subset, all of which are numbered to 2000.
Buy on: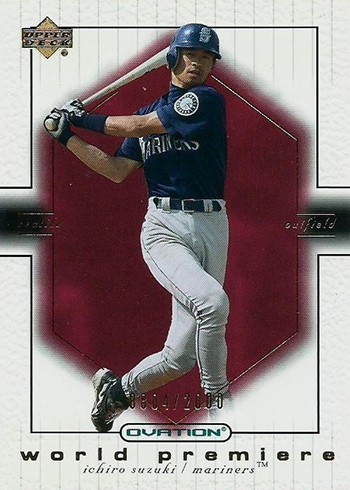 25. 2001 Donruss Ichiro Suzuki RC #195 /2001
2001 Donruss Baseball marked the brand's return after a two-year absence. While a lot of the themes for the one-time flagship release are still there, the overall feel is decidedly different. Ichiro gets the familiar Rated Rookies branding behind it. But in trying to keep up with the trends, they came serial numbered. It's worth noting that there's a similar version that was included in the 2001 Donruss Baseball's Best box set. It's not serial numbered and it has a "Baseball's Best" stamp on the front in either bronze, silver or gold. Gold Baseball's Best cards are the rarest.
Buy on: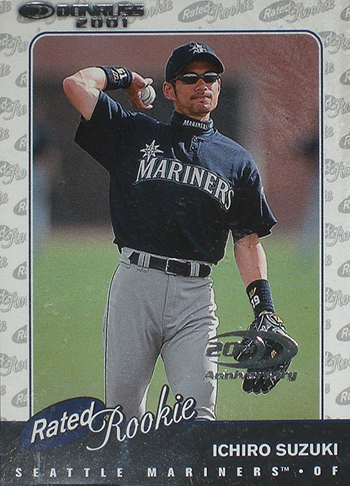 24. 2001 Ultra Ichiro Suzuki RC/Tsuyoshi Shinjo RC #278 /1499
If you come across some packs of 2001 Ultra Baseball, don't bust them expecting to find an Ichiro rookie card. Rather, it was inserted in packs of 2001 Fleer Platinum. Like his regular Platinum card, Ichiro shares the front with someone else who didn't quite have the same career. Or anywhere close. Tsuyoshi Shinjo gets the honor this time around. The 2001 Ultra Ichiro comes numbered to 1499. Rookies included in Ultra packs don't have the serial number.
Buy on: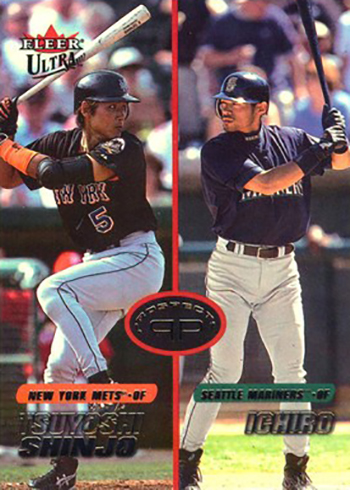 23. 2001 Leaf Rookies and Stars Ichiro Suzuki RC #251
It might not be serial numbered but this is not an easy card to find. Ichiro is one of 100 rookies that combine to fall 1:24 packs. So unless you got extremely lucky back in the day, that means you're looking at the potential of busting 100 boxes to find one.
Buy on: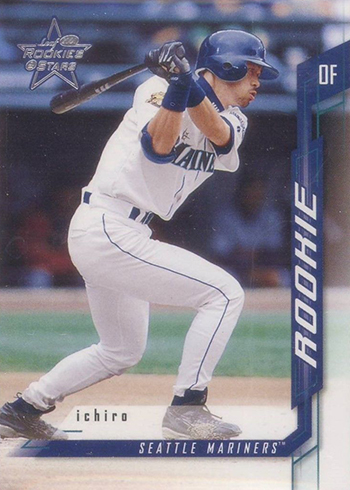 22. 2001 Bowman's Best Ichiro Suzuki RC #162 /2999
Before there was Bowman Chrome, there was Bowman's Best. The brand's appeal and identity started to get lost once Chrome took off. That meant several changes over the years. Picking up the trend that was virtually everywhere at the time, rookies came serial numbered to 2999 in 2001 Bowman's Best. The bright look and textured, etched feel help it stand out from a lot of Ichiro's other rookies.
Buy on: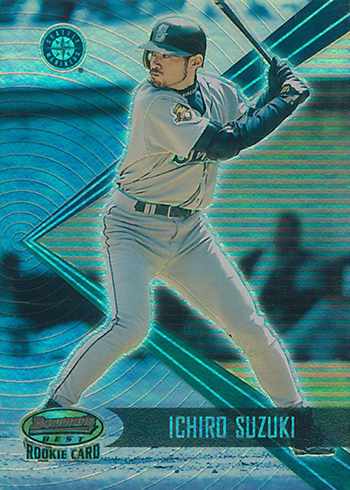 21. 2001 E-X Ichiro Suzuki RC #105 /1999
From a strictly visual standpoint, this is one of the most distinct Ichiro Suzuki rookie cards. Printed on plastic stock, it has a layered look complete with speckles. While many sets try to look futuristic, the E-X line is one that achieved it. Ichiro is one of the rarest rookies included in packs, numbered to 1999. You can also find them on the secondary market without a serial number. It's possible these released after Fleer went out of business.
Buy on: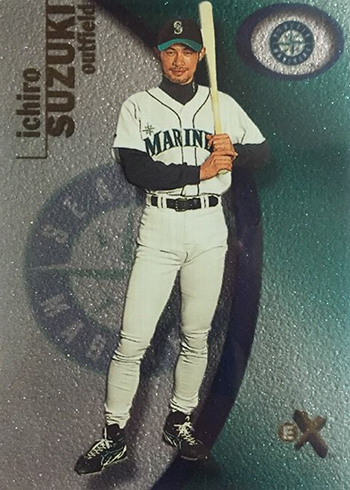 20. 2001 Fleer Focus Ichiro Suzuki RC #247 /999
Here's another one of Fleer's sets where rookies are serial numbered but to such high enough numbers that it doesn't add a major premium. Focus was around for a couple of years, but not long enough to make a lasting impression here or in the bigger picture.
Buy on: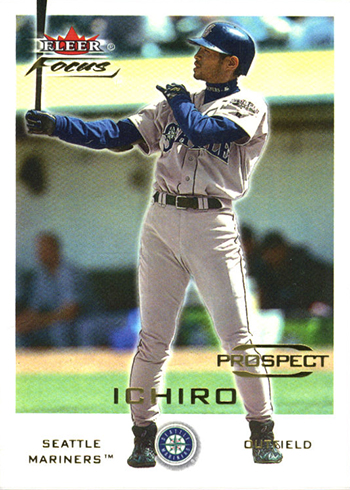 19. 2001 Upper Deck Gold Glove Ichiro Suzuki RC #135 /500
At the time, a lot of the appeal of 2001 Upper Deck Gold Glove was the different types of memorabilia available. Yes, fielding gloves were among them. This was still the early days of game-used cards and nearly all of them still felt novel. So the base cards in the product didn't get a lot of attention. But this is a point where a lot of Ichiro's rookie cards are getting rarer. He's one of six rookies in the product numbered to 500. Most were 999.
Buy on: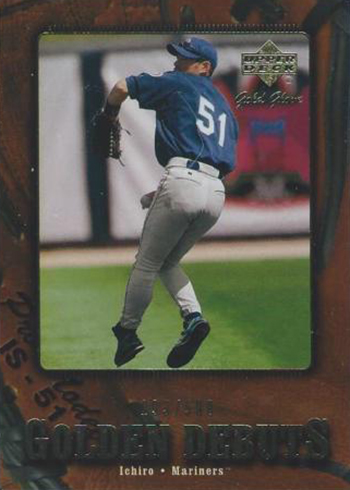 18. 2001 Fleer Legacy Ichiro Suzuki RC #101 /799
Most of Fleer's 2001 baseball sets are on the busy side. The 2001 Fleer Legacy Ichiro rookie takes the opposite approach with lots of white space. This is despite using a pair of images on the front. It's almost as though it's spun out of the Flair Showcase sets from a few years earlier minus the trademark foil. Numbered to 799, it's one of the rarest and most valuable Ichiro Sukuki rookie cards issued by Fleer.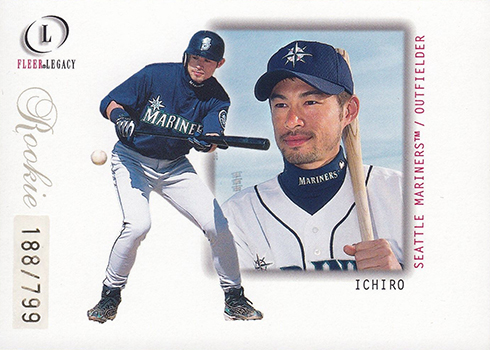 17. 2001 Upper Deck Pros and Prospects Ichiro Suzuki RC #136 Jersey /500
Buy on:
If you're looking for early Ichiro memorabilia cards, they're almost all in Upper Deck products. Thanks to their deal with the Japanese star, other companies were limited to generic things like bases and balls. Upper Deck, however, could use uniforms and things actually used by the outfielder. And that's just what this card does, complete with a decent-sized swatch.
Buy on: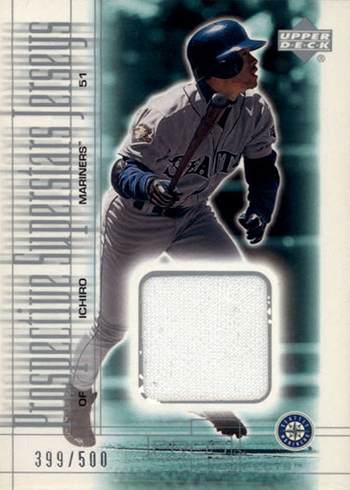 16. 2001 SP Game Bat Milestone Edition Ichiro Suzuki RC #91 Bat /500
Early game-used cards were tough to pull. By the time 2001 rolled around, they were becoming increasingly common to the point where they were becoming box hits. Upper Deck's 2001 SP Game Bat has a few Ichiro cards with pieces of lumber. However, most are inserts. His rookie card is numbered to 500.
Buy on: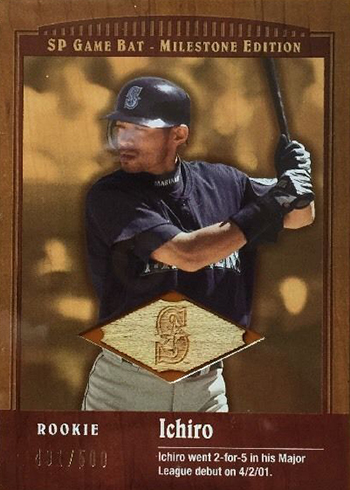 15. 2001 Donruss Classics Ichiro Suzuki RC #146 /585
Besides the rise in memorabilia cards, this era also saw vintage come into play more in modern products. That's where the "Classics" stems from. Ichiro fits that label now, but back then he was a rookie sensation. Numbered to 585, he's one of 50 short printed rookies in the product. They combined to land one per box so finding one was something of a feat.
Buy on: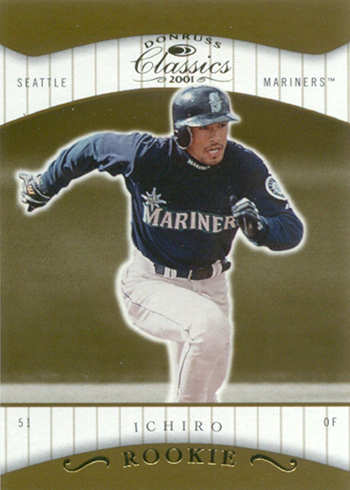 14. 2001 Absolute Memorabilia Ichiro Suzuki RC #195 GU Base /700
There's a certain cool factor for having a piece of game-used base in the card, but even then there was a generic feel to it. It doesn't help matters that the satch is so small compared to the area surrounding it. Even still, at 700 copies and coming from a more premium product, there is a certain appeal to this. However, if Playoff might have had a little more flexibility, it could have been more.
Buy on: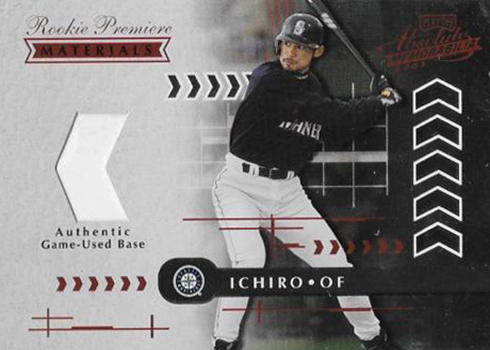 13. 2001 Donruss Elite Ichiro Suzuki RC #195 /1000
Although the number on the front says there are 1000 copies, there's actually only 900. The first 100 are Turn of the Century versions. Most players signed those cards but with Ichiro only signing for Upper Deck, that obviously didn't happen here. At the time, Elite was considered much more high-end than it is today. It was also a product that was popular for its rookies. That likely explains why it commands a bit of a premium versus a lot of other Ichiro rookies with similar print runs or even less.
Buy on: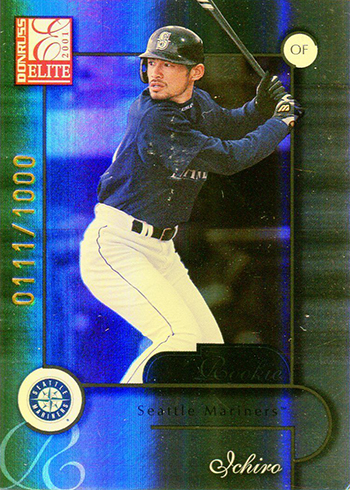 12. 2001 Studio Ichiro Suzuki RC #186 /700
Other than the fact that it's numbered to 700, this Ichiro Suzuki rookie card doesn't have much in the way of bells and whistles. That said, it's a beautiful card. Studio was famous for its portraits. Early on, some of those were strange. From the photo to the layout to the text choices, this one's classy all the way.
Buy on: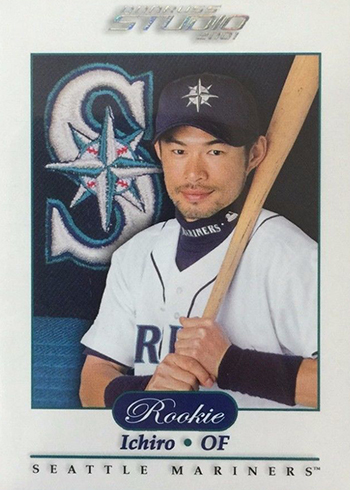 11. 2001 Donruss Signature Ichiro Suzuki RC #146 /330
As hot as Ichiro cards were out of the gate, you probably weren't buying 2001 Donruss Signature packs for the base cards. Rather, it was the promise of an autograph per pack. Ichiro never signed for Donruss. Done with foil stock, Ichiro's rookie is numbered to just 330 copies. This ranks among his toughest, although there are some that are significantly more rare.
Buy on: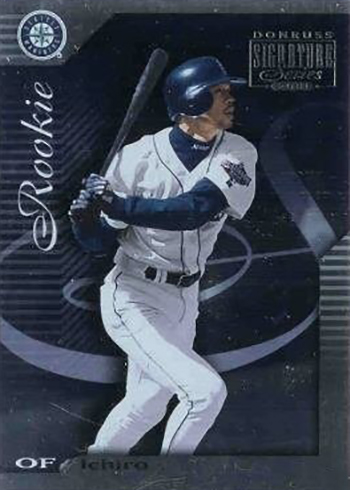 10. 2001 SP Game Used Ichiro Suzuki RC #63 /500
This card brings a low print run to the table but not a lot else. The design is similar to others from Upper Deck to the point where it gets lost in the shuffle. Plus, it comes from a product centered largely on memorabilia. That said, the premium nature of the product made packs a little more elusive to many collectors, which factors into both perception and value.
Buy on: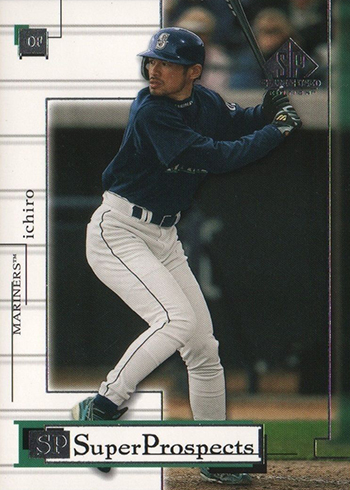 9. 2001 Fleer Showcase Ichiro Suzuki RC #116 /500
2001 Fleer Showcase took a very different direction from where it was in previous years, primarily under the Flair banner. The trademark foil designs were retired. Instead, Fleer went with an art look and feel. Part of the Rookie Avant subset, the Ichiro rookie has a framed design that has a more upscale feel than the already premium main base set. Numbered to 500, it's one of the rarest rookie cards in the product.
Buy on: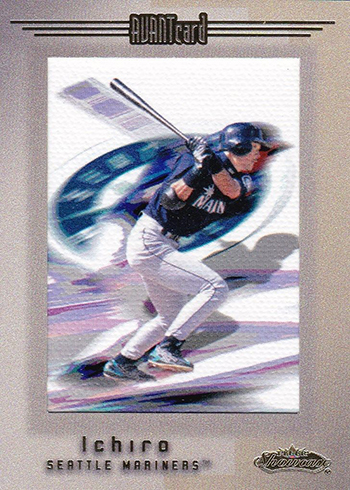 8. 2001 Sweet Spot Ichiro Suzuki RC #62 /1000
2001 Sweet Spot was a groundbreaking release from Upper Deck. It put baseballs front and center, integrating leather into the primary autograph portion of the release. But those are inserts. What about the base set? Pushing towards the higher end of Upper Deck's releases that year, there's a certain level of popularity behind the product as a whole. This make's the 2001 Sweet Spot Ichiro rookie card more valuable than several cards that have fewer copies and other premium elements.
Buy on: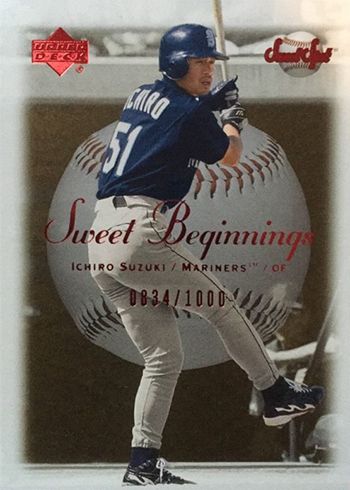 7. 2001 SP Authentic Ichiro Suzuki RC #91 /1250
The hobby has some products that are outliers — products that perform better than their surface elements suggest. The 2001 SP Authentic Ichiro Suzuki rookie card is one of them. Numbered to 1250 copies, it has more copies than a lot of other sets. Yet it still has more value than all but a couple Ichiro RC cards. It's a testament to how different audiences can crossover in the hobby world. SP Authentic, and just SP before it, was Upper Deck's initial entry into the premium market. It quickly built a following with set builders that stayed with the product even as it evolved. It also meant several groups of collectors chasing it. So even with the somewhat larger supply, the demand has kept up with it over the years.
Buy on: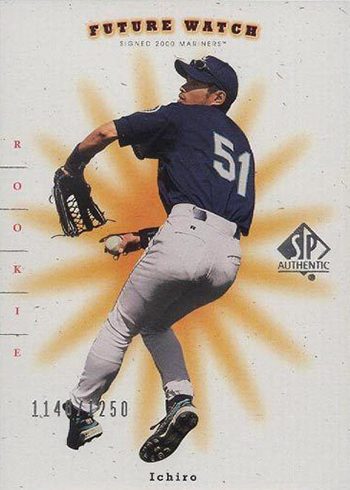 5 (tie). 2001 Bowman Chrome Ichiro Suzuki RC #351 English
2001 Bowman Chrome Ichiro Suzuki RC #351 Japanese
Like his 2001 Topps Gallery card, the 2001 Bowman Chrome Ichiro Suzuki rookie card has two different versions. The differences are found on the back. Half of the print run has English text on the reverse. The other half are in Japanese. Neither carries a significant premium over the other. These were included in packs as Topps reached a deal with the superstar late. Like other rookies in the set, base versions are done as Refractors.
Buy on: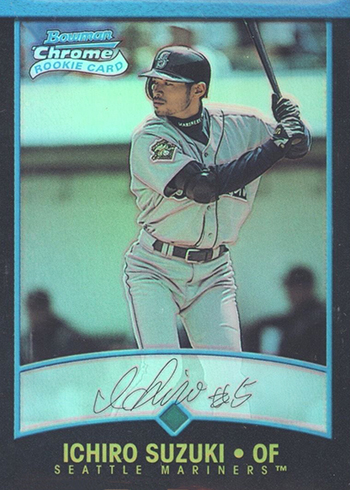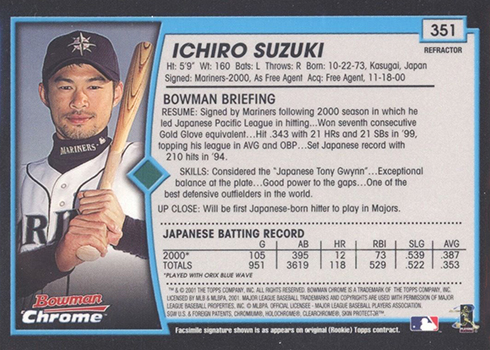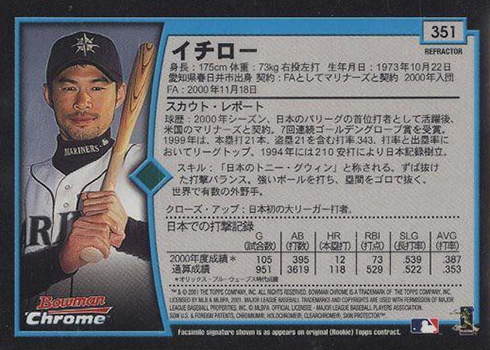 4. 2001 Leaf Certified Materials Ichiro Suzuki RC #146 GU Base /200
Here's another card from Playoff with a piece of game-used base in place of the more standard bat and jersey swatches. The high-end nature of 2001 Leaf Certified Materials combined with the low print run drive the values of the card more than its appearance and brand affinity.
Buy on: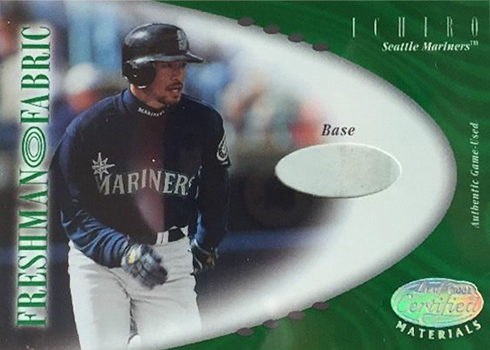 3. 2001 Leaf Limited Ichiro Suzuki RC #374 GU Base /100
As far as cards with confirmed print runs go, this is the rarest Ichiro Suzuki rookie card. That in itself adds a lot of value. At the time of its release, the small bit of base was more important than it is today.
Buy on: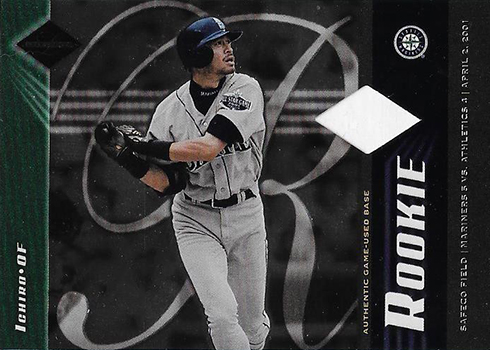 2. 2001 SPx Ichiro Suzuki RC #150 Auto Jersey
The 2001 SPx Ichiro Suzuki rookie card might be his most recognized. One of only two base set Ichiro RC cards with an autograph, it also has a jersey swatch. Since the moment the product was released, this was a cornerstone card for obvious reasons, even without a serial number or confirmed print run. The signature isn't on-card. Rather, it's an entrapped piece of paper.
Buy on: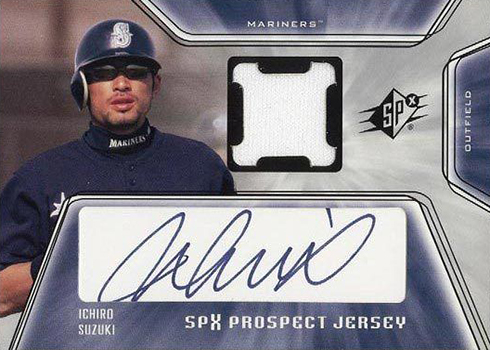 1. 2001 Ultimate Collection Ichiro Suzuki RC #120 Autograph /250
Although the SPx card might have more of an iconic appeal, the 2001 Ultimate Collection Ichiro Suzuki is the legend's most valuable rookie card. And the reasons are clear. It's his only RC that's hard signed. Numbered to 250 copies, it has rarity on its side as well. Today, that's not a big number. In 2001, the hobby was in a different place and the perception was that it was a minuscule number. Finally, Ultimate Collection was as high-end as you got giving it a certain level of exclusivity.
Buy on: