Ichiro, Long Lines and the Pursuit of 2001 All-Star FanFest Exclusives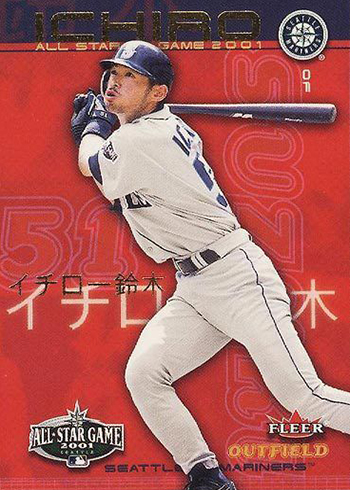 By Ryan Cracknell | Hobby Editor
Aaron Judge isn't the first rookie to bring a ton of hype, excitement and awe to the All-Star Game. For me, when it comes to fresh faces and the Mid-Summer Classic, it will always be about Ichiro.
In 2001, baseball's stars converged in Seattle. At the time, the Mariners were in the midst of one of the greatest regular season records ever.
During the weekend leading up to the All-Star Game, I crossed the Canadian border south and made my way to Seattle for the first time since I was track pant-wearing ten-year-old who threw a hysterical fit going up the Space Needle elevator (I have a thing for heights and imagined a massive earthquake hitting and the towering structure tipping over).
Now an adult, I saved the hysterics. But I was still excited.
Baseball. Out-of-country trip. More baseball.
Being married less than a year and just a couple months out of university, funds were tight. So the All-Star Game itself was out of the question. I was good on settling for the FanFest attached to it.
And I'd be lying if I said I wasn't on the lookout for some of the exclusive cards. I totally was.
The FanFest was a perfect storm for Mariners fans. The team was winning on the field. And off it, their newest star was everywhere.
It seemed like every other storefront had an Ichiro sign, jersey or poster in their window.
And it wasn't just hype. Ichiro arrived in the majors with a massive spotlight. But he fulfilled his promise and then some.
It was no more apparent than at the FanFest. Much of the event was interactive things like batting cages, radar guns and photo ops. I tried my hand at broadcasting and somewhere in a box there's a VHS tape that's evidence I have no business doing play-by-play on TV.
There was another part of the floor dedicated to baseball cards. This is where I wanted to spend much of my time. Where I live in Canada, card shows are a rarity. And when I do come across one, it's mostly hockey.
Being able to go to a show in the United States meant baseball, my first sports card love.
And just like the excitement on the streets, it seemed like everyone at FanFest was looking for anything with Ichiro's face on it. Further fuelling things was the fact that the bobblehead fad was reaching a peak. That likely led to even bigger crowds.
While the card show was great, I was there looking for one thing — the 2001 Fleer FanFest Ichiro card. It wasn't a true Rookie Card, but it didn't matter to me. I was having a hard time finding Ichiro cards because baseball cards were in short supply in my neck of the woods and a brutal exchange rate on a newlywed budget made the early eBay purchases a rarity.
Different manufacturers had different cards for the FanFest set, which centered on past and present Mariners. Knowing I didn't have time to get them all, I set my sights on the best card in the set.
I got my handful of Fleer packs and headed to their booth. Easy, right? It was once you actually got to the booth. But you had to wait in a long line first and hope that the day's stock didn't run out.
Thankfully, I got one before a worst-case scenario. But that lineup was probably the grumpiest place in Seattle that particular day. Count on a long line to suck the excitement out of the most festive of occasions. It was like a black cloud was temporarily over us. But I was still truly happy to be there.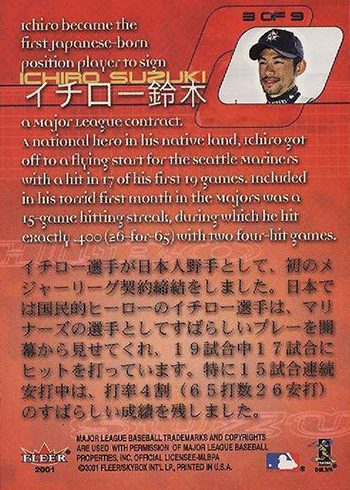 Today, the 2001 Fleer Mariners FanFest Ichiro isn't worth a lot. I probably spent as much in packs than I could buy the card outright today on its own. But that doesn't matter much to me. I don't plan on selling it or adding a hoard. It's one of those cards that's bigger than what's on it to me. It's the memories of a fun trip with one of my life-long friends all about something we both loved — baseball.
While I'm excited for tonight's game, and happy to see Aaron Judge's success and the excitement he's bringing to baseball right now, for me it's not going to be able to 2001, the year of Ichiro.
Comments? Questions? Contact Ryan Cracknell on Twitter @tradercracks.