I Pulled a Rare Mike Trout Card and It Took Me Days to Notice
Recently I was picking up a couple of things at the local Walmart. Of course, as a sports card collector, swinging by the card aisle was a must. Some 2020 Topps Series 2 Baseball had made its way to Canada so I grabbed a hanger box to see how it compared to the couple of hobby packs I'd gotten a day or two before.
I was very much in sample mode and wasn't expecting much. And after a parking lot break, complete with balancing everything on my knees as I went through the stack of 67 cards, I didn't see anything that caught my attention. No big rookies (or in the case of Series 2, no Luis Robert) and the inserts were all run-of-the-mill.
Or so I thought.
When I got home, I put the contents of the pack on my desk and left them there, not thinking much of them. A week went by before I decided to sort them. That's how exciting it was.
While putting the inserts in penny sleeves like I always do and merging them into the couple of inserts I'd gotten in my earlier hobby packs, I noticed something on the back of the Player of the Decade: Mike Trout insert that was in the hanger box.
A serial number was sitting right there on the back like a cat sitting in a midday shadow — not drawing attention to itself, but not exactly hiding, either.
31/50.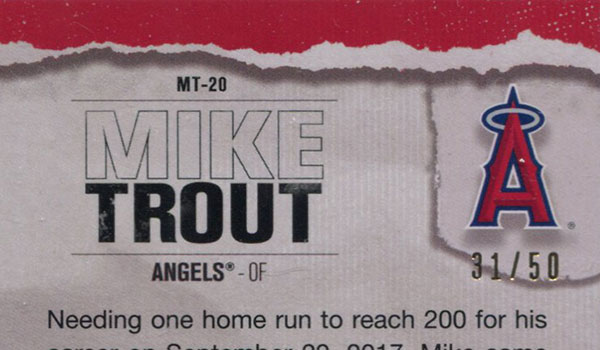 What the heck? It turns out there was something interesting in this otherwise unassuming hanger box.
It was just so unassuming that it took me days to realize it.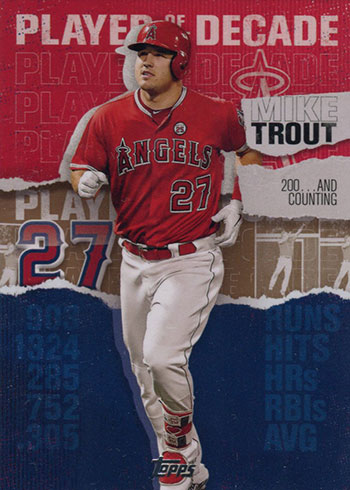 Cool Cards or Rare Cards?
Make no mistake about it, I like getting something rare from a pack of cards. I don't necessarily expect to, especially a Mike Trout out of 50 from a random pack off the shelf at Walmart.
I also love cards that have a cool factor. These don't need long odds. A one-per-pack insert that grabs me is often enough to make me go much longer on a product that I might otherwise (hello, Prizm Red, White and Blues).
Often we give a serial number a pass due to their rarity. But should we be?
My feelings are mixed. I'm not going to complain about getting card of the best player in baseball that's 1:1,051 hanger boxes (and translates to 1:5,001 hobby packs).
But even after my discovery, I can't say I'm excited, either.
A rare card should stand out. The 2020 Topps Player of the Decade: Mike Trout Golds do not.
Upon spotting the serial number, I had to look to see what the difference was. On the front, it's minimal. That thin tear in the background about a third of the way has a slight gold tint. That's it. That and the serial number are all that make it Gold. No foil, no sparkle, nothing that even remotely stands out. A change in hue in a small spot that your eye isn't drawn to in the first place.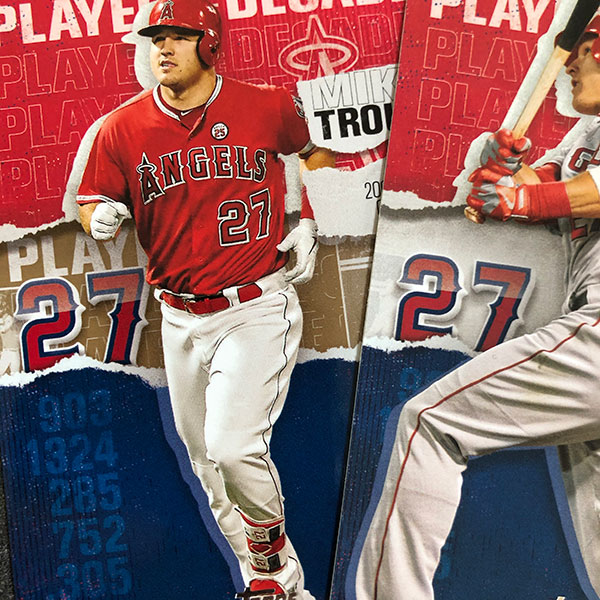 This isn't the only time I've seen it, either. We're in an age of parallels. Not only does almost every base set have them, but a ton of inserts do as well with long lists of versions. In this particular set alone, all 25 cards have base, Blue, Black (/299), Gold (/50), Red (/10), Platinum (1/1) and Autograph (1/1) versions.
Go Big, Go Bold
Are all these parallels on virtually every part of virtually every checklist necessary? I can see both sides. As a collective, the modern hobby demands rarity. Adding parallels and expanding those lineups is one way to have a lot of aspects with smaller print runs. But if we're going to get lots of parallels for everything, it'd be nice if they stood out more. Use different technologies, something over-the-top — anything as long as it's easy to see and makes a difference in the card. Small slivers of color don't count as a big difference to me, especially when they go with the design already.
Relying on a serial number to definitively know that it's a parallel definitely isn't enough.
That's what I like about a lot of chromium products today. Not only do the various colors often pop in unmistakable ways, but there are patterns. Waves, Pulsars, Scope, Velocity, Mojo Superfractors — all have strange names but they add to a card's overall presentation. And when I get something that looks cool and makes me want to study a card, I care a lot less about how many there are. If enough collectors feel the same way about a particular card type, strong demand leads to higher prices.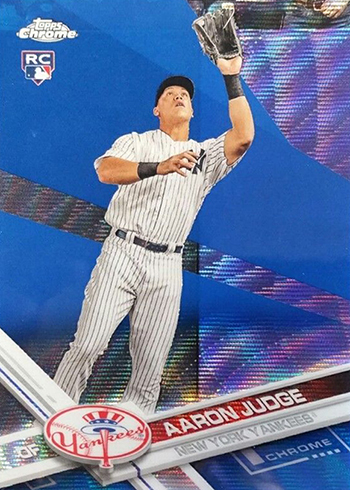 Look at how Silver Prizms have become a benchmark, especially in basketball, in the past couple of years. For the most recent Prizm NBA sets, they're the only parallels available across both retail and hobby. They're among the most popular (and valuable) cards in the product despite others having significantly smaller production numbers.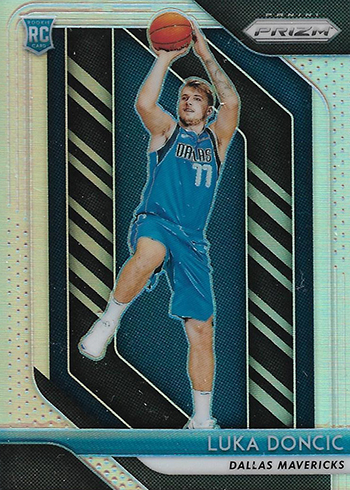 Again, I have a fondness for landing something tough. It feels like the cardboard gods were looking down on you during a particular parking lot rip. But combining "rare" and "cool" (or at the very least, noticeable at first glance), cards become much more appealing. That gives them more opportunity to be chased and appreciated instead of being something closer to checklist bloat.