"I am better than Jordan!" and 24 Other Leaf LaVar Ball Autograph Inscriptions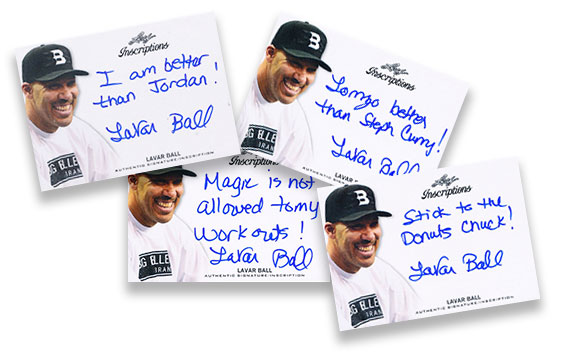 By Ryan Cracknell | Hobby Editor
LaVar Ball is one of the most polarizing figures to enter the sports scene in some time. Father of top NBA prospect, Lonzo Ball, LaVar has made it a habit of dropping a wide range of controversy and controversial remarks in his path. Now, many of his most quotable moments have been captured in a limited edition series of Leaf Inscriptions LaVar Ball autograph cards.
From his public negotiations for a billion-dollar shoe deal for his sons to making confident comparisons to NBA great like Michael Jordan and Steph Curry, Ball doesn't shy away from saying what he feels (or knows will get him some airplay).
As reported by ESPN's Darren Rovell, Leaf released the LaVar Ball autograph cards directly through eBay. A total of 200 cards were available at a cost of $59.95 each. They sold out in less than two minutes.
Several were quickly relisted on eBay by some looking to flip them. Assuming the sales are completed, several of the relisted cards didn't last long with a mark-up over four times the original price.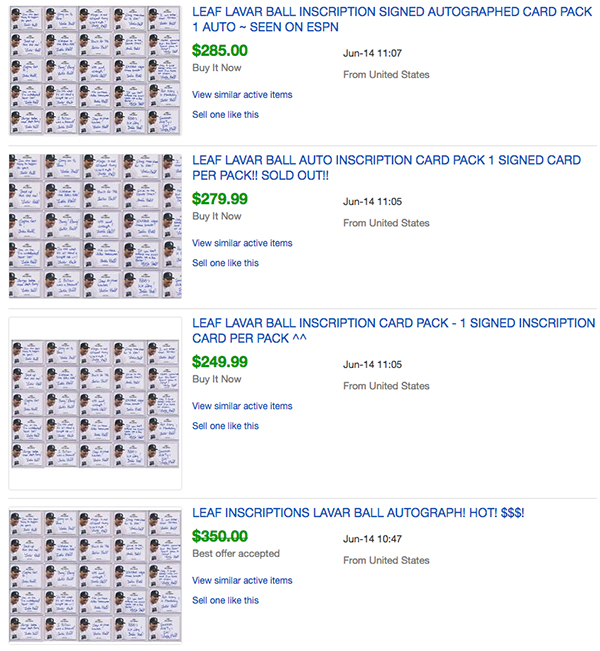 While there's a wide range of inscriptions available, they'll be randomly chosen. That means collectors won't know if they're getting "Stick to donuts Chuck!" (in reference to Charles Barkley), "1 billion was a discount!" or one of over 20 other available inscriptions.
The cards are autographed by Ball. He also wrote the inscriptions himself.
Leaf LaVar Ball Autograph Inscriptions
Please note that some of the cards contain adult language, which has been replaced with *** below.
"1 billion was a discount!"
"495 ain't enough!"
"Back up this **** real!"
"Ball glory is mandatory!"
"Bang! Bang!"
"BBB's we sting!"
"Built for this"
"Gotta get it!"
"Haters gonna hat but Big Baller Brand gonna be great!"
"I am better than Jordan!"
"I'm the best thing to happen in 100 years."
"If you can't afford the ZOZ's you're not a big baller!"
"Is this what it's all about a simple *** [Swoosh symbol]"
"Lonzo better than Steph Curry!"
"Magic is not allowed to my workouts!"
"One on one I'm undefeated! Never lost!"
"Only 2 guys better than me and I'm both of them."
"Shaq make shoes for yo kids!"
"Stay in yo lane!"
"Stick to donuts Chuck!"
"Swoosh ain't ****!"
"Treys for those waiters!"
"We in there like swimwear!"
"Welcome to the BALL ERA!"
"Whitlock where those snacks!"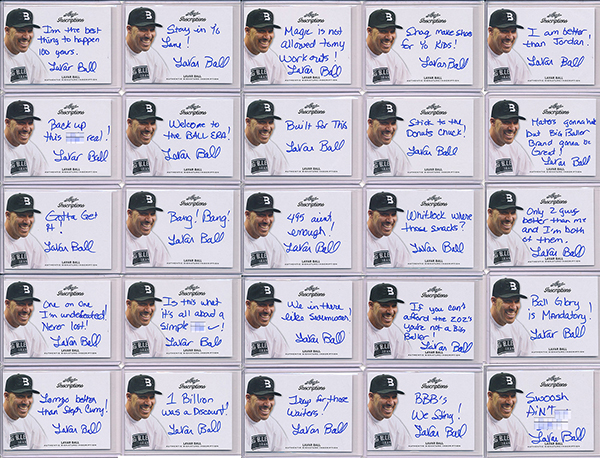 Comments? Questions? Contact Ryan Cracknell on Twitter @tradercracks.