How to Spot & Avoid a Fake 2000 Playoff Contenders Tom Brady Rookie Card
When you click on links to various merchants on this site, like eBay, and make a purchase, this can result in this site earning a commission.
The 2000 Playoff Contenders Tom Brady Rookie Card is one of the top cards of the modern era. Unfortunately, that means that counterfeit copies are becoming a bigger problem.
"BGS saw quite a few of the Contender counterfeits at the beginning of the season and a few each month sprinkled in over  the season," observes Beckett Grading's David Poole. "Beckett Authentication has also seen a rise in people wanting the card's autograph authenticated."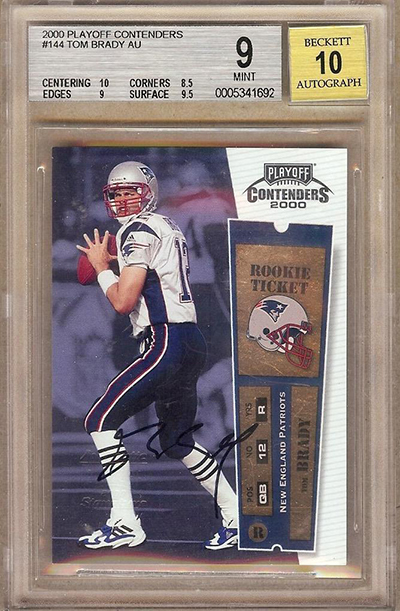 Poole has some handy tips to help you avoid buying a fake 2000 Playoff Contenders Tom Brady Rookie Card.
How to Spot a Counterfeit 2000 Playoff Contenders Tom Brady Rookie Card
Card Stock
Authentic 2000 Playoff Contenders Tom Brady Rookie Cards have only a slightly glossy finish to the card stock. It's a little bit slick, but still very much has a paper feel to it.
Counterfeit versions tend to be more slick to touch. They have a noticeably more glossy sheen to them.
Look on the Back
Another giveaway can be found on the back of the card. In the upper-left corner there's a box that plays off of the ticket theme. One of the lines reads "1999 Team Stats Scoring." On real versions of the card, the text is crisp like it should be.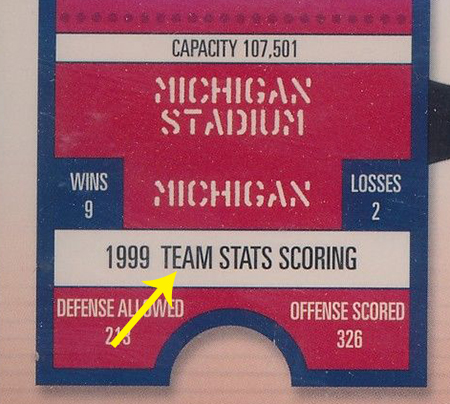 On many fake 2000 Contenders Tom Brady cards the text is noticeably pixelated and harder to read.
Edges
Unfortunately, it's extremely tough to find a perfect 2000 Contenders Tom Brady RC. These imperfections came fresh from the pack.
Remember that paper card stock? It's not nearly as durable as the stuff used today. That means authentic versions of the card often have some chipping. The dark edges don't help either.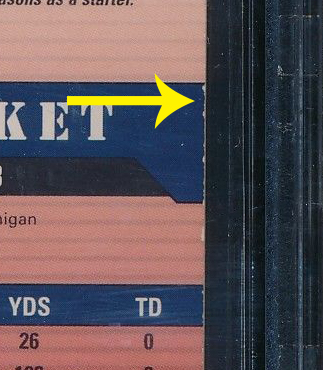 Because many of the fakes are done on more glossy stock, they tend to have very little chipping because they're more sturdy. And if a counterfeit does have chipping, it normally goes with the edge. Chipping on authentic cards tends to go into the surface.
The Autograph
A huge reason why the 2000 Playoff Contenders is the most valuable Tom Brady Rookie Card is because of the signature. This is another place where forgeries make themselves known.
And it goes back to that glossy stock. Ink doesn't generally hold very well on something with a lot of gloss. As a result fakes tend to bleed and feather more.
The more lightweight stock on real copies may cause issues with the edges but the surface holds the autograph better.
Embossed Stamp
Authentic 2000 Playoff Contenders Tom Brady Rookie Cards have an embossed stamp. It's not the most noticeable feature on the card, but it should definitely be there.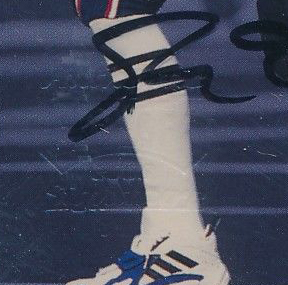 If there isn't one, it's a telltale sign of a fake.
Unfortunately, some fakes have an embossed stamp. This can be a hard way to spot a counterfeit unless you have a real one alongside.
On the fakes, the embossing crimp doesn't generally go as deep into the card and appears to be much lighter.
If It's Too Good to Be True…
…it probably is.
These cards are long past the impulse purchase phase. They're big, big money. While you should always be as careful as possible buying cards, this is a card where your spidey-senses should be in tune.
Take things slow. If you're not directly familiar with the seller, do some added research.
If it's not graded, consider why. It's possible it has been sitting in a lapsed collector's collection for more than a decade, but those stories are going to become increasingly rare.
The legend of the 2000 Playoff Contenders Tom Brady Rookie Card continues to grow. But so do the fakes. Make sure you do your homework so that you avoid buying a bad one.
Comments? Questions? Contact Ryan Cracknell on Twitter @tradercracks or by email.