How to Kill the Non-Auto and Get the eBay Search Results You Really Want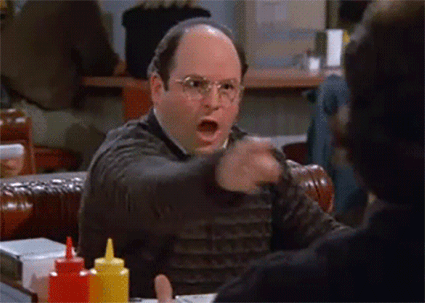 By Ryan Cracknell | Hobby Editor
The eBay 1/1 is annoying search clutter that's hard to avoid when you're looking for cards of your favorite player. But something that's even harder to avoid is the dreaded non-auto, a card that is defined by what it isn't. Thankfully, there's an easy way to kill these sorts of spammy listings dead in their tracks.
Advanced eBay searches offer all sorts of filter functions. One of them is the ability to have your search ignore certain words. You can do it from the main Advanced Search Page by filling in the appropriate boxes on what to search for and what not to. I don't do my searches from there very often and I doubt it's a regular place for a lot of other people. You can, though.
An easier trick exists that can be done from any search bar on any eBay page. And when I say easy, it really is.
Start by typing what you're looking for. I'll start with Bryce Harper autographs. I'm already in the baseball card section so I'll make my search string Bryce Harper (auto,autograph).
Using brackets with commas is a handy trick you might want to take note of as well. Although eBay searches are getting smarter, by using this string I get results for auto and autograph. Both are common in titles so this makes sure you get the biggest possible reach and don't miss a listing.
It doesn't take long for the unsigned "non-autos" to start cluttering things up. Two of the first five listings have the dreaded term.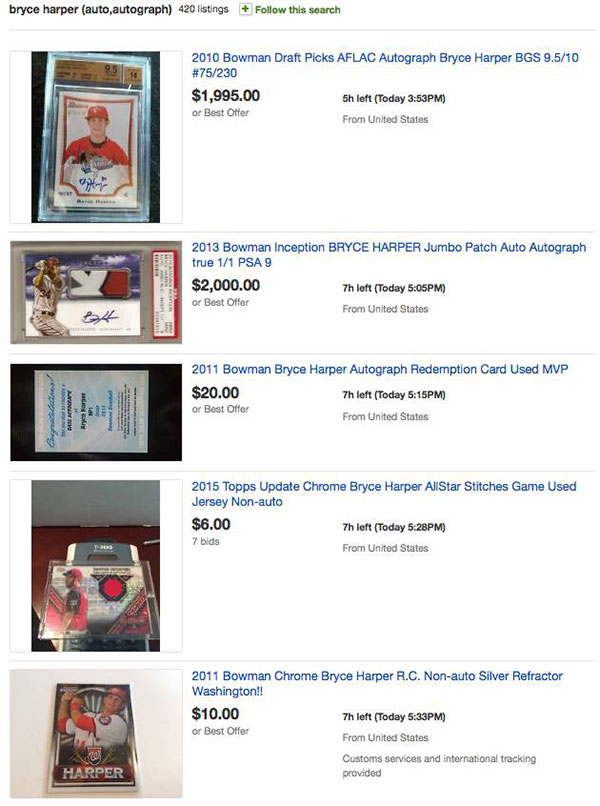 But don't fret. To exorcise them simply go up to the search bar and add -non to your search string. This tells eBay to exclude the term from the results.
That's it. Simple.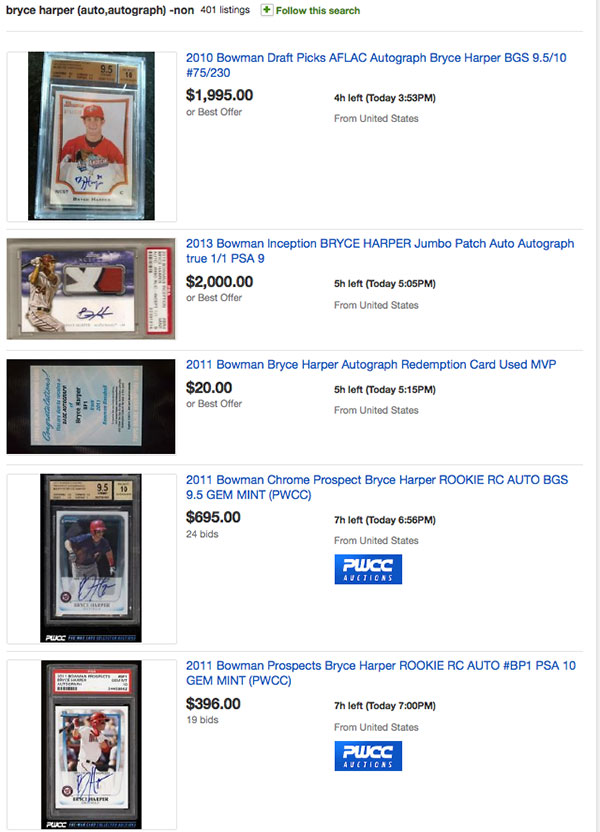 If you encounter other unwanted spam in your searches, simply repeat the exclusion trick to filter things out. For example, if you're looking for boxes, you might want to add -break to your search. This will get rid of listings for group breaks. Seeing lots of s0-called hot packs for guaranteed hits? Exclude them with -hot or -pack. Seeing lots of things listed as an eBay 1/1 that don't interest you? Add -eBay and, poof, it's like they don't exist.
Sometimes I have to exclude several terms, particularly if I'm looking for something that might have a vague title. It's no problem. You can have multiple exclusions in a search.
If you buy a lot of autographs on eBay or you get a lot of unwanted listings, using search exclusions is an easy way to narrow things down to what you're looking for. Pretty soon, you'll forget that non-autos even exist.
Comments? Questions? Contact Ryan Cracknell on Twitter @tradercracks.