How to Quickly and Easily Identify Your Sports Cards with the Beckett Database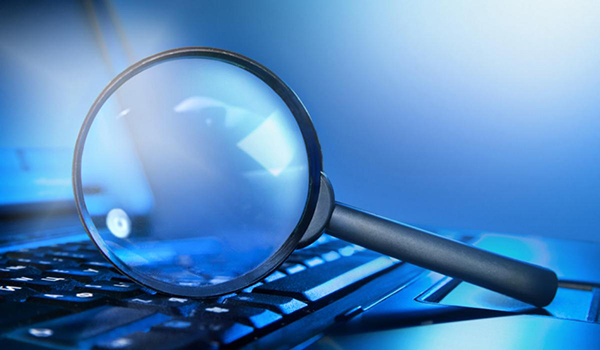 Once upon a time it was easy to memorize exactly what set a sports card came from. That was when there were no more than a handful of sets per year, inserts were sparse and parallels were lines you drew in math class. Today, there are dozens of sets put out for every sport every year. And within each of those, there are usually several layers. The result? Players have more cards now than our brains can handle without some help.
Enter the Beckett database. It can help you identify exactly what sports cards you've got, usually within a few seconds.
You can access the database from every page on Beckett.com. It's the search bar you see at the top of the screen. It looks a little different on some pages, but it all works the same way.
However, before you even search for a card, log in to your Beckett account. Don't have one? No problem. It's free. Click the red "Sign Up" button above the search bar, enter your name, email and password and that's it. You're good to go.
From here on out, the instructions will assume that you are logged in to your Beckett account. Doing so lets you use the database's handy, powerful and easy-to-use filters.
Identifying Your Sports Card with Two Words and a Number
In the vast majority of cases, you should be able to narrow your search down with a couple of words and a number — the player's name and the card number.
Give it a try. Grab a card from the stacks on your desk and simply type those things into the search bar. Before you hit enter, make sure the drop-down menu is set to either the proper sport or, even easier, "All Categories."
When checking for the card number, it's usually on the back set apart from the other info. Occasionally it can be hard to tell if a jersey number is prominent as well. So if you don't get any results, look for a second number in case of this.
Let's try it out with a random Ryan Dempster card on sitting in a stack on my desk.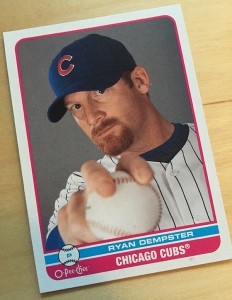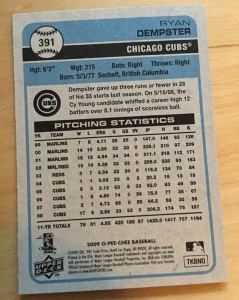 My basic search here is "Ryan Dempster 391", which I expect will bring a manageable number of results to work with. I like the drop-down set to "All Categories" as it keeps things simple and could cover any multi-sport sets.
The results are pretty much what I expected — easy.
Four cards to choose from — two of which are pictured. That's not always the case but it's certainly helpful when the images are there.
Even if I ignore the pictures, I just need to go down the list to eliminate the parallels. The card I have isn't a mini. It has text on the back so it can't be a blank back. There's nothing on the card to hint that it's a Black parallel either. All that's left is one card — a 2009 O-Pee-Chee Ryan Dempster base card.
This particular set happens to have the set name labeled on the back, which also helps. But if you're not familiar with the product or sports cards in general, this is a good confirmation.
You'll also notice in the picture that values are showing. That's only available if you're a paid subscriber to the online price guide. If you're not, the prices won't show up but it won't interfere with your search.
When Things Get Complicated
Sometimes you'll come across a card where the basic "Player Name/Number" search still brings back a lot of results. For example, "Ken Griffey Jr 1" has more than 600 hits.
Since inserts went mainstream in the 1990s, it has meant a lot more cards, particularly those players in the top tier. Basic inserts usually have a small number of cards compared to base sets. So those perennial all-stars and fan favorites that are squeezed in whenever possible have plenty of cards that are low on a checklist. When it comes to numbering, that means lots of potential search results.
But that doesn't mean that the Beckett Database can't help.
Let's figure out exactly what this Mike Piazza card is and if it's special.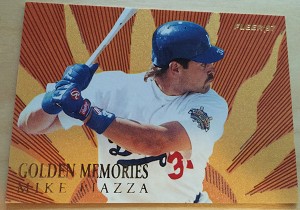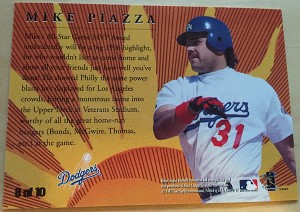 My basic search of "Mike Piazza 8" brings up almost 150 hits. That's not a big help.
So let's narrow it down by looking for hints.
The first is on the front with the company name — Fleer.
Simply adding that to my search brings a much more manageable list of results. Now we're down to 20.
In this instance, the narrowed results and images show me what I've got right away. But we can still bring the results down further without much effort.
It's often easy to figure out the year of the card. For this one, it's right there on the front of the card next to the logo. Usually you have to look on the back in the copyright info. If the card back has stats, you can usually add a year to when they were cutoff to know what year the card came out.
Copyrights aren't always right. Some sets, particularly baseball, would be released in the off-season in time for Christmas. For example, 1994 Donruss Baseball has a 1993 copyright. This isn't the norm, but it's something to think about in case your search isn't giving you what you want.
Since '97 is on the front, we'll use that to bring the results down one last time.
Without much effort, we went from 147 results down to just one.
Other Things to Look For
Starting with the name and card number is the easiest way to try to identify a card.
As you narrow it down, the Beckett Database can bring down results in other ways. Your search string might include a serial number, team name, insert name and more.
If your results are small but still aren't 100 percent clear, look for other hints like the color of a parallel. Most of the time, it shouldn't come to this, but you might need to analyze the results and the card itself.
You can also play with the filters in the sidebar. These can narrow broad results without typing anything extra.