How to get 2015 Bowman Chrome Baseball Blue Twitter Refractors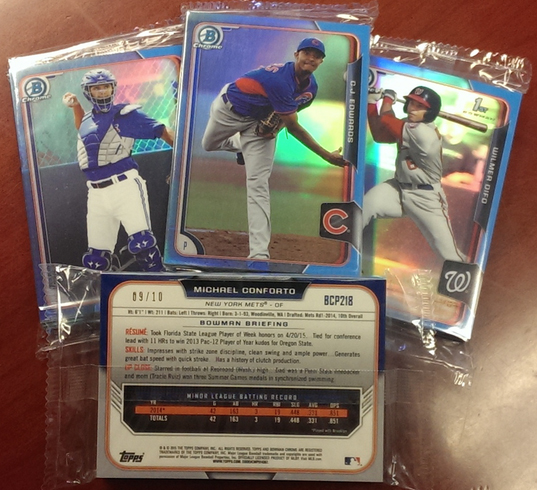 By Ryan Cracknell | Hobby Editor
You don't need to buy packs or boxes to get some of the toughest Refractors in 2015 Bowman Chrome Baseball. All you need is a Twitter account.
Topps is giving away 2015 Bowman Chrome Baseball Blue Twitter Refractors exclusively on the social media platform.
Starting Thursday, September 17, the packs of the exclusive cards will be given away through the Bowman Twitter account. Contests will take on several different forms with winners getting a special pack of the cards.
Each pack has nine base Blue Twitter Refractors, each numbered to 10, and an autograph parallel. Autographs are limited to three serial-numbered copies each. The checklist for the cards is limited to the 100 Prospect inserts and the Prospect Autographs.
Contests for the rare packs are going to be stretched out through November 7.
The Twitter Blue Refractors debuted with the Prospect cards found in 2015 Bowman Baseball earlier in the season.They were given out in a similar fashion.