How the Infamous 1989 Fleer Billy Ripken Inspired a Beer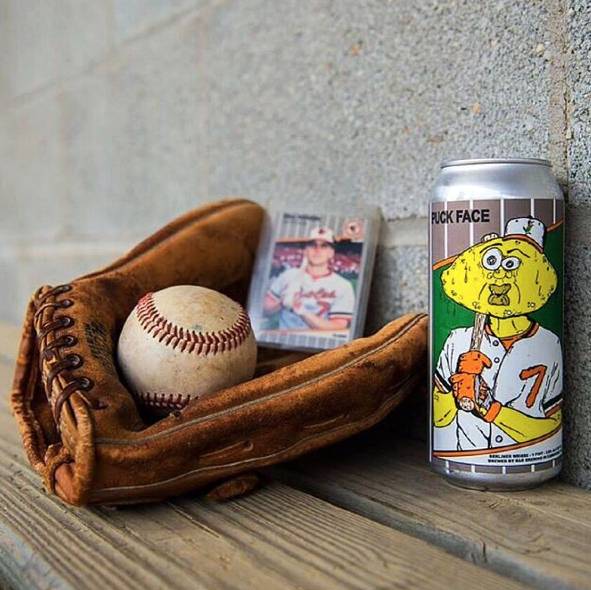 By Ryan Cracknell | Hobby Editor
The 1989 Fleer Billy Ripken and its naughty knob are a thing of hobby legend. Ask most about Cal's younger brother and they're probably just as likely to talk about the card rather than his career. More than a quarter of a century later, it's a piece of hobby history that lives on in infamy. And now the lore grows a little bit further as it helped inspire a beer.
The sour brew, appropriately called Puck Face, is being produced by RaR Brewing in Maryland.
According to the company's co-founder, Chris Brohawn, it's no accident that both the beer's name and the label connect to the classic baseball card.
"About a month ago the Billy Ripken card came up during a conversation between myself and my artist/GM, BJ Wheatley, over a few beers. At the time our brewmaster, Randy Mills, was talking about doing a sour beer," he said. "We got to a point where that beer was moved into the upcoming brew schedule, so BJ and myself started brainstorming names."
Brohawn, who still owns a copy of the Ripken, continued, "Being that it's a sour brew geared towards lemon-lime flavors the name Puck Face came to mind [since] we were just recently talking about the card. We both laughed for a good hour and decided that we at least had to draw it up, even if we didn't end up going with the concept."
But the concept stuck. And the label came with a little more cardboard inspiration, Garbage Pail Kids. Brohawn collected and traded those when he was growing up as well.
"So we loosely based the drawing on that theme along with the Ripken card, obviously," he said.
RaR's Puck Face releases over the weekend, but it's only going to be offered at their tap room within the brewery.
Comments? Questions? Contact Ryan Cracknell on Twitter @tradercracks.