How do early Connor McDavid sales stack up against other top Upper Deck Young Guns?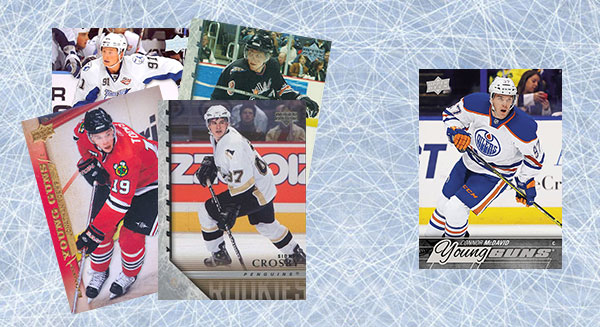 By Ryan Cracknell | Hobby Editor
Injured or not, the 2015-16 Upper Deck Connor McDavid Young Guns rookie card is drawing tons of attention. Pre-sale prices went as high as $250. Even in the wake of him getting hurt, they were still moving at $225 or so.
If you've followed hockey, you've heard the story. It's more likely that he's going to be great than he is going to be really good. A flop isn't even part of the equation. Parallels have been drawn to Sidney Crosby and even Wayne Gretzky. That Oilers jersey certainly helps that connection.
The hype surrounding McDavid and his cards has brought in a lot of people who might not collect a lot of hockey in an "average" year. He's probably brought in more than a few who don't collect hockey cards at all.
Before going down with a broken clavicle, McDavid was doing a good job living up to the hype. He was starting to build some momentum and racking up the points. And while it's disappointing to see anyone get hurt, let's not forget that in most parts of North America, he's still just a kid. At just 18 years, he's got a lot of years left ahead of him. And the potential is astronomical.
But let's look past potential. Instead, let's compare McDavid's first NHL rookie card with some recent sales of Upper Deck Young Guns from other top players. From the NHL's elite to rare versions of hockey's younger stars, they've all logged at least a year or two already. Some have put together Hall of Fame careers.
Based on eBay sales, all of the following Young Guns cards have sold on eBay in the last couple of months for the same or less than the majority of the Connor McDavid Young Guns cards sold prior to the release of 2015-16 Upper Deck Series 1 Hockey.
2005-06 Upper Deck Sidney Crosby Young Guns #201 – $200-250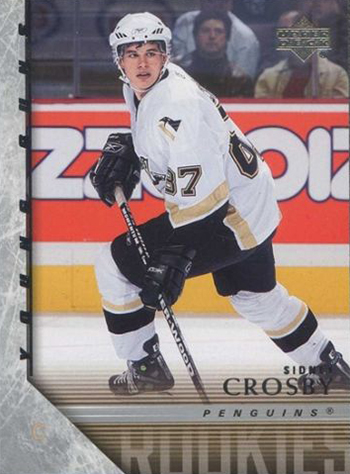 Still widely sold, raw copies of Crosby's Young Guns card is right in line with McDavid's. Crosby is, arguably, the most popular player in the NHL over the last decade. His name is engraved on the Stanley Cup and his collection of hockey hardware includes a pair of Hart Trophies as the league's MVP.
BGS 9.5 2007-08 Upper Deck Carey Price Young Guns #227 – $129-$250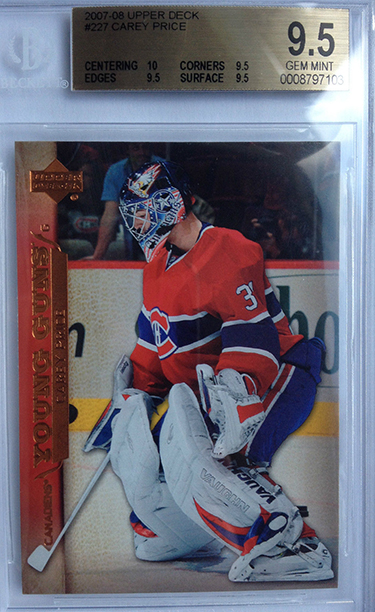 One could talk for a while about the accolades of Carey Price. Save for bringing the Stanley Cup back to Canada, he's just about done it all in net for Montreal. He's the modern face of one of the NHL's most storied franchises. Raw copies of his Young Guns are about 25 percent of early McDavid cards. Even BGS 9.5 copies of the 2007-08 Upper Deck Carey Price Young Guns can be found for around the same price if not less.
BGS 9.5 2002-03 Upper Deck Henrik Zetterberg Young Guns #234 – $185-$229.50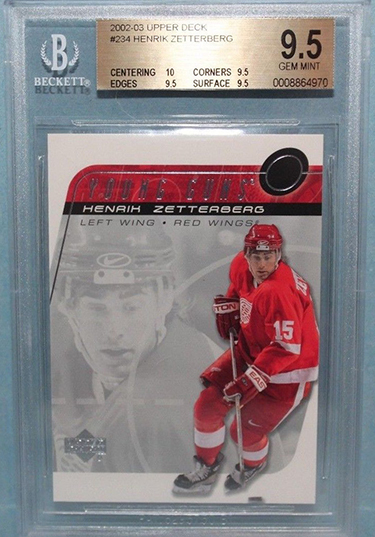 Henrik Zetterberg might not show the same flash and huge numbers like a lot of his peers, but he is consistent. More importantly, he's a proven winner. He's raised the Stanley Cup and won gold medals at the Olympics and World Championships. Zetterberg's career is probably winding down but it's one that could lead to the Hockey Hall of Fame. And yet, top-grade copies of his Young Guns card are moving for less than raw versions of McDavid's right now. 2002-03 Upper Deck Young Guns are also considered some of the rarest.
BGS 9.5 2010-11 Upper Deck Tyler Seguin Young Guns Exclusives #456 053/100 – $227.50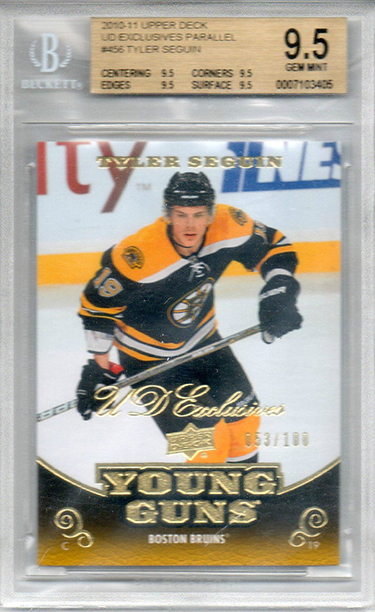 Here's another exciting player with a lot of years ahead of him. Seguin's career started with a bang, playing a key role in Boston's 2011 Stanley Cup. He was sent to the Stars before the 2013-14 season and has been a major offensive threat for the team, including a stellar start this season. Right now, most would probably put him at a level slightly below elite. But don't be surprised if his status is elevated in the near future.
The last sale of this particular card puts it at about the same as McDavid's Young Guns. But not only was the Seguin graded 9.5 but it's the Exclusives parallel numbered to 100.
2008-09 Upper Deck Steven Stamkos Young Guns Exclusives #245 /100 – $125-210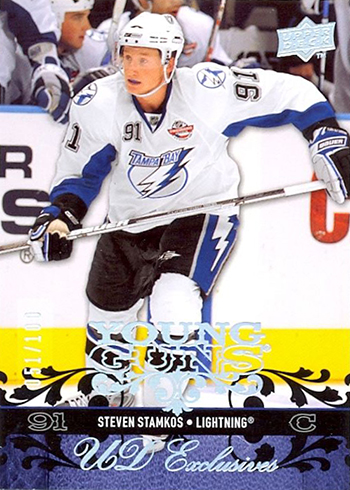 If all things were equal and everyone healthy, Steven Stamkos would be a top 3 pick by almost any team in need of a pure goal scorer. When healthy, there aren't many who are more dangerous than the Lightning center. In his first seven seasons, Stamkos has topped the 40-goal mark four times including 60 in 2011-12. And yet here's his Young Exclusives parallel that's numbered to 100 selling for less than McDavid's basic Young Guns rookie. You could also snag four or five of the regular Stamkos Young Guns rookies for the price of one McDavid.
2014-15 Upper Deck Young Guns Acetate Aaron Ekblad #225 – $160-167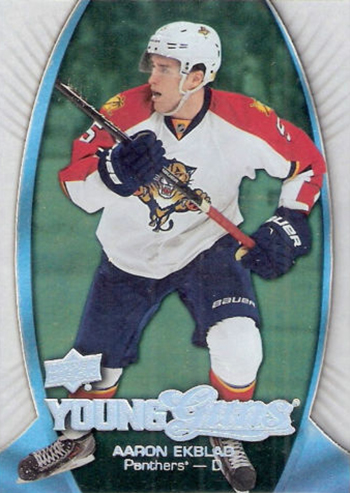 Ekblad might not the same sort of once-in-a-generation type of player that McDavid's predicted to be. But he's the reigning Calder Trophy winner. And this isn't the regular version of his card. Rather, it's the Acetate parallel that was included in 2014-15 Upper Deck Series 2. Although print runs and insertion rates haven't been officially revealed, they're rare.
BGS 9.5 2007-08 Upper Deck Jonathan Toews Young Guns #462 – $104.50 – $133.20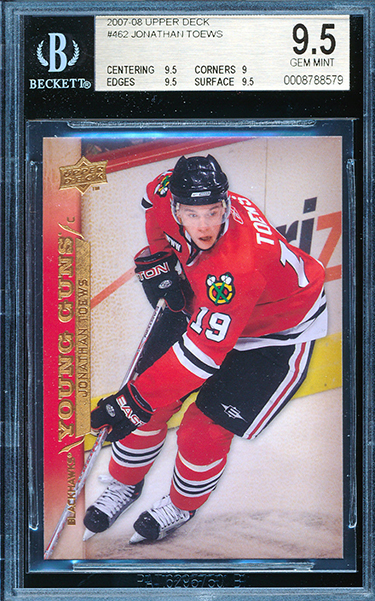 Still in his mid-20s, Jonathan Toews already has three Stanley Cups, two Olympic gold medals and lots of other championships at all levels. Don't be surprised that when his career is winding down — which probably won't be for another decade or so — that people mention him alongside Wayne Gretzky, Mark Messier, Steve Yzerman and hockey's other all-time great leaders.
2003-04 Upper Deck Eric Staal Young Guns High Gloss #206 02/10 – $129.99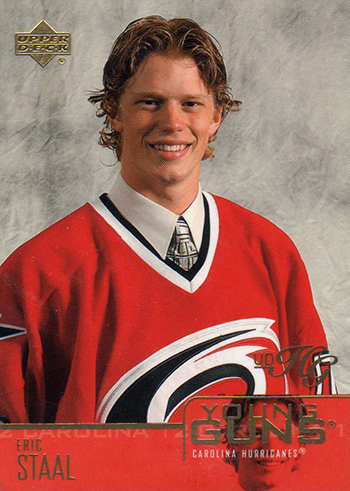 Eric Staal might not be one of the most popular hockey players in the hobby. But that doesn't mean that he's not a great player. He might not be a superstar but Staal is very consistent and better than a meandering "solid." He's a four-time All-Star, Stanley Cup Champion, World Champion and Olympic Gold Medalist. Not bad.
His High Gloss Young Guns card isn't going to show up very often as it has just ten copies. The last one sold for $129.99, about $100 less than a McDavid.
2010-11 Upper Deck Taylor Hall Young Guns Exclusives #219 067/100 – $120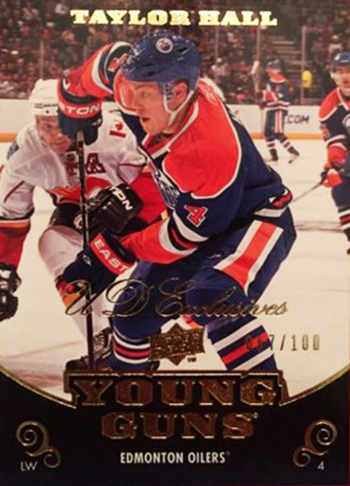 Taylor Hall is one of the players who is expected to benefit from McDavid's arrival. The number one pick in 2010, injuries have slowed the start of his career. But he's still young and off to a strong start to 2015-16. The Exclusives version of Hall's 2010-11 Young Guns card, which is numbered to 100, sold on eBay a couple of weeks before the McDavid arrived for $120.
BGS 9.5 2005-06 Upper Deck Alexander Ovechkin Young Guns #443 – $65 – $113.94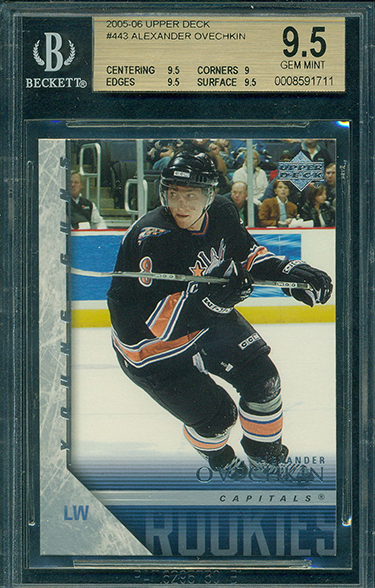 Sidney Crosby isn't the only top-tier rookie card in 2005-06 Upper Deck. In fact, there are lots. Alexander Ovechkin? He's pretty good. Prices of his Young Guns card have been all over the place the past couple of months, but even if you take the high price of about $114, you could get two BGS 9.5 rookie cards of the Russian sniper for about the same as a raw McDavid.