Houston's Most Collectible NFL Trio – Beckett Pricing Insider
This edition of the Beckett Pricing Insider is brought to you by GTS Distribution. Watch Go GTS Live – The Hobby's Web Show, every Thursday at 9 PM EST.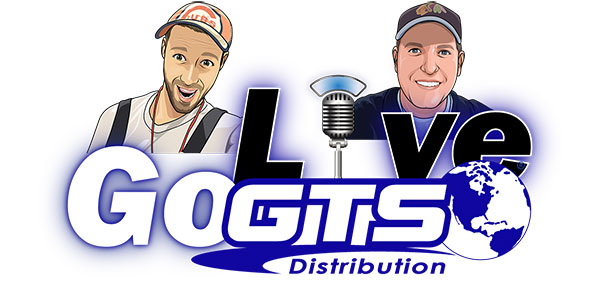 A couple of years ago my wife took a new job that transferred us to Houston. She is originally from there so it's safe to say that she is a Texans fan. It took the franchise a long time, but they have some popular and collectible players now. Houston is in the playoff conversation pretty much every season now. This season they hope to improve and have a potential Super Bowl appearance.
Here's a look at some cool cards from the Texans trio of hobby stars and their recent price records.
2017 Panini Contenders MVP Contenders Autographs #12 J.J. Watt 1/1 – $153
There is no other player on the Texans that could be mentioned before this guy. Everyone in H-Town loves this guy and for good reason. He's a top player with a big personality and does lots of good for the community. Watt is one of the most collected defensive players in the NFL so getting a one-of-one autograph from a Contenders set is one of the best cards you can hope for.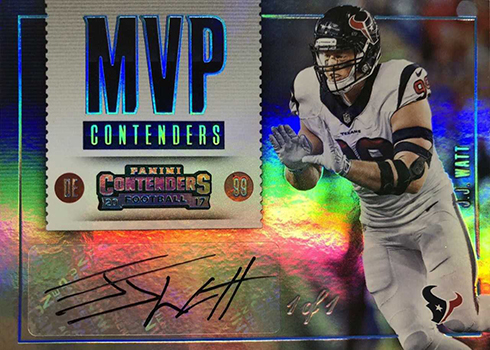 2018 Panini National Treasures Colossal Material Signatures Prime NFL Shield Deshaun Watson 1/1 – $1,025
Before he was injured, Deshaun Watson was the hottest rookie in the league for a good part of 2017. He showed the Texans what it could be like to have an elite quarterback. Watson's cards were on the top of the Hot List for a long time. Watson's values took a small hit after his injury, but they rose back up after last season. If the Texans can be one of the top teams again, there could be room for those values to go up more.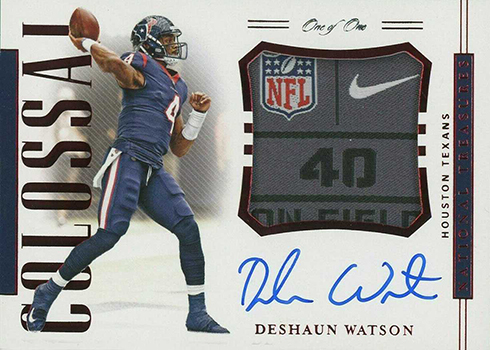 2013 Panini Contenders Cracked Ice #205A DeAndre Hopkins /21 – $435
The 2013 rookie class will go down as one of the roughest years for collectors. There were a couple of bright spots, though, one of them being DeAndre Hopkins. He has become one of the elite wide receivers in the league and has seen his card values go up steadily. This Cracked Ice card was once valued at $150.