Hot Rookie Hammond Heads Upper Deck Update Checklist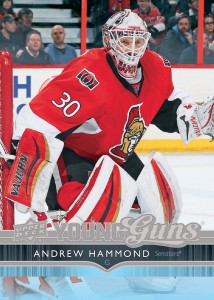 By Stephen Laroche | Beckett Hockey Editor
While many collectors are aware that Upper Deck was planning to update its flagship set with a special insert placed into packs of their upcoming 2014-15 SP Authentic Hockey release, there has been a great deal of speculation and discussion in regard to who would end up making it into this extra group of cards.
One name that came up most frequently was that of Ottawa Senators goaltender Andrew Hammond, who has only appeared in a few sets thus far this season. He missed the cut for having a Young Guns card earlier this year and as he went undefeated over the course of his first 14 starts, he became a hobby sensation. He is one of 10 supplemental Young Guns cards that will hit store shelves in a few weeks and while he did not end up setting a record for longest unbeaten streak from the start of his NHL career, this card is bound to be a popular one.
Who else made it into the set? Look for a complete checklist of 2014-15 Upper Deck Update cards and additional images after the jump.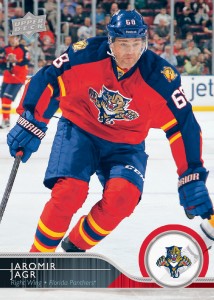 This is not the first time that Upper Deck has added update cards for its base brand into packs of SP Authentic as they did it in the lockout-shortened season of 2012-13. This time, look for 20 basic cards featuring some of this year's most surprising performers such as Michael Hutchinson, Matt Beleskey, and Anders Lee. There are some players in their new uniforms, too, like Jaromir Jagr and Keith Yandle.
In addition to Hammond, the Young Guns checklist will contain nine other rookies, including Rocco Grimaldi. It should be noted that three of these players had Young Guns cards earlier in the season and appear again due to trades. As a result, the new cards of Anthony Duclair, Adam Clendenning and Jiri Sekac will not be given the RC tag by Beckett Hockey.
Each of these cards will also have Exclusives and High Gloss parallels numbered to 100 and 10, respectively. The Upper Deck Update cards are expected to be found four times per box.
Upper Deck Update
501    Brandon Saad, Chicago Blackhawks
502    Niklas Svedberg, Boston Bruins
503    Mike Santorelli, Toronto Maple Leafs
504    Steve Downie, Pittsburgh Penguins
505    Michael Hutchinson, Winnipeg Jets
506    Anders Lee, New York Islanders
507    Nikita Kucherov, Tampa Bay Lightning
508    Reilly Smith, Boston Bruins
509    Jason Zucker, Minnesota Wild
510    Matt Beleskey, Anaheim Ducks
511    Antoine Vermette, Chicago Blackhawks
512    Jaromir Jagr, Florida Panthers
513    Zach Bogosian, Buffalo Sabres
514    David Perron, Pittsburgh Penguins
515    Devan Dubnyk, Minnesota Wild
516    Derek Roy, Edmonton Oilers
517    Tyler Myers, Winnipeg Jets
518    Drew Stafford, Winnipeg Jets
519    Devante Smith-Pelly, Montreal Canadiens
520    Keith Yandle, New York Rangers
Upper Deck Young Guns Update
521    Jesse Blacker, Anaheim Ducks
522    Julien Brouillette, Winnipeg Jets
523    Miikka Salomaki, Nashville Predators
524    Adam Clendening, Vancouver Canucks
525    Nikita Nesterov, Tampa Bay Lightning
526    Jiri Sekac, Anaheim Ducks
527    Tyler Gaudet, Arizona Coyotes
528    Andrew Hammond, Ottawa Senators
529    Rocco Grimaldi, Florida Panthers
530    Anthony Duclair, Arizona Coyotes
Stephen Laroche is the editor of Beckett Hockey. Have a comment, question or idea? Send an e-mail to him at SLaroche@beckett.com. Follow him on Twitter @Stephen_Laroche.