Homer at the Bat Is the Set of Simpsons Baseball Cards We Need
When you click on links to various merchants on this site, like eBay, and make a purchase, this can result in this site earning a commission.
Over the past couple of years we've seen the Bad News Bears and Major League get their own traditional baseball cards. We got Bull Durham cards in 2016 Topps Archives Baseball and The Sandlot in 2018. Field of Dreams, The Natural and A League of Their Own are just a few of the Hollywood productions deserving of cards. But there's one that stands out even more and it's a TV show, not a movie.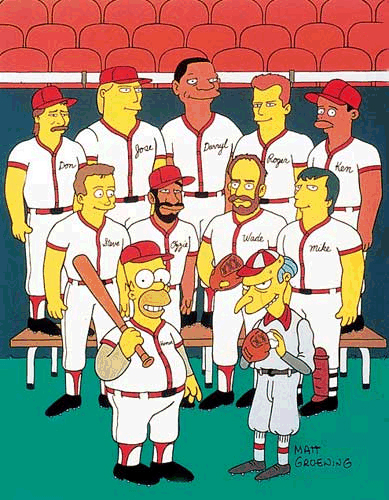 "Homer at the Bat" is a classic 1992 episode of The Simpsons that included a who's who of superstars from the time. And the potential for baseball cards is totally there.
The basic gist of the episode is that Mr. Burns has a million dollars riding on a company softball game. He ends up assembling a roster of ringers featuring Ken Griffey Jr, Roger Clemens, Ozzie Smith, Jose Canseco, Wade Boggs, Darryl Strawberry, Don Mattingly, Mike Scioscia and Steve Sax.
History-Making Episode
The show was already a cornerstone of pop culture at the time. But this marked the first time the show beat a first-run episode of The Cosby Show. A juggernaut of '80s television and NBC's Thursday night lineup, beating Cosby was a huge accomplishment.
Just the list of guest stars offer the potential for a huge set of inserts. And while autographs would be great, even regular Simpsonized versions of the baseball stars, would offer something different. Of course, you'd need Homer, Mr. Burns and other characters from the show to round out the checklist.
It wouldn't really matter if Topps or Panini made the set because it has nothing to do with Major League Baseball. Either company could come up with a new design or they could reach into the archives and adapt a 1992 look — both approaches have merit.
A lot of hurdles would have to be cleared for this set to work though. First, there's the license for The Simpsons. Topps, SkyBox and Inkworks all made cards for the show over the years. But, today, that license could be cost prohibitive for a set of inserts.
From there, you'd need other approvals from the players, which is more red tape. And then the autographs, which is another cost.
Even still, if it could be done, "Homer at the Bat" cards should be done as they might just be the perfect bridge between baseball and pop culture.
Yes, There Is a Real Simpsons Baseball Card
There is, actually, one Simpsons sort-of baseball card. 1994 SkyBox Simpsons II has a promo card that will likely draw a smirk from long-time baseball card collectors.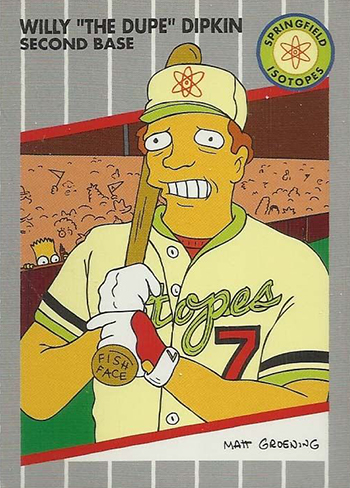 Willy "The Dupe" Dipkin is an obvious nod to the infamous 1989 Fleer Bill Ripken. The promo has a couple of different versions depending on where it was found but the fronts are the same.
So what do you think — yay or nay on some Simpsons "Homer at the Bat" cards? Share your thoughts in the comments or on Twitter.