Homer at the Bat Autographed Baseballs? Yes, Please.
When you click on links to various merchants on this site, like eBay, and make a purchase, this can result in this site earning a commission.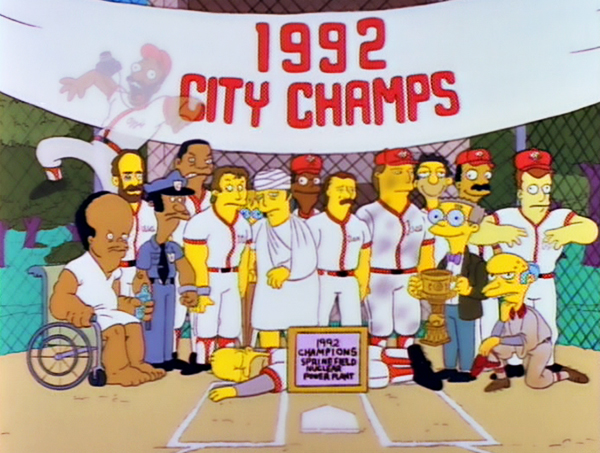 The debate over the best baseball team to ever take the field is a debate that will rage on until pigs fly, four men on horseback fly down from the sky and 60 Minutes gets cancelled. The 1927 Yankees? Cincinnati's Big Red Machine? The 1970 Baltimore Orioles?
Don't discount the Springfield Nuclear Power Plant softball team of 1992. They might not be a traditional baseball team going the underhand route and all. But under the right circumstances (like the one called reality), they could give anyone a run. Ken Griffey Jr., Ozzie Smith, Roger Clemens, Jose Canseco, Wade Boggs, "Daaaaarrrrryl" Strawberry and company are legends. Throw in the secret weapon, Homer Simpson's Wonder Bat, and you've got one of the greatest 30 minutes in television history.
Goldin Auctions has a trio of special autographed "Homer at the Bat" baseballs signed by nearly all of the baseball players in the iconic episode plus other athletes and athletes organized by the producers of "Springfield of Dreams," a 25th anniversary documentary.
Homer at the Bat Autographed Ball Signers
Baseball players from "Homer at the Bat" with signatures on the balls include Griffey, Clemens, Boggs, Canseco, Smith, Don Mattingly, Steve Sax and Mike Scioscia. Strawberry is the lone missing Springfield ringer.
The balls have several other autographs from notable names in attendance at the Springfield of Dreams event. From the world of sports, there's Aaron Judge and broadcasters Bob Costas and Joe Buck. Neil deGrasse Tyson, Nick Offerman, Tim Gunn, Jim Cramer, George Will, Bill De Blasio, Al Jean, Dr. Drew , John Thorn, Jeff Idelson and Ezra Klein also signed.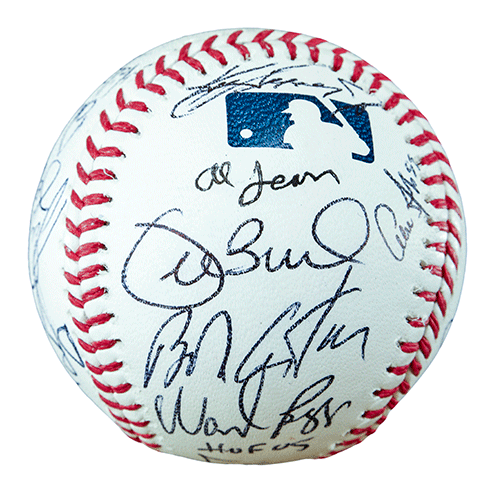 All three baseballs are being auctioned off separately by Goldin Auctions with proceeds for each going to the Jackie Robinson Foundation. Each comes with a letter of authenticity that has the Springfield of Dreams logo on it. They're official MLB balls.
See Also: Homer at the Bat Is the Set of Simpsons Baseball Cards We Need
"Homer at the Bat" originally aired in February, 1992. Today, many rank it as one of the best episodes of The Simpsons ever made. At the time, it marked the first time a new episode beat its head-to-head competitor, ratings juggernaut The Cosby Show. "Springfield of Dreams" first aired on Sunday, October 22.
Comments? Questions? Contact Ryan Cracknell on Twitter @tradercracks or by email
.