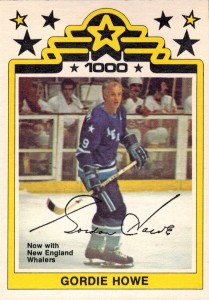 By Stephen Laroche | Beckett Hockey Editor | Commentary
Back in 1986, I was a typical 10-year-old kid hoping to find something incredible under the Christmas tree and the man in red delivered something unexpected in my stocking that year – a complete set of 1977-78 O-Pee-Chee WHA hockey cards!
Even at the age, I was crazy about the history of the game and to get my first-ever card of Gordie Howe was a genuine thrill as I knew of his exploits on the ice. Going through those 66 cards, it was incredible to see players from the teams I had only read about. In addition to Mr. Hockey, I was able to enjoy cards of Frank Mahovlich, Bobby Hull, Robbie Ftorek and others that starred in the Rival League.
Somewhat foolishly, I ended up trading those cards away for some older hockey cards that year. Eventually, I put a complete set together once again, but I sincerely miss that set that was tucked away in my stocking.
Flash forward five years and I received some other great hockey gifts from family members. My grandmother, who always knew what my sister and I wanted for Christmas, came through in a big way as she went to the local card store and grabbed two cards I had set aside. One of these was a rookie card of Mark Howe from the 1975-76 O-Pee-Chee WHA series along with a 1959-60 Topps card of Ted Lindsay. As you go through the current issue of Beckett Hockey, you will be able to read about Terrible Ted's impact on the game. An uncle of mine also sent along a very unexpected gift in the form of a signed Guy Lafleur rookie card! It did not get too much better than that for a teenage hockey history nerd at the time!
Today, I hope that all of you reading this will pass along the joy of collecting to those that may appreciate it. Whether it is buying a blaster box for a younger family member or donating your base cards to a local children's hospital or toy drive, your generosity can make positive memories for others.
Also, with the recent health issues that Gordie Howe has faced, it is also worth mentioning that his family hopes that fans will send along messages to him as he recovers. Your kind words will mean a lot to him and please remember that this is also not a time to request autographs. Please send your letters to Gordie Howe, c/o Texas Trailer Corral, 12207 Hwy. 87, Lubbock, TX 79423.
On behalf of everyone at Beckett Media, I would like to wish all of my readers happiness and joy during the holiday season.
Stephen Laroche is the editor of Beckett Hockey and Beckett Basketball magazines. Have a comment, question or idea? Send an e-mail to him at SLaroche@beckett.com. Follow him on Twitter @Stephen_Laroche.