Hockey's turn for Ultimate's 1997 Legends autos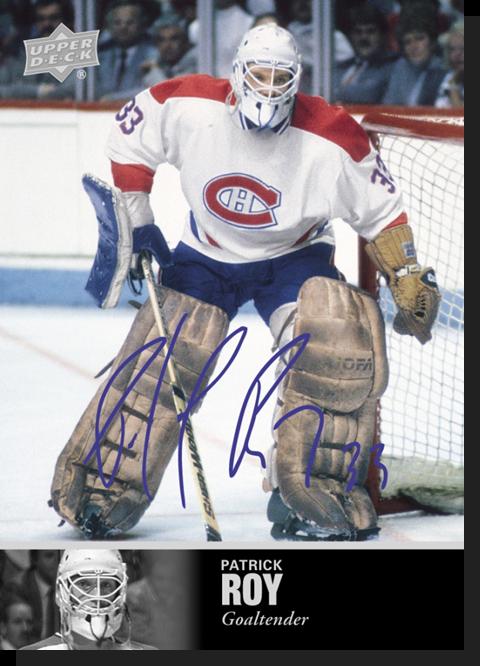 By Susan Lulgjuraj | Beckett Hockey Editor
Over the last several years, Upper Deck's Ultimate Collection has been inserted with the 1997 Legends autograph subset. The checklist is filled with some of the great players in the respective sports.
Michael Jordan and Magic Johnson in basketball. Brett Favre and Dan Marino in football – just to name a few.
This year's Ultimate Collection kicks off a three-year cycle with hockey of the 1997 Legends autographs with 30 players in each release. The product comes out next week.
The checklist includes some of the best hockey players to take the ice. Wayne Gretzky, Patrick Roy, Bobby Hull and Mark Messier are included on the list.
In addition, there are several fan favorites.
Fans of the Edmonton Oilers and Philadelphia Flyers are going to appreciate the checklist with eight players for each team represented. Gretzky and Messier will appear with Edmonton on the cards, honoring the early parts of their career. Also joining the checklist for Edmonton are Grant Fuhr, Marty McSorley, Paul Coffey and others.
The Flyers will be represented by Bobby Clarke, Dave Schultz, Ron Hextall, Bill Barber, Eric Lindros, Reggie Leach, Rick MacLeash and Tim Kerr.
Thirty new cards will be in 2012-13 and 2013-14 Ultimate Collection, and superstars and legends could appear more than once in the set with different teams.
Check out the full checklist below:
AL-1 Bobby Hull Chicago
AL-2 Stan Mikita Chicago
AL-3 Tony Esposito Chicago
AL-4 Alex Delvecchio Detroit
AL-5 Red Kelly Detroit
AL-6 Ted Lindsay Detroit
AL-7 Bill Ranford Edmonton
AL-8 Glenn Anderson Edmonton
AL-9 Grant Fuhr Edmonton
AL-10 Jari Kurri Edmonton
AL-11 Marty McSorley Edmonton
AL-12 Mark Messier Edmonton
AL-13 Paul Coffey Edmonton
AL-14 Wayne Gretzky Edmonton
AL-15 Guy Lafleur Montreal
AL-16 Jean Beliveau Montreal
AL-17 Larry Robinson Montreal
AL-18 Patrick Roy Montreal
AL-19 Bill Barber Philadelphia
AL-20 Bobby Clarke Philadelphia
AL-21 Dave Schultz Philadelphia
AL-22 Eric Lindros Philadelphia
AL-23 Ron Hextall Philadelphia
AL-24 Reggie Leach Philadelphia
AL-25 Rick MacLeish Philadelphia
AL-26 Tim Kerr Philadelphia
AL-27 Adam Oates St. Louis
AL-28 Brett Hull St. Louis
AL-29 Doug Gilmour Toronto
AL-30 Wendel Clark Toronto
Susan Lulgjuraj is the editor of Beckett Hockey magazine. You can email Susan here with ideas, comments and questions. Follow her on Twitter here.