Hockey Supercollector: Ed McGrogan's Jaw-Dropping Brian Leetch Collection
You'll notice this is a different approach to the Super Collector column … because Ed McGrogan is a different kind of collector. Ed serves as the Senior Editorial Manager for Tennis Magazine and Tennis.com, so he knows how to tell a story. When he asked for free rein to discuss his jaw-dropping Brian Leetch collection, we were happy to oblige.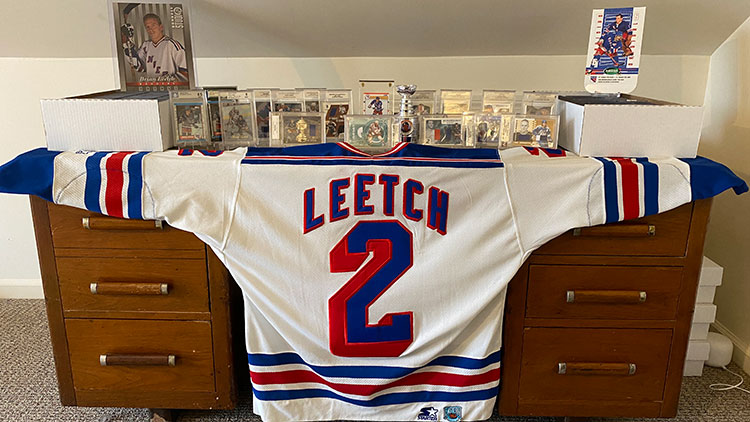 For player collectors, it was the Roaring Nineties. The quantity of cards available to chase posed a challenge, unlike the 1980s, but the quality of cards hadn't risen to the practically unattainable, if not unaffordable, levels of the 2000s. Looking back, perhaps I should have narrowed my Brian Leetch collection from 1989-90—his Rookie Card year—to 1999-2000, the first time the New York Rangers great was featured on patch cards. It would not be his last.
But I didn't, and that is part of why I'm writing about my Leetch collection here. It spans from 1988-89 (he had an O-Pee-Chee sticker then, with Peter Stastny) through 2004-05, the truncated trading card season. Leetch's subsequent Boston Bruins issues, with a repellent number 22 on his jersey, gave me a natural stopping point.
In total, there are 1,497 Leetch cards I consider part of my master checklist, and as of April 2020, I'm down to needing 169.
I have no doubt there are more exhaustive and expensive player collections out there, and I know there are other Leetch collectors like me. My collecting zeal for Leetch cards has never waned, though it's been tested at times. But the highs of both finding and landing a particular card have always outweighed the investments that serious player collectors must lay out.
Some of the 1,300-plus cards I own have special meaning, unrelated to their book values or general appeal. Together, they tell the story of Leetch's career—and the story of one of his most fervent admirers and collectors.
1990-91 Score
While I have Leetch's two Rookie Cards, 1989-90 O-Pee-Chee and Topps, in grading slabs, this inexpensive issue is encased in Lucite so thick it could stop a bullet. Why? It's the first Leetch card I ever acquired. For that sentimental reason, I've never removed the card from its transparent tomb; the card might get pulled apart at its seams if I tried.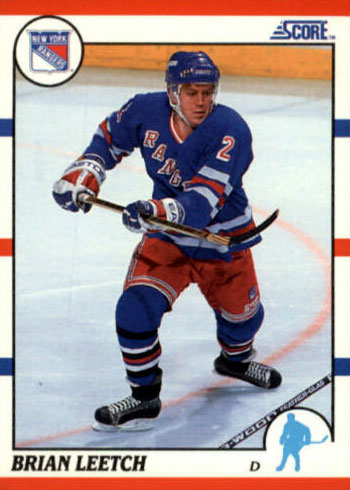 1994-95 Ultra Speed Merchants
The hockey card season following the Rangers' 1994 Stanley Cup win spurred a collecting splurge. Add in my fascination of Fleer Ultra's chase cards—shiny, embossed, die-cut—and Speed Merchants remains one of my favorite sets. But not so much that this is one of two Leetch cards I've ever traded—a friend made my 12-year-old self an offer I couldn't refuse in order to complete this insert set. This card wasn't difficult to reacquire, but I've been unable to track down the other Leetch card I regrettably dealt away. Like Voldemort, it's too painful to mention by name, but let's just say my desire to acquire a Petr Prucha RC from The Cup was insatiable.
1995-96 Playoff One on One Ultra Rare
Only available in booster packs of the collectible card game I once played, this tough find was a recent addition. It's technically not part of the 1,497, as it isn't listed in the Beckett Hockey Card Annual Price Guide; my collection includes all issues from NHL and NHLPA-supported manufacturers—Upper Deck, Topps, Fleer, et al. But for this card's scarcity and nostalgia, it makes the list.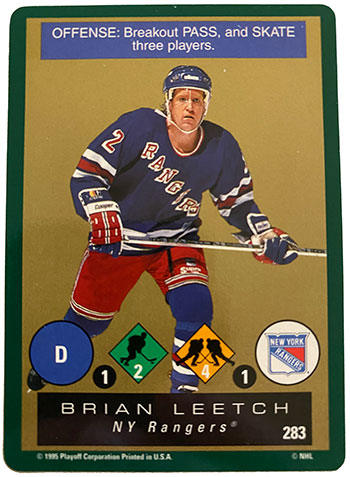 1997-98 Pacific Dynagon "Rainbow"
If 1990-91 was my start of this hobby, and 1994-95 was my awakening to the possibilities of cards beyond base sets, 1997-98 was my collecting explosion. It was also the first time I had disposable income. It took me years to put this "rainbow" together—base, Copper, Dark Gray, Emerald Green, the rare Ice Blue, Red and Silver—but I never gave up. I've always shared Pacific's soft spot for parallels and these nearly all-foil cards still shine more than 20 years after their debuts.
1997-98 Upper Deck Game Jerseys
Inserted at 1:2,500 packs, these were one of the first jersey cards produced in hockey, and are still sone of the nicest. From a healthy-sized swatch to a jersey-inspired border to dual player photos, this set has it all—and, thankfully, has Leetch on its checklist. I have white and blue versions, and have always wondered if a red swatch exists. Can anyone help?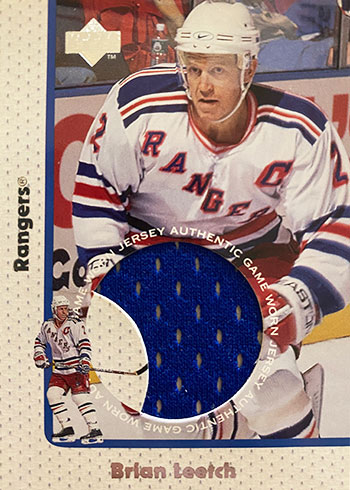 1998-99 Bowman's Best Atomic Refractors (20/25)
I worked in three sports card stores during my teens, with New Hartford, N.Y.'s The Zone taking gold. The main reason was its owner, Drew Taylor, who helped me out as I took my Leetch collection from casual interest to serious pursuit. So when a customer pulled this card from Drew's shop, he acquired it and saved it for me until we could swing a deal. With the Beckett value of this in the triple digits at the time, I eventually worked off the price and added it to my collection.
1999-00 SPx Spectrum (1/1)
My rarest Leetch card for obvious reasons, though I also own two other "true" one of-ones. (1997-98 Pinnacle Press Plates Front Black #195 and 1998-99 Topps Gold Label Class 2 One of One #85) But this one is my favorite because of how I obtained it. At a Toronto Sport Card & Memorabilia Expo in the early 2000s, I saw this unique ruby treasure at a table and was stopped cold—both by the amazement of even finding it, and by the presumption that I could never afford it. I asked the dealer if I could take a photo as a memento; it would be my connection to the card. A few hours later, I walked away from the show with the card in hand. How? Thanks to a 1999-2000 BAP Memorabilia All-Star Jerseys Peter Forsberg—single color, all black—that I pulled from a pack. Such was the value of jersey cards in those days; combined with some other cards and two types of currency, we swung a deal.
2000-01 BAP Memorabilia "Rainbow"
These are beauties in person, and would be ideal for a carefully constructed Instagram Story. They also speak to my love of parallels, even as the trading card world was moving away from them as top-of-the-line chase cards. Both the Emblem and the Numbers variations were acquired from other (former?) Leetch player collectors.
2002-03 BAP Signatures Jersey Autographs #SGJ28 (5/10)
My favorite Leetch card…period? As I write this, yes. It captures Brian stick handling the puck as the Rangers captain. The team logo and set logo are subtle but noticeable, and perfectly aligned in the corners. The jersey swatch, while small and white, is framed with a distinctly cut pat-tern. The autograph, sitting right next to the printed name, is pristine. If only the card itself was. But at 8.5, it's still a gem to me.
2003-04 ITG Used Signature Series Retrospectives Gold "Rainbow"
Each of these jersey cards was limited to 10, and I began my quest for the half-dozen at a Toronto Expo, picking up two in one show. Many dollars later, I acquired "Toronto Time"—a two-colored swatch card from Leetch's Maple Leafs jersey—to complete the sextet.
2003-04 Parkhurst Rookie Emblems Autographs #GUEBL (1/10)
"O" baby! This full-letter emblem is stunning, and would foreshadow card design for the next 15 years. If this card was hard-signed, it might be my favorite of them all, even with Leetch wearing a Leafs jersey.
2004-05 SP Authentic Sign of the Times #SSUSA Jeremy Roenick/Brian Leetch/Robert Esche/Chris Drury/Doug Weight/David Legwand (10/10)
My favorite Leetch card featuring another favorite player …take a guess who. Nope, you're wrong: it's Robert Esche. The former Phoenix Coyotes and Philadelphia Flyers goalie went to the same upstate New York high school as I did, and another player collection was born. Esche and I were pictured together in an issue of Beckett Hockey, after he unexpectedly stopped by my parents' house to personally reply to a letter I had sent. I have practically every Esche card produced, but this the crown jewel. As an added bonus, Leetch and Esche appear on the same side.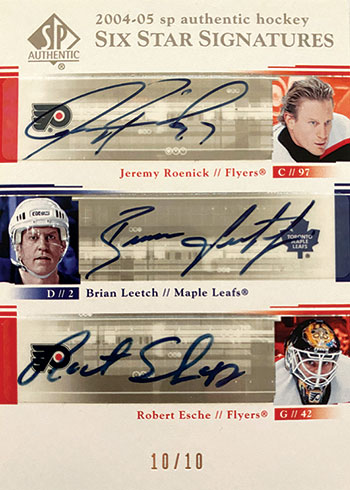 2013-14 Panini Prime Colors Logo #PCBLE (5/11)
My favorite Leetch card after my collection "ends." Upper Deck has produced more interesting Leetch issues over the last decade, and the patch on this memorabilia-dominant design could be better. But the section of this logo is unmistakable—a point in Lady Liberty's crown—and the headshot of Leetch recalls the gorgeous 1997-98 Upper Deck Game Jerseys design. Plus, the curious serial-numbering to 11 adds to its limited mystique.
By the Numbers
Cards serial-numbered to 10 or less: 14
Autographed cards: 28
Memorabilia cards: 214
Total cards: 1,328
Brian Leetch Want List
1998-99 SPx Top Prospects Spectrum #39
2001-02 Atomic Blue #641
1998-99 UD Choice StarQuest Gold #SQ7
If it exists, part 1: 1994-95 Upper Deck Predictor Canadian Silver Prizes #C28
If it exists, part 2: 2002-03 Upper Deck Playbooks Series II #LL Brian Leetch/Eric Lindros
Contact Ed via Twitter @EdMcGrogan