Hobby Stars of the Week: Marchand, Allen, Hall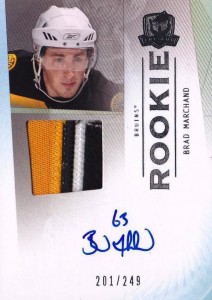 By Eric Norton | Beckett Analyst
It's Tuesday and that means we run down the players that collectors should be making note of.
Brad Marchand, LW, Boston Bruins:
Marchand shared first billing in the NHL last week with four goals to go along with his two assists as he and the Bruins tallied three wins. Their week opened when the Coyotes came calling to Boston, but the boys from Beantown made quick work of the Desert Dogs ousting them in a 6-0 win that saw Marchand netting a goal and adding an assist (1-1-2) for good measure. Flordia played host in Boston's next outing and Marchand continue to roll netting two more goals (2-0-2) in a 3-1 win. He closed the week with another goal and assist (1-1-2) in Tampa as the Bruins won 3-1 for the second time in as many games. Marchand is a fan favorite in Boston and that has carried over to cardboard well. In the Beckett Database he is listed on 647 cards and just 16 of them are rookies making the autographed versions of those highly sought after.
Cards to Grab:
2009-10 The Cup #115 JSY AU RC/249 -$150
2009-10 Ultimate Collection Rookie Patch Autographs #117 /25 – $80
2011-12 SP Game Used Championship Marks #CMBM AU/50 – $80

Jake Allen, G, St. Louis Blues:
Allen posted a 0.98 goals-against average last week to go along with a .963 save percentage as he backed the Blues to a trio of wins. He opened the week with a shutout against Tampa, denying all 26 shots he faced, as the Blues rode his netminding to a 2-0 win. Allen had 22 saves in St Louis next outing versus the Ducks in a 2-1 win, and he closed the week out with another 29 saves in a 3-2 win over the Wild in overtime. The secondary market on Allen will go as he goes. Last season he got really hot for a couple of weeks and his cards peaked at their highest point. If he continues to play as well as he did last week collectors could expect to see the same type of spike in demand.
Cards to Grab:
2012-13 Crown Royale Rookie Silhouette Patch Autographs #49 /25 – $80
2012-13 The Cup Rookie Gear Autographs #ARGJA /25 – $100
2012-13 Ultimate Collection Rookie Patch Autographs #42 /25 – $40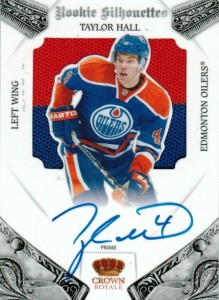 Taylor Hall, LW, Edmonton Oilers:
Hall was proficent on the ice last week as he racked up three mulit-point outings and was the standard for scoring in the NHL (2-5-7). Hall opened the week with a goal and assist (1-1-2) in a closs 4-3 loss in the Wild. In Edmonton's lone win of the week he tallied two more assist (0-2-2) in a 4-3 comeback win against Montreal. Hall closed the week netting a goal and adding two helpers (1-2-3) but that wasn't enough for the win as the Oilers fell to the Flames 5-4. Collectors are well aware of Hall's high demand on the secondary market, especially his  rookie cards,  and the price tag that comes along with it. There are low to mid range options available that won't break the bank, but there others that will set you back a house payment or two as well.
Cards to Grab:
2010-11 Crown Royale #116 JSY AU RC/99 -$400
2010-11 SPx #197 JSY AU RC/499 – $80
2010-11 The Cup #180 JSY AU RC/99 – $1500