Hobby Shop of the Week: The SportsRoom (Beaverton, OR)
Chris Tinder has been collecting sports cards since the mid 1980s. His love for the hobby was sparked as a kid when he would frequent card shops in his home town. Some 35 years later, Chris still has that love for the hobby and is now running his own shop, alongside his wife, in Beaverton, Oregon. I recently caught up with Chris to discuss his shop and get his thoughts on the state of the hobby in 2020.
Hobby Shop of the Week is brought to you by Go GTS Live – The Hobby's Web Show and GTS Distribution, the hobby's leading supplier for sports and entertainment collectibles.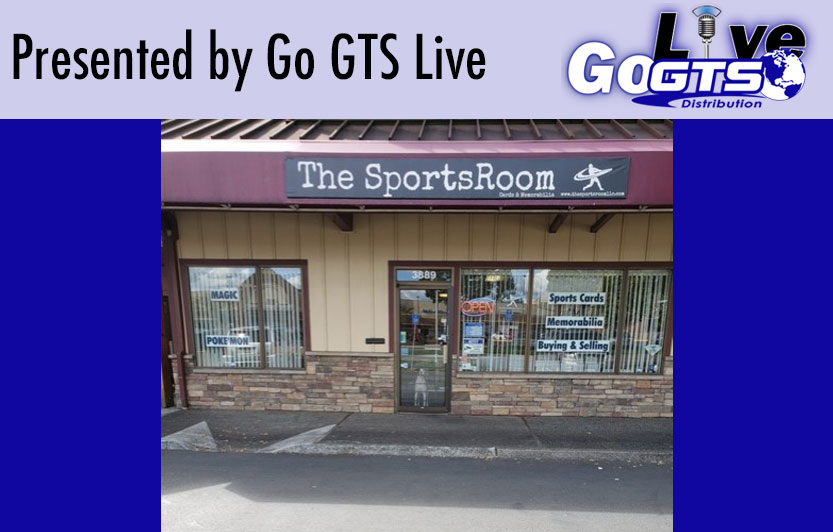 JOEY SHIVER – Thanks for taking the time to talk with us, Chris. Can you tell us a little about your collecting background and what led to your decision to open your shop?
CHRIS TINDER – I have been a card collector for 35-plus years now. I started out like most young collectors. Mom would throw me a couple bucks and drop me off at my LCS in my home town of Albany. I would spend hours in that shop opening packs and asking questions. I always knew that it would be a dream come true to own my very own card shop one day. I took a break from the hobby for a few years only to come back to a little shop called "The Sportsroom at Mitchells" in Beaverton. The owner at the time, Rick Webb, was very kind and he reminded me of a long lost hobby of mine that I was eager to catch up with.
Several years later, 2018, there was a new owner at The Sportsroom at Mitchells. His name was Brian. Brian and I got to know each other over a few months and I don't know if I was just lucky or in the right place at the right time, but by September of 2018, I had bought the shop which my wife, Shannon Tinder, and I both own and operate full time. The shop is now known as The SportsRoom.
JS –Can you tell us a little about your store, your setup and what type of inventory you carry? Also, what services do you provide?
CT – The SportsRoom has been in Beaverton, OR now since 1984. I am the fifth owner of the shop. Our set up consists of about 15 glass display cases. We carry all of the newest wax in all sports as well as MTG and Pokemon. We also stay stocked up on packaged memorabilia. We have a large selection of autographed memorabilia. Everything from high-end framed jerseys to loose 8x10s and just about everything in between.
Currently we are not a group submission location however we have recently had Beckett Authentication Services here at the shop twice over the last year for live events and they are getting more busy every time. We look forward to having these events about twice a year on average. We also have had one athlete, Nassir Little, do a live autograph/photo event and it was such a rewarding experience.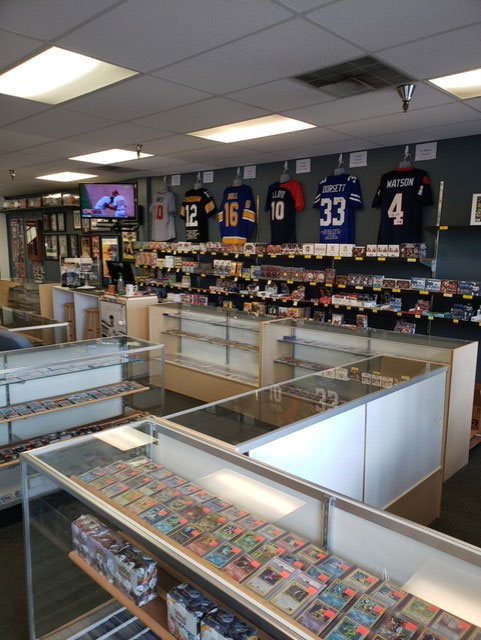 JS – You are located in Beaverton, OR, just west of Portland. I would imagine you have collectors of multiple sports teams but also a big group of Blazers fans. When it comes to the "Home Team," who would you say most of your collectors focus on?
CT – We have fans of all west coast sports teams frequent our little shop. For the most part when it comes to kids and serious collectors, The Portland Trail Blazers are the team that most locals focus on. Damian Lillard, CJ Mccollum, and Anfernee Simons have been three of our biggest sellers this year.
JS – I understand you were closed for a while during the pandemic. Can you talk about what your shop is doing during the re-open to welcome customers back to the shop?
CT – Our shop was closed from March 15 through May 15 due to the COVID-19 pandemic. We were not required to close, however with the amount of things that people touch on a daily basis and with our close proximity to city hall, we felt in our customers' best interests that it was necessary for us to do our part to slow the spread. During the shutdown, we did offer a limited amount of curbside pick up in the mornings and some local drop offs for customers during the afternoon.
Fortunately for us, the card hobby has been on fire as of late so when we re-opened in May it was a welcome sign for most collectors who came in to support the hobby and the shop as much as they could. We always try to keep things fresh and exciting in the shop for a good customer experience. Luckily for us we truly have the best customers in the world and it has been an absolute pleasure to serve them.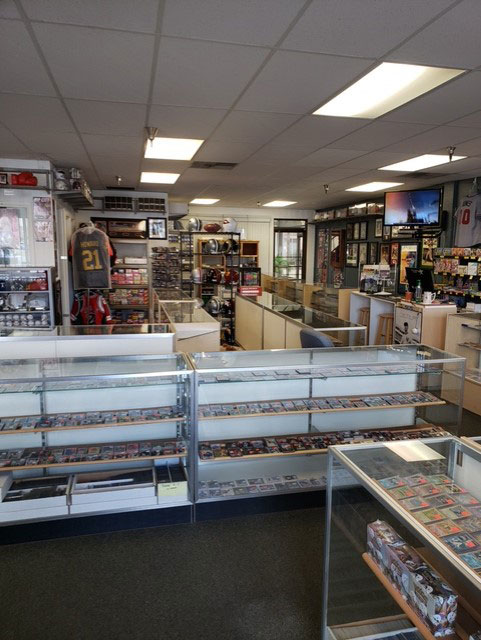 JS – Your shop carries a full complement of sports cards. What have been the most popular and in-demand in 2020?
CT – Basketball, basketball, and more basketball. This has been by far the biggest seller for us here at The SportsRoom in 2020. Also, the 2020 Bowman Baseball product has been a big seller. I think that the explosion of basketball singles prices and wax boxes have been fuelling the insanity of social media exposure and people becoming their own business online. We are always thrilled to encourage people to do their own grading, list their own cards online, and watch as many breaks as they can to familiarize themselves with products they are targeting.
JS – Your Facebook page shows a lot of new releases and events. How important is social media when it comes to running a small business?
CT – We understand that social media is a huge revenue producer. Unfortunately, my wife and I are fairly new to social media in business regards; so it has become more and more obvious to us that unless we step our online game up, we may just get left behind. We are excited to learn more about it and with the help of some of our younger, more tech savvy friends, we are confident that our next move into the social media realm will be a productive one.
JS – You also have a breaking feature with your shop. How popular has breaking become for the brick and mortar shop?
CT – We did online breaks on our Facebook page for about six months. While it was fun and gave us a lot of exposure to people in different states, we noticed that our brick and mortar was far and away priority number one. After analyzing cost, time, product scarcity and pricing we switched back to just eBay and in-store sales and so far it has been a great move for us. This store has been around for so long that our clients sort of expect a certain experience from us and the shop — the same kind of experience that I used to have at my LCS when I was a kid. Going forward, we will offer a break style set-up in some form but our hope is that it will not be just breaks but also and informative open platform for people to learn about products and services as well as hope for the big pull.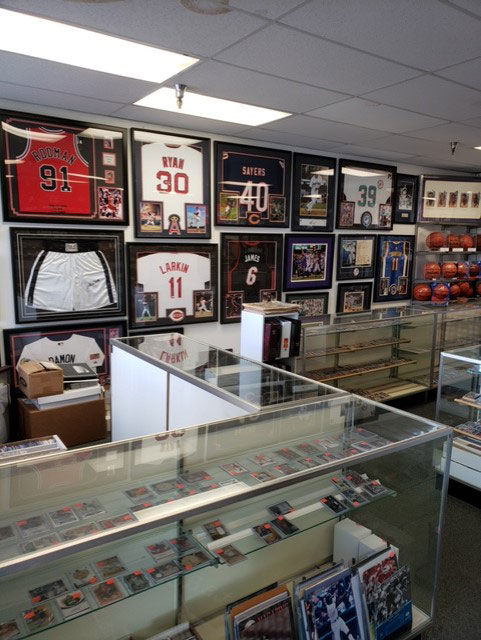 JS – In closing, can you tell us about any sales or upcoming in-store events you have scheduled for the next couple of months?
CT – We just had BAS in the shop about a week ago. They will probably be scheduled again in about six months. Currently we have had The SportsRoom t-shirts made up. We offer these shirts at $15 dollars each and from now until the end of 2020 if you wear your new shirt into the shop you will receive two percent off your entire purchase. Often times, we give the t-shirts away as a thank you to our customers. Plus, it makes for great free publicity.
The SportsRoom
Chris and Shannon Tinder
(503) 533-5412
3889 SW Hall Blvd
Beaverton, OR 97005
Facebook –
The SportsRoom