Hobby Shop of the Week: A&S Sports LLC (Westbury, NY)
After spending many years in the hobby as a collector and seller, Seymour Benzweig opened his very own card shop. He runs the shop with his wife Ann, in Westbury, NY, and is just as enthused now as he was when it opened. I recently caught up with Seymour to discuss the hobby and his shop in NY.
Hobby Shop of the Week is brought to you by Go GTS Live – The Hobby's Web Show and GTS Distribution, the hobby's leading supplier for sports and entertainment collectibles.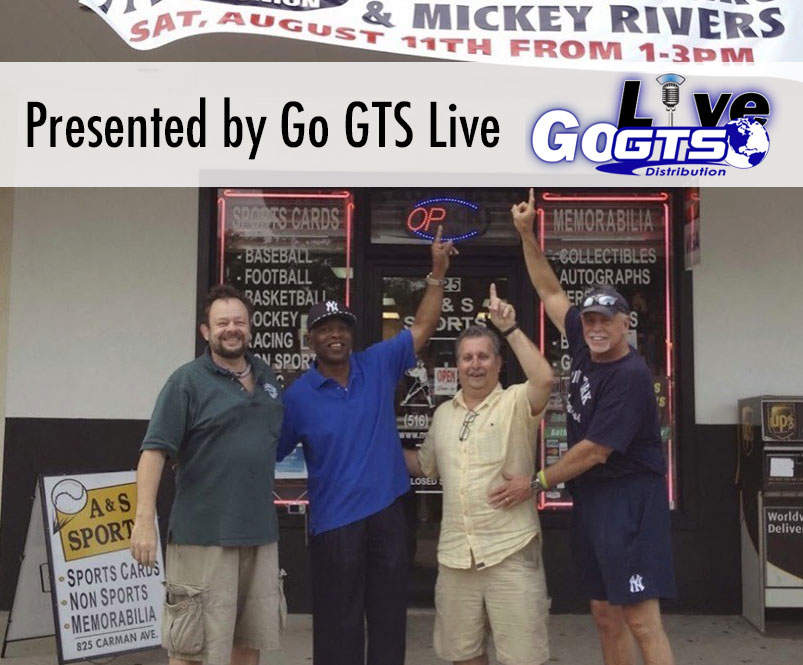 JOEY SHIVER – Thanks for taking the time to talk with us, Seymour. Can you tell us a little about your collecting background and what led to your decision to open your shop?
SEYMOUR BENZWEIG – I started selling cards at flea markets in California over 40 years ago. When I moved back to New York, I stayed in the industry. I frequently set up at card shows and I started to venture into the online sales market. But nine years ago I decided it was time to open my own brick and mortar. So with my family's support I saved up, found a great spot in my neighborhood, and opened up shop! We are really a family business, so it's been all hands on deck since we opened the store. Fun fact — the A&S stands for Ann and Seymour, which is for me and my wife, Ann.
JS –Can you tell us a little about your store, your setup and what type of inventory you carry? Also, what services do you provide?
SB – The shop is really something special. We love to see the reaction from first-timers! We are proud of our huge inventory. There is really so much to see. You could spend hours in the shop looking at everything. We truly have a little something for everyone; from hobby boxes to memorabilia, and everything in between. When you first walk in, you'll see some memorabilia and supplies right away. As you keep walking, you'll see our packs section, our singles cases, and our huge wall of sealed boxes (starting at baseball and ending with non-sport, like wrestling and Magic: The Gathering).
A big focal point of the shop is our Wall of Fame. When a customer pulls something great from a product we sold them, we really share in that joy and want to showcase that. We find that customers really love to see their face on the wall.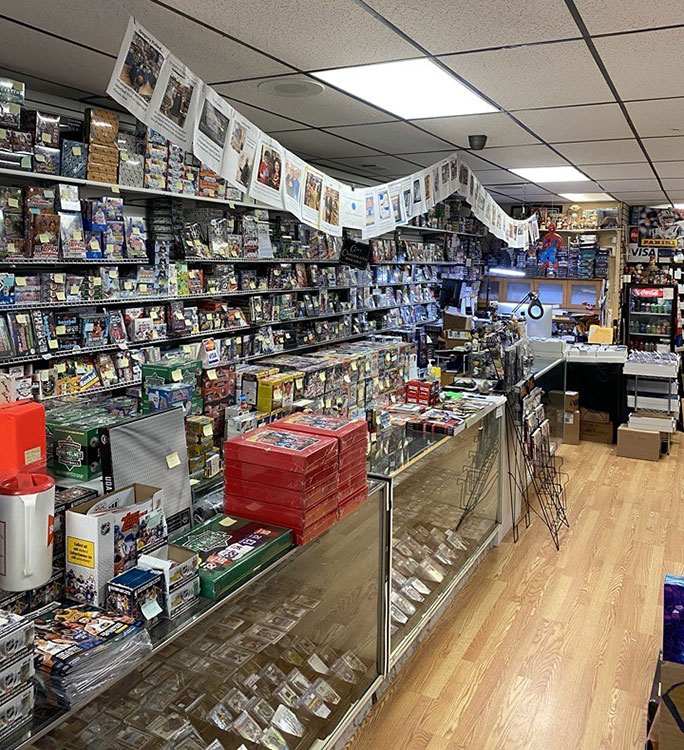 As far as services we offer, I think one of the best things is when I am able to arrange for autograph guests to come in. We have had signers like Mickey Rivers, Ron Blomberg, Keith Hernandez and the late Bob Wolff. We look forward to doing more events like this when they become possible. We also host on-site autograph authentication events a couple of times a year, which is really well-received and appreciated by our customers.
JS – You also have a breaking portion for the shop. How successful has that been for the brick and mortar store?
SB – We love doing breaks! We do them right in our shop and live stream them via Facebook and Instagram Live. In the past, we made our monthly breaks a little party with trays of food, homemade desserts, and goodie bags for kids. It has been a great way to get everyone together. Now, we are trying to keep the fun going by continuing to do breaks remotely and we are currently filling spots for those.
JS – You are located in Westbury, NY, which is just east of New York. I would imagine you have collectors of multiple sports teams. When it comes to the "Home Team," who would you say most of your collectors focus on?
SB – The biggest home teams would absolutely be the Yankees and the Mets. We see a ton of baseball fans. They really love their baseball cards. We also see Jets and Giants fans, Islanders and Rangers, and the Knicks. There are lots of true New York fans in general.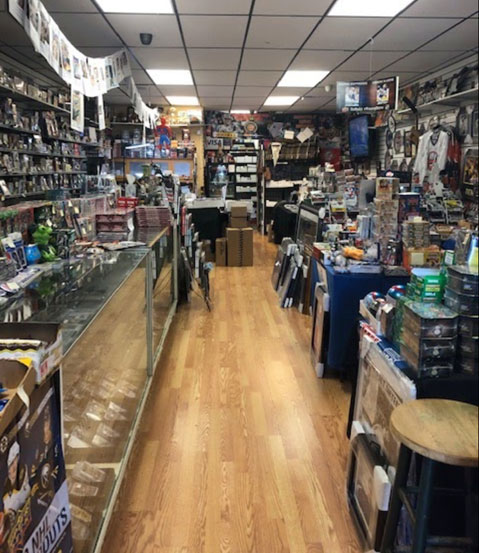 JS – Your shop carries a full complement of items that include McFarlanes, Pokemon, Magic, and sports cards. Do you find much crossover with your collectors that participate in multiple hobby areas? Or are most generally focused on one area?
SB – The game has certainly changed over the years. While many collectors are pretty loyal to their preferred sport, more and more collectors are branching out. We'll see folks consistently order both baseball and football cards instead of just the one sport. Or they order both baseball and wrestling cards, or both Pokemon and Marvel cards, which is great! Mix it up, enjoy all the options we have to offer.
JS – Your Facebook page shows a lot of new releases and hits. How important is social media when it comes to running a small business?
SB – Social media is huge for us. More and more people are looking to social media to get information, and having the social platforms makes us really accessible to more people. We use social media to stream our breaks, share new products, facilitate orders, etc. Especially now, having a solid no-contact way of business is crucial. You can find us on Facebook and Instagram.
JS – What sports card products performed well in 2019? What about those products made them desirable to your collectors? Are there any products in 2020 you are really looking forward to?
SB – Panini basketball was the hottest product by far. I don't think I've ever seen anything like it! And of course, baseball is huge every year. Topps and Bowman are always the most sought after products. Our customers are really looking forward to 2020 Bowman Baseball and 2019-20 Panini National Treasures Basketball.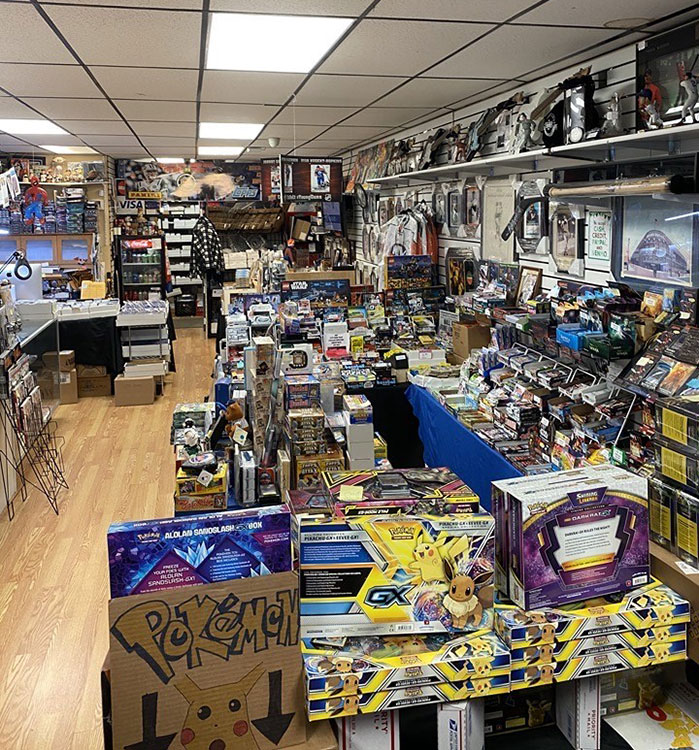 JS – In closing, can you tell us about any sales or upcoming in-store events you have scheduled for the next couple of months?
SB – Things are a bit uncertain right now, but we do plan to have an on-site autograph authentication event this summer and we want to keep doing breaks. We send out emails with updates, new products, and events. And we post on our Facebook and Instagram pages so that would be the best way to find out about future events.
A&S Sports LLC
Seymour Bernzweig
(516)-414-4323
825 Carman Ave.
Westbury, NY 11590
Facebook –
A&S Sports LLC