Hobby Shop of the Week: 2Bros Sports Collectibles (Blaine, MN)
Todd Hallada began collecting as a youngster and it began with one card. He spent some time in the corporate world but realized that his passion was still in sports cards. I recently caught up with Todd to discuss the hobby and his shop in Minnesota.
Hobby Shop of the Week is brought to you by Go GTS Live – The Hobby's Web Show and GTS Distribution, the hobby's leading supplier for sports and entertainment collectibles.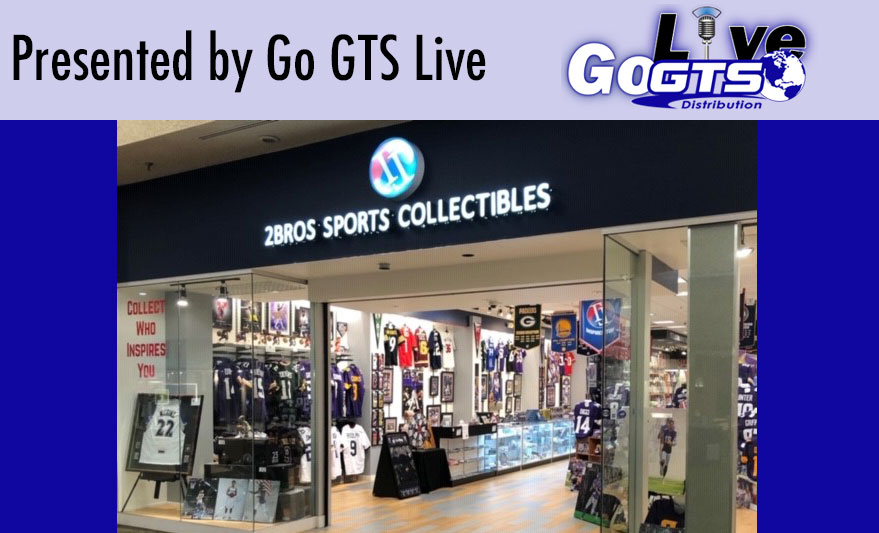 JOEY SHIVER – Thanks for taking the time to talk with us, Todd. Can you tell us a little about your collecting background and what led to your decision to open your shop?
TODD HALLADA – Collecting for me started when I was nine-years old. My dad purchased me a Kevin Garnett Rookie Card for my birthday and I was over the moon with excitement! From then on, I always had a passion for sports cards. When I was 16, I applied with some companies, but because I was in a wheelchair finding employment was especially difficult. I then decided if I wanted to make money, I would probably need to figure out how to do it myself. So 2Bros was officially started with three packs of 2004 Topps Heritage and $50 and I ran that business through college!
I, of course, attended college at the University of Minnesota's business school and after graduation proceeded to work five years in a corporate setting. There were many factors in my decision to reopen my business, but ultimately I believe I became very disillusioned with cubicle life and once again realized if I was going to make a real impact on something in this world I would need to take a risk and go out and do it for myself. I partnered with my brother and used my savings from corporate to once again launch the business from my bedroom in early 2015! Two years later, we were able to open our brick-and-mortar store and last year we were nominated for eBay "Small Business of the Year" and also started receiving some local press. As of now, the business continues to grow and we are excited for the future!
JS –Can you tell us a little about your store, your setup and what type of inventory you carry? Also, what services do you provide?
TH – Our retail store is currently the smallest piece of our business, but we try to carry a very diverse array of sealed boxes and packs for purchase. We also have significant amounts of autographed memorabilia, primarily of local sports stars. Just last year we started selling a significant amount of apparel including jerseys in the store as well. Going forward for this year, we plan to introduce public signings as an upcoming attraction. We will have our first one in just a couple of months.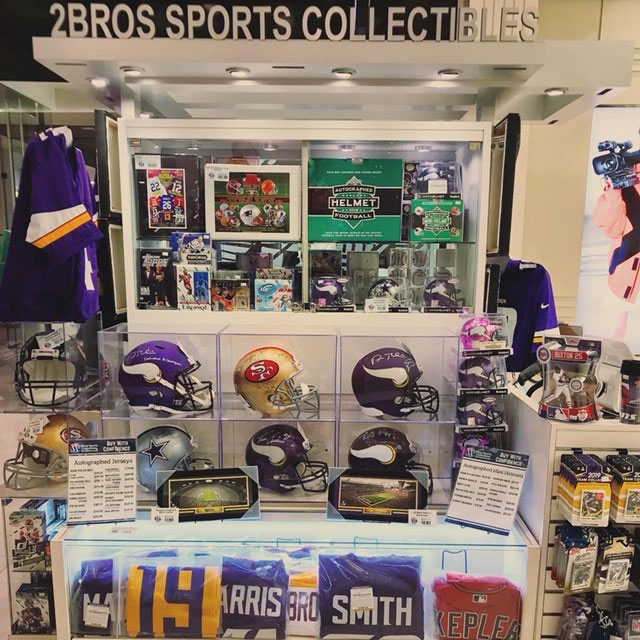 JS – Your shop carries a full complement of sports cards. How would you rank the sports in your area when it comes to popularity?
TH – In Minnesota for collecting, football is definitely the most popular. With that said, we will easily sell whatever is hot and has a strong rookie class. We are the hockey state, but I would say hockey sales have dropped significantly since the McDavid and Matthews rookie years.
JS – You are located in Blaine, MN, just north of Minneapolis. I would imagine you have collectors of multiple sports teams. When it comes to the "Home Team," who would you say most of your collectors focus on?
TH – Once again, this is very much a football town. The Minnesota Vikings rule the world in Minnesota and it is not even close! Little compares to the sales surge we see when the Vikings are on a winning streak.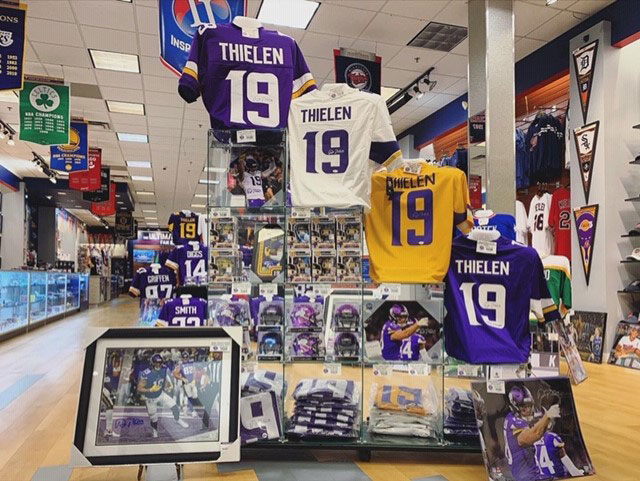 JS – Your Facebook page reveals a very nice assortment of hits. Can you tell us about some of your favorites at the shop?
TH – We have gotten a lot of nice hits! Last week, we pulled a Tom Brady 1/1 auto, which was awesome. We have gotten a nice assortment of Zion Williamson cards this year as well. With that said, our business is built on a high-turn model, so when people ask me what the biggest hits are, I often struggle as it gets very blurry. We typically open each set, enjoy it for a minute, and move on to the next!
JS – Speaking of Facebook, how important is social media when it comes to running a small business?
TH – Social media to this point has not been important to us, but we are really trying to ramp up our efforts this year. We realize the importance of what we can achieve locally and nationally with a strong social media platform and it is something we are focused on having significant growth with!
JS – What sports card products performed well in 2019? What about those products made them desirable to your collectors? Are there any products in 2020 you are really looking forward to?
TH – In my 16 years in the industry, I have never seen sports cards hotter than they are right now! Pretty much every set has high collectibility across the board for different reasons! It has honestly gotten to the point where most everything is valuable and we just take it as it comes each week.
JS – In closing, can you tell us about any sales or upcoming in-store events you have scheduled for the next couple of months?
TH – We are not able to announce who just yet, but we do have a public signing scheduled for the month of May. This will hopefully be the beginning of many more signings. As of right now, we do not need to do a lot of sales across the sports card category, however, we would like everyone to know that on release day we typically have a little bit of everything coming out in-store. If you are looking to purchase cards in bulk of 1,000 or more or pre-order cases, feel free to contact Charles@2brossports.com.
2Bros Sports Collectibles
Todd Hallada
(763)786-9133
398 Northtown Dr NE
Blaine, MN 55434
Hours
Sunday: 11AM-6PM
Monday-Friday: 10AM-9PM
Saturday: 10AM-6PM
Facebook – 2Bros Sports Collectibles