Hobby Q&A: Sketch Card Artist Jason Crosby
Not so long ago, in hay fields a few states away, 38-year-old artist Jason Crosby grew up just like any other Georgia kid, splashing in the mud and running through the woods. He also had an affinity for watching and playing sports, citing Dale Murphy and Mark McGwire as some of his heroes. As an aspiring artist, he grew up drawing those heroes. He majored in art with a focus on graphic design at the University of Georgia and worked in design for four years before beginning full-time free lance illustration in 2005. It was only a couple of years ago that he "fell into" the sketch-card world. The South Carolina-based artist's unique style and penchant for creating sports crossovers of non-sports cards has made him one of the hottest new sketch artists in the card business.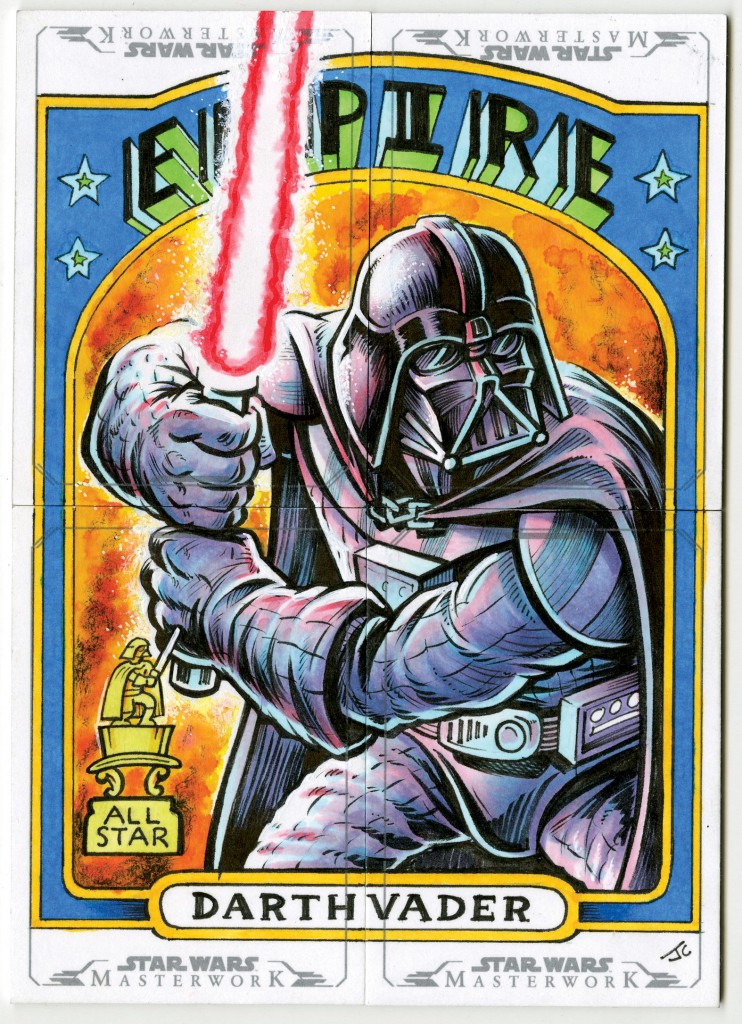 Did you collect cards or comics when you were younger?
Collecting cards is what I did as a kid and well into college! I can't tell you how many hours I spent memorizing every stat off  the back of cards, attending shows and visiting my local card shop. It is how my dad and I bonded. He couldn't tell you the best card from the set of who were the hot players, but looking back as an adult, he did it so we could have fun together. He passed away several years ago so he never got to see me work on sketch cards for companies he'd recognize such as Topps, Upper Deck, etc. I know he'd be proud. I used to design and illustrate my own sports cards using photographs I'd take of my friends playing backyard baseball. We'd keep up with stats for each game and for the season. I've always been a sports card nut!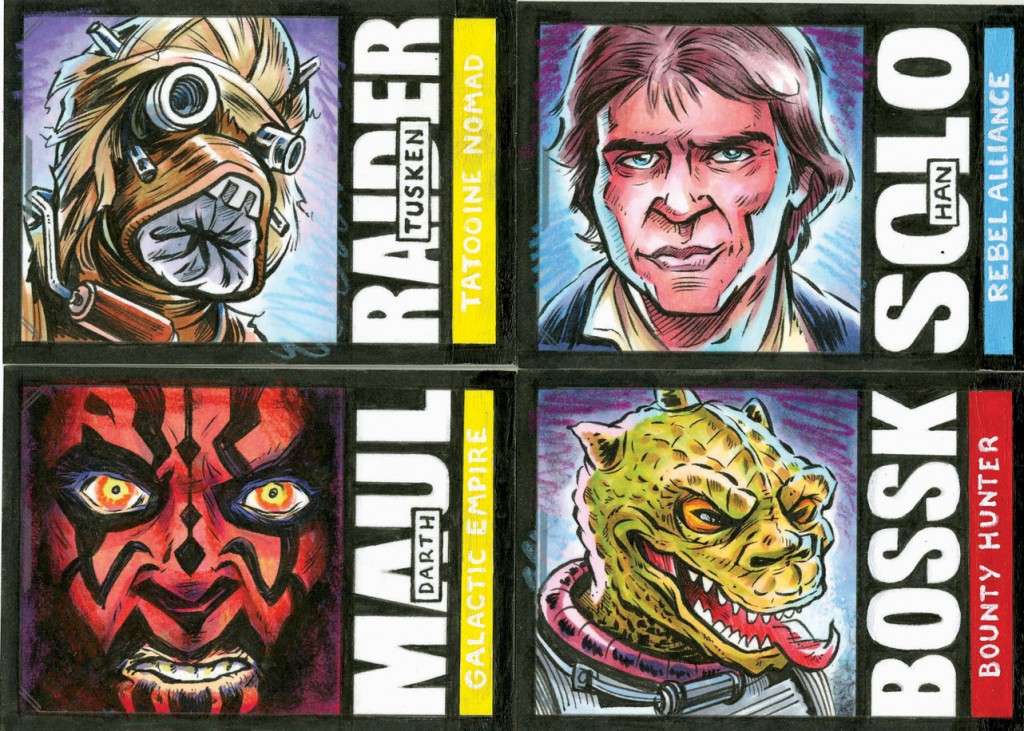 What and who were your favorites as a kid?
I collected all the major sports and still have most of the key Rookie Cards from the late-1970s to mid-90s. As an adult, I've been able to go back and fill in missing pieces from my collection. My favorite packs to bust as a kid were 1984 Topps football, 1985 Donruss and 1990 Leaf. My favorite players were Herschel Walker, Dale Murphy and Mark McGwire, but I've always been a Rookie Card collector.
—
Is there any particular item that has eluded you since your childhood?
I'm still looking for a mint set of the 1985 Topps Garbage Pail Kids First Series.
—
Having previous experience with cards, does that make your job more satisfying?
Definitely. Even though I don't buy as many cards as when I was younger, I'm still a collector at heart. It makes me proud knowing people are happy pulling my art from packs. As I've gotten more involved in the sketch-card world, I have started a small collection of artists I admire.
—
What makes your sketch cards unique? What memorable responses have you had to your work?
There are so many talented artists working in every medium and style imaginable. What I've tried to do to make my work unique is "concept." I've designed and illustrated my own subsets, such as Famous Fisticuffs in 2014 Marvel Premier, and more recently, combine classic sports card designs with the Star Wars universe for Topps' new Star Wars Masterwork product. I think the best responses are from collectors who go out of their way to message me saying they pulled one of my cards from a pack. They're happy with their card and wanted to say "thank you" to the artist.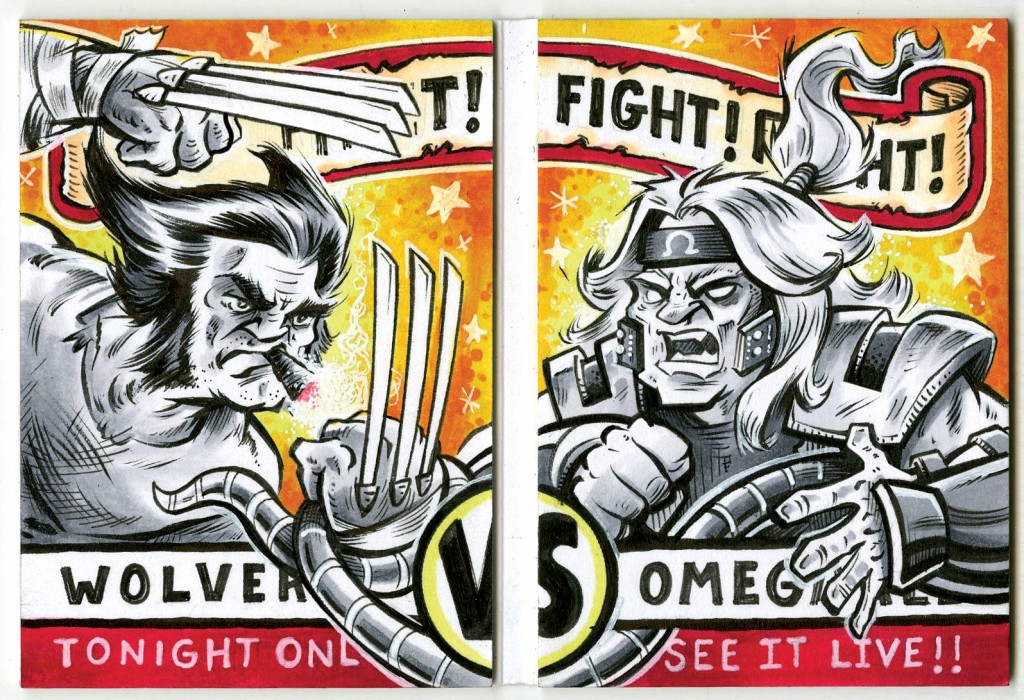 What do you like or dislike about doing sketch art? More specifically, sketch art as pertains to pop culture and the card industry?
I'm a pop culture fanatic, so sketch art has been a wonderful experience in the short time I've been a part of it. I get to draw characters and work on franchises that I love and get paid to do it. It helped me meet new friends and fans of my work. I think the hardest transition for me is the quantity of finished cards and rather quick deadlines. Being a full-time Mr. Mom and still working on editorial art does not leave me a lot of time. I can't tell you how many all-nighters I've done over the last year and a half to complete assignments in high quality.
—
Who are some of your influences and/or favorite sketch artists?
I grew up a huge Jack Davis fan. Being a fellow UGA alum, I've had the opportunity to meet him multiple times and even visit him for a weekend to help install and teach him about his first computer. I'll never forget him telling me to 'have fun' and to lock up once I finished drawing in his studio. He's as nice of a man as his art is iconic. There's so many talented sketch artists working in every style who've influenced me. Robert Jimenez, Ted Dastick, Russ Maheras, and Darrin Pepe just to name a few. I still can't believe the amount of detail NAR can put into a small canvas. I love the concept Jeff Chandler and Chris Henderson put into Star Wars Masterwork, as well.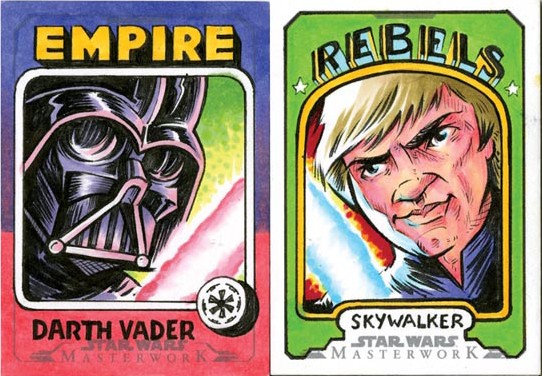 You created a unique template for your sketch work in Star Wars Masterwork. Tell us a little more about it.
It's really simple, but I combined all the years of iconic Topps sports designs with the Star Wars universe. I tried to match certain years with characters I thought would work best. All these designs were part of my youth collecting cards so it felt like I was finally able to design my own set. If collectors are like me, seeing these designs is nostalgic and brings back memories of collecting in a simpler time.
—
Are you excited for the new Star Wars film?
I'm excited to see the original actors back in the roles that brought them fame. It's going to be great seeing Mark Hamill, Harrison Ford and Carrie Fisher together on screen again.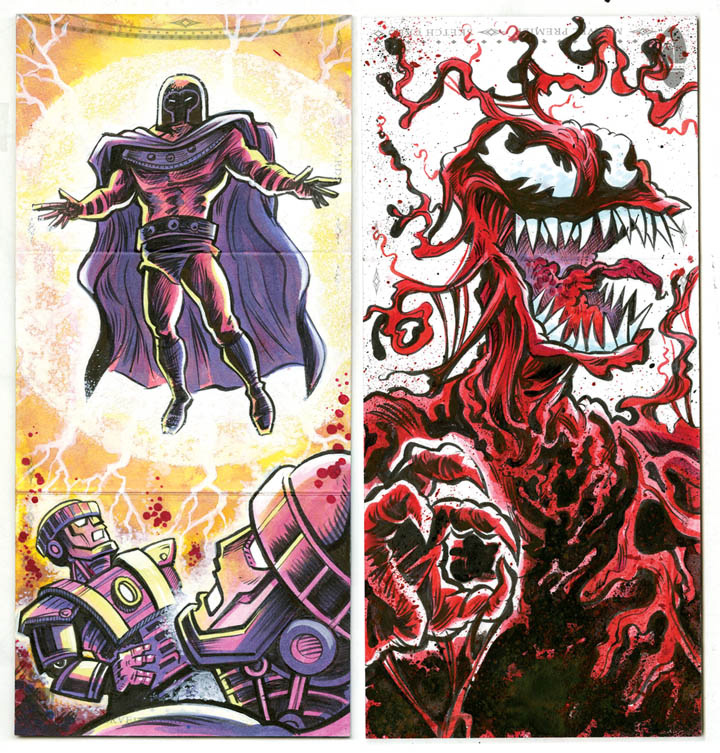 Many of your sketches are devoted to superheroes. Who is your favorite superhero and what superpower would you like to have?
My favorite superhero has always been Batman. I like that he's a human with emotions and doesn't have superpowers. He's developed his skills through handwork and lots of money. As for superpowers, it would be great to have one hand with permanently sharp quill pens and the other with forever-full markers as fingers.
—
It was recently announced that Marvel and Sony will join forces to bring Spider-Man to the Marvel cinematic universe. What dream match-up would you love to see for Spidey?
I'm a fan of crossovers. I would love to see Spidey vs. Superman like the famous comic.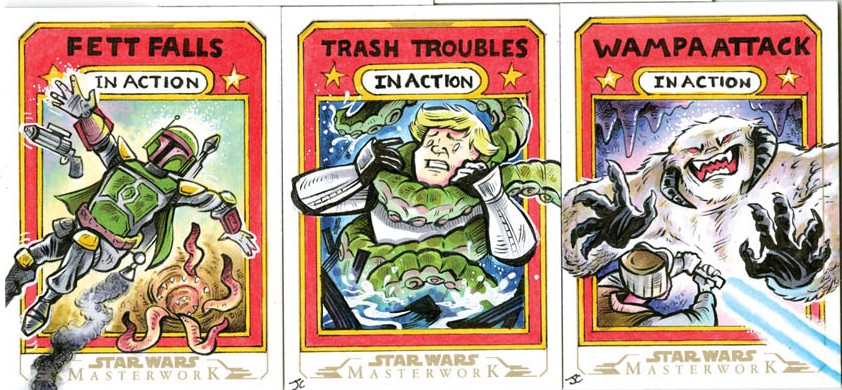 When you're not working, what are some of your interests and hobbies?
I enjoy trail running. Maybe it's me reliving my youth, but running through trails and splashing in mud is stress relieving and gets me away from computers, ink bottles, superheroes and Jedis. I also enjoy working on custom sketch cards for franchises that don't always have cards. A friend of mine, Steve Borkofsky, makes perfect, high-quality booklets, so we have fun collaborating. My Jason vs. Freddy featuring cut signatures of Kane Hodder and Robert Englund is one of the highlights of my collection.

Overall, professionally, what are some of your long term goals?
I really don't plan ahead. I fell into sketch cards in 2013 with Topps' Mars Attacks Invasion set which has turned out great for me. If I keep burning the midnight oil and trying to get better, something positive will happen. I would love to be able to design and draw my own printed subset in an upcoming card release. I've been blessed to meet so many wonderful people from this profession. I consider some to be close friends. I'm looking forward to what the future brings in the sketch card field.
—
To see more of his work, click here.