Hobby Q&A: David Cone revisits his perfect game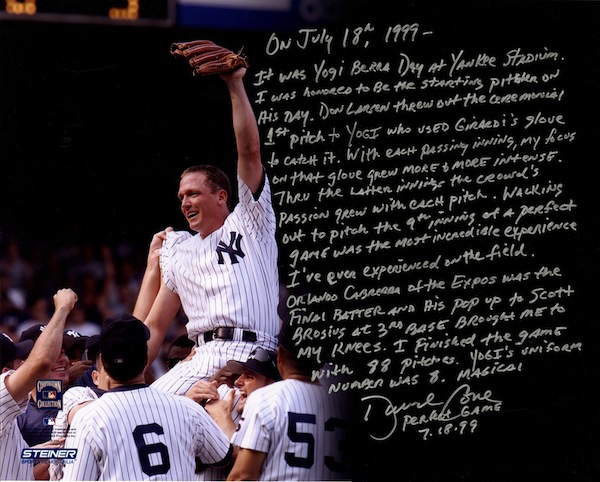 By Will Levith
NEW YORK | For years, Steiner Sports has been thinking outside of the box when it comes to memorabilia (Yankees Stadium dirt, anyone?), so when the company unveiled its latest product, the "In Their Own Words" autograph line, on Tuesday morning at Michael Jordan's The Steakhouse N.Y.C. in Grand Central Terminal, it pulled out all the stops.
As previously reported, the line features photographs of famous moments in sports history inscribed (and then signed, of course) by the athletes who experienced them.
Founder and chief executive officer Brandon Steiner brought together a star-studded cast from all of the major sports to talk about their moments. Attendees included baseball legends Frank Robinson, Mookie Wilson, Bill Buckner, David Cone and Keith Hernandez; basketball greats Magic Johnson, Dennis Rodman and Larry Johnson; hockey stars Brian Leetch and Mike Eruzione (of "Miracle on Ice" fame); David Tyree, the recipient of "The Catch" in Super Bowl XLII, and several others.
Steiner played the part of MC, roasting many of the athletes himself. One of which was Cone, who played first for the New York Mets before donning pinstripes and pitching the "moment" he ended up inscribing — a perfect game on July 18, 1999, at a packed Yankee Stadium.
"[It was] Yogi Berra Day," remembered Cone. "Yogi and George Steinbrenner had a feud that had gone on for 15 years or so, they finally made peace, there was a big No. 8 painted behind home plate, and the next thing you know it, at the end of the day, I finished with 88 pitches. If you believe in baseball gods and the mystique of Yankee Stadium … I mean, this is all in the [inscribed] photo. It was an incredible day."
Beckett had a chance to talk to a number of the players on hand at the press conference (look for a feature in an upcoming magazine), but we wanted to give you a little taste beforehand. Here's our Hobby Q&A with Cone …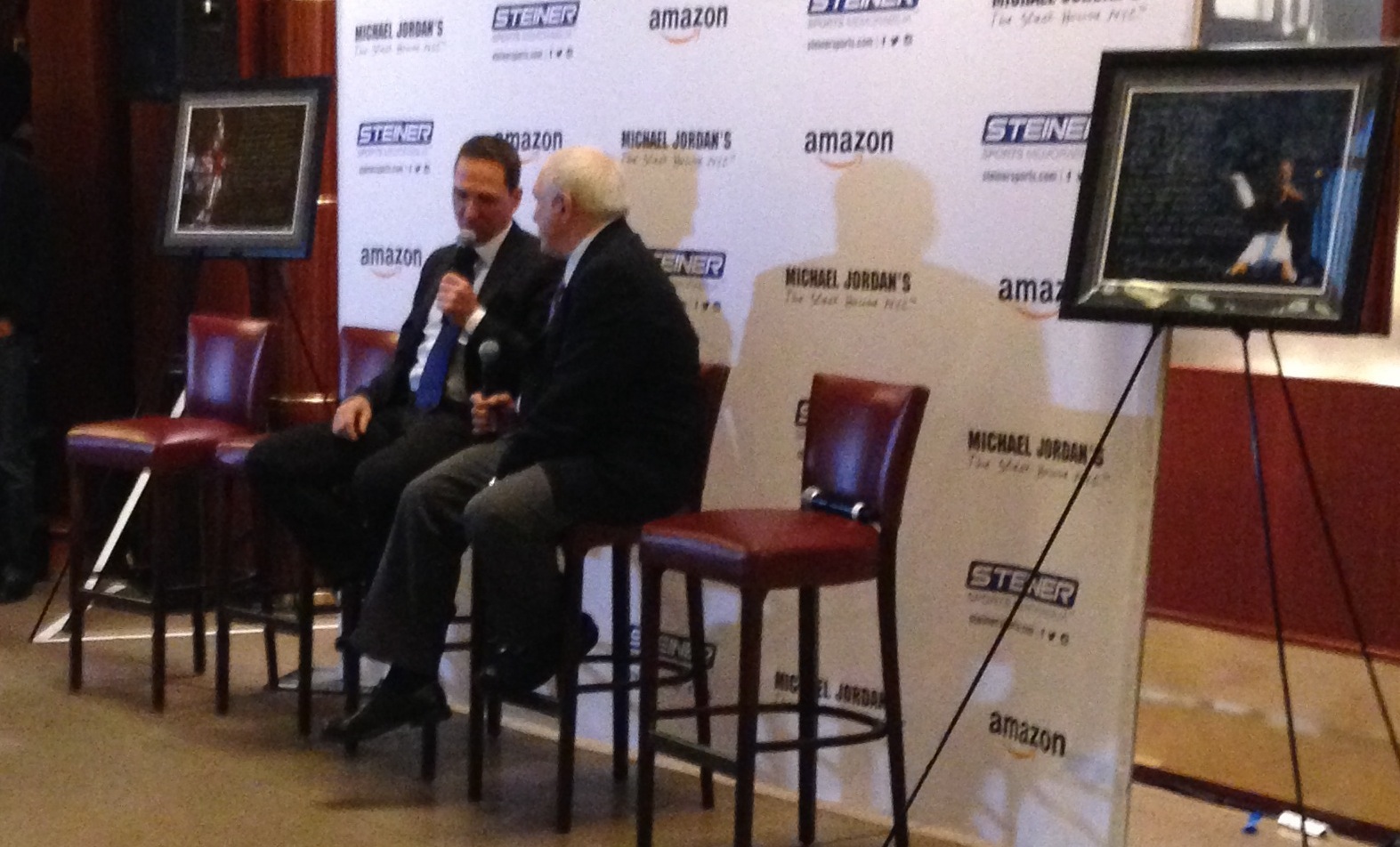 Beckett: We've seen one of your inscribed 1999 perfect game photographs already. There are quite few words written there. How many of these inscribed pieces are you planning on doing, and has it taken a toll on you?
Cone: It really has. I think we'll probably end up doing between 100 to 150 of them. Each one is different, and I've edited them every time. I'm a frustrated writer myself, so every time I'm thinking, "This is not right; I have to do this sentence or phrase differently." So it makes it unique, because there are actually several of them that are a little different.
Beckett: How did you get involved with Steiner Sports? How long have you been signing for them?
Cone: I've known Brandon since he was first in the business back in the late-'80s when I first came to the Mets, and he had just started his business as well, so we've had a long relationship.
Beckett: Tell us something about your perfect game that you didn't tell Brandon during the press conference today.
Cone: Whenever I think about that moment, there's something that comes to me that's new or something that I'm reminded of. Right after the game, Don Larsen came down to the tunnel area in the bowels of Yankee Stadium, and I remember just running up to him and grabbing him like he was my father. And there's a picture of that, too, as well. [It was] just a natural reaction, the emotion of that moment. He reacted the same way, because he had thrown a perfect game in the World Series.
Beckett: … and he had done the exact same thing to Yogi Berra: jumped into his arms!
Cone: [Larsen] was a little older, so I didn't jump into his arms, but I remember seeing Don and naturally reacting — making a beeline right toward him and grabbing him with a big bear-hug.
Beckett: Now emotions-wise, at some point, did you get a chance to sit by yourself and have a good cry?
Cone: It took a long time. I remember wanting to have that moment right after the game, but there was no way to steal a moment. I walked in and my locker was surrounded by [the] media, and I just said, "Give me a minute." I was going to go into the bathroom, and I had, like, two minutes to myself, but it wasn't enough time at all. You're in shock, you're stunned at the moment, and you're not really processing things very well at that point. You're just kind of in slow motion.
Beckett: You started out with the Royals organization. What did you think of their run this past year?
Cone: It was huge. It was so big for the city. Maybe one of the biggest sporting moments in the history of Kansas City, the Royals getting into the World Series. The reaction of the fans, the city — it had been so long.
Beckett: Were you rooting for them?
Cone: Absolutely. I mean, I'm an alumni [and] still a season ticket-holder there. My family went to all the games. The city went nuts, and they needed that. Almost 30 years. Just the reaction of the crowd was like a football game; it was like Arrowhead Stadium for the World Series. Fans standing on their feet for the entire game almost. It was just incredible to watch.