Hobby Q&A: California collector builds BGS 9.5 1986-87 Fleer set, opts to auction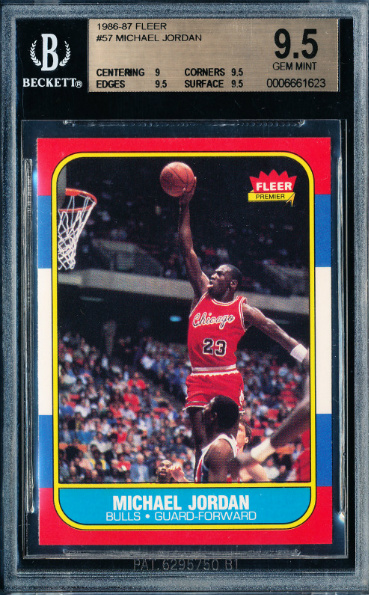 By Chris Olds | Basketball Editor
One of the impressive basketball card collections ever amassed — a 1986-87 Fleer Basketball set all in 9.5 Gem Mint grade by Beckett Grading Services — has hit the auction block.
The set of all 132 cards was built by a 31-year-old private collector (who did not wish to be identified) based in Orange County, Calif., over a span of several years. He has opted to sell the set through Beckett Select Auctions, the sales division of Beckett Media. The bidding opens at $29,999.99 and the auction closes on Sunday.
How tough is this set to amass? There are 67 cards in the set that have population reports of 20 or fewer copies alone — and a BGS 9.5 Michael Jordan Rookie Card is a costly find, too.
What prompted the decision to sell such a lofty collecting goal? Unfortunate circumstances of real life.
Beckett Basketball caught up with the collector to talk about the set and the odyssey that was building it. Read a Q&A with him — and see many of the best cards in the set — after the jump.
—
How long did it take to amass this set?
Putting this base set together took me about four and a half years, and I just gave up on the sticker set. (His BGS 8.5 set also is being sold.)
How did it start — what was the reason you decided on this set?
Well I was hunting down Gem Mint graded examples of cards I had as a kid. Like many people, Mom threw out my cards. At the time I was buying both BGS and PSA Gem Mint cards. While I was bidding on a Joe Dumars rookie I noticed the same seller was selling a checklist from the set that was also graded Gem Mint. I kind of laughed and thought "Why in the world would anyone grade a checklist, and better yet who'd buy it?"  Well when the cards ended I got my Dumars for $150 and was floored after seeing the checklist sold for $850.  I later did my research and found out that this was considered the Holy Grail basketball set and decided I had to have a completely Gem Mint Graded set for myself. After buying a few PSA 10s and not being happy with how those looked, I decided to make my set completely BGS 9.5s. I like the cases better and the cards just looked much nicer in my opinion.
When did you finally complete it… and what was your reaction to finally getting it done or hearing that the last few were 9.5s?
I actually had it completed for about a year and a half minus the Jordan rookie. I knew there were plenty of those, and it was just out of my price range at the time. As for finally completing the set, I just had an overwhelming sense of accomplishment. Given how low the population report was for some of the commons, I just couldn't believe that I tracked them down and actually owned a complete Gem Mint Set.
Was your plan to always turn around and sell the set once completed?
My plan was never to turn around and sell it. I knew I'd sell it one day but did not plan on selling it as soon as I did. I wanted to keep this set for at least another 10 years in my private collection. But because of certain circumstances I pretty much had no other choice but to sell my set.
Have you ever completed any semi-outrageous collecting goals before?
When I was a teenager in the Nineties my goal was to have the greatest Penny Hardaway collection in the world. I'm pretty sure I came up short on that goal but I did put together a very impressive collection at the time. I had a few hundred cards of his. I had every Rookie Card — even the 1993-94 Finest Rookie Refractor. All the Beckett, NBA Inside Stuff, Sports Illustrated and Slam magazines that I could find that he was either on the cover or that had an article covering him. Penny Hardaway posters and Orlando Magic banners covered every square inch of my bedroom at that time. You would also always see me wearing a Penny Hardaway Jersey. I had all five of them black, blue, white, dream team and authentic, his latest shoes and all other 1-cent-branded gear he had out by Nike at the time. I even had the Lil Penny Doll. I guess you can say I've always been an extreme type of collector.
How much would you estimate you put into the set money-wise? How much into the Jordan?
Money-wise I didn't do very well. I was buying tons of raw cards and submitting them for grading in hopes of getting them to grade out myself. I also overpaid for a few of the lower-population cards because when they were on eBay I wanted to make sure I'd win them in fear of not ever seeing that card again. Also I had to offer some pretty high prices to pry a few cards from some private collectors who had a card I needed but didn't really want to sell the cards they needed for their sets. All said and done I'm probably in it at least $30-35k. I never managed to get the Michael Jordan Rookie to grade a 9.5, so I finally gave up and believe I paid around $4,500 on eBay for it.
Which cards were the easiest/toughest to land?
The easiest card to land for me was the Charles Barkley. I was lucky enough to find several clean examples of this card over the years and had two grade out Gem Mint for me. The toughest card was probably card No. 76 Johnny Moore. Almost all of them have two really nasty print defects on them. For the longest time, this was the toughest card in the set and for a while I was seeing Gem Mint examples selling for more than the Michael Jordan Rookie.
Any particular favorite cards in the set?
The Hakeem Olajuwon is one of my favorites. It has three subgrades of 9.5 and a 10. An exquisite-looking card of one of my all time favorite centers. Another definitely has to be the Johnny Moore card. To me it has amazing eye appeal since it does not have either of the print defects I mentioned earlier. And, of course, the Michael Jordan. In my opinion that is just a must-have for any sport card collector.
What else do you collect/how long have you collected?
Now that I'm older, I collect things that remind me of my childhood. I still obviously collect sports cards but I also collect things like arcade machines. I'm just shocked that my wife was OK with me turning our living room into an arcade. I also collect rare restoration parts for my project car that I hope to finish one day. I officially started collecting at seven when a neighbor gave me some of his doubles including a Jose Canseco rookie. From that point on, I was hooked and would spend every cent I had on packs of cards. So that means I've been collecting about 24 years.
Any plans for buying anything big with the return on the auction?
Sadly the answer to that is no. Earlier I mentioned this was more of a forced sale. Reason for that is my mother lost her battle with leukemia, and I've just been overwhelmed since her passing with unexpected costs. I need to sell the set to take care of some of those costs as well as to honor her last wishes that she entrusted me with.
Any other thoughts or future projects in the works?
Right now, I have no card projects. I'm simply collecting my favorite cards from my childhood as well as autographs and jersey cards that catch my eye. I do plan on rebuiling the 1986-87 Fleer set for myself again in the future, and, this my sound dumb, but once that one is completed I will use BGS's personalized label service. That way I won't be tempted to sell it … and even if I do, who'd want to by a set that has my name and whatever I name the set on every BGS label?
Chris Olds is the editor of Beckett Basketball. Have a comment, question or idea? Send an e-mail to him at colds@beckett.com. Follow him on Twitter by clicking here.