Hobby pioneer Kit Young to co-host 2016 Industry Summit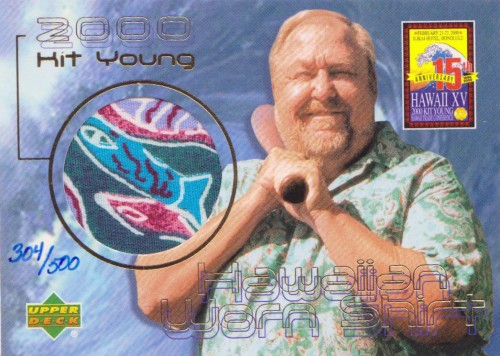 Kit Young is a familiar name to many within the trading card world and his influence on the hobby is felt every year with the industry trade show he founded nearly 30 years ago.
In preparation for the Industry Summit's return to Hawaii after a decade on the mainland, we spoke with Young about his thoughts on 30 years of industry trade shows and his role as honorary co-host of this year's event (www.theindustrysummit.com), hosted by Beckett Media.
Beckett Media: Congratulations on the 30th anniversary of your trade show. A remarkable feat. How did this all come about?
Kit Young: "We gave up the ghost and sold it 15 years ago, but it's been maintained. Back in that time, in '86, I was wintering in Hawaii and it was suggested that we throw an old-fashioned baseball card show in Honolulu. At that time, I thought, well, why don't we do something a little different to incorporate that? I suggested doing something like an ABA, which is the American Bar Association, convention or an AMA, which is the American Medical Association, where you try to bring the various elements of the industry together for an annual conference. You have social events, roundtable discussions, and speakers. Other industries do this, whether you're an optician or whatever it is, and I said, 'why don't we do it in sports collectibles?'
"That's where the idea germinated from. It just started with that in mind Year One and my vision at that time was to bring together the publishers, the distributors, wholesalers, and hobby dealers. Honestly, one thing I omitted from that was the licensors. At the time, bubble gum card dealers had virtually no contact with the companies, other than buying wholesale. There was very little interaction between the publications, they were all disparate parts of the industry. I had this idea that what was good for one was likely to be good for the others. That is, we all go forward together. We called it the Partners in Progress, which is something I think had been used before. I really believed and felt that if manufacturers and distributors did a better job and communicated with each other, we'd all prosper. The stronger the industry got, we'd all share in the goodies. I was out to make a living at this at the time and this is where it all came from.''
Beckett: How quickly did you find that it took off within other areas of the industry such as manufacturers and dealers from the east coast?
Young: "The second year is when we started getting Jim Beckett and Beckett Media, Krause Publications, Sports Collectors Digest, etc. Word of mouth after the first year was apparently good enough – the middle of winter, Honolulu! I knew that was part of the appeal, but they came the next year. I can't remember the exact number, but 75 to 100 people came. A lot of distributors came. The weather and location was a lot of it, but frankly, the next year had a lot of discussions. I ran almost all of them. We had meetings in hotels and restaurants that were planned. There were some innovations, but right away, I had hoped that people would want to sponsor things – and they did! Bill Goodwin, Bill Henderson, Barry Sanders from Atlanta Sportscards, Dick DeCoursey from Georgia Music and Bill Wesslund from Portland Sports, these guys hosted lunches. We'd go to Keo's, a restaurant that was quite famous in Honolulu and we'd have a meeting there. Of course, I'd try to give these guys as much credit for it while running the conference and that's where the partnering would come in.
"I tried to run the thing with a non-political method. Everybody treated the same. People wanted to host things and do giveaways on their own and everything was done through us with our blessing. Manufacturers saw the real benefit in this as so many people started coming. It was run that way from day one and people were very cooperative. It was really an egalitarian sort of thing and people really embraced it. Hosted events became a big thing.
"When I was trying to sell this to people, it was access. What I tried tell them is that they were going to have access to the best distributors, licensors, and different product people. That's what I was trying to do, was getting people together in an environment where it was relaxed and you could talk shop and make contacts while sitting around and drinking a mai tai around the pool. And that's exactly what happened, even competitors. Not collusion, but you'd see Topps' and Fleer's guys sit around and talk in such a pleasant environment. I was always told that quite a few contacts were made and people got jobs from it.''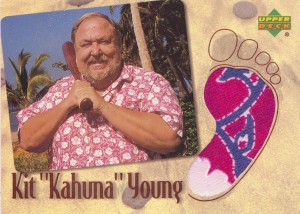 Beckett: Were there any memorable moments from the first 15 years of the event that truly stand out for you?
Young: "There were some spectacular events. One of them was a haunted house. Skybox rented a mansion up in the hills and you had those crazy costumes.
"Lots of companies did special giveaways for the conference and I was fortunate enough to be involved in some of them. One really cool one was Upper Deck was actually kind enough to call me and they said, 'Would you like to be a part of a special set we're producing for the conference?' It's going to be Gordie Howe, Tom Seaver, Joe Namath, Dr. J., and me in the set. It was like a childhood dream to get your own baseball card and I was one of the giveaways. Over the years, that was kind of a personal favorite. I was quite flattered to be in the right place at the right time to be included in that.
"The golf tournaments were always fun. There were so many things. It's a little hard to pin down, but it's the people that really stand out. The biggest thing that came out of this was the formation of the dealer's association, SCAI. It lasted only 10 years, probably, but that came out of the conference. A bunch of us there had an impromptu discussion and said we needed to get something going to monitor the industry, to set ethics and guidelines to deal with counterfeits, to encourage professionalism. It was just formed on the spot."
Beckett: Why is this conference so valuable for the industry?
Young: "I have not been involved recently. I live in Maui in the winters, so I have not been able to attend. It's a chance to get together and try to understand what is going on in the industry and get ideas. I used to learn a ton when I was there in the old days, but it's really like it was 30 years ago, the only chance in the year to get together with all these classes of business. The National, I love, and these people are there, but they are there to display goods. There is very little formal information sharing or meetings there. This is it, and I think Kevin (Isaacson) and Beckett, from what I have heard, have done a good job of perpetuating and improving on what we did. That's why we sold it years ago, frankly. I wanted to go to another level and we had it for 15 years. What used to be just a casual meeting and formal agenda in the early years and, at some point, attendees expected a lot more in terms of programs, speakers, et cetera."
Beckett: What are you looking forward to the most this year?
Young: "I'm an old guy now. I was in my 30s when I started this and I turned 70 this year. It will be fun to see how the conference has evolved. It's been 15 years and I have no clue that goes on. It's mainly seeing the people that I haven't seen, in most cases. I have a great sense of history and this is a throwback sort of a thing, or deja vu. I tell you who I'm really going to miss is Mike Berkus (the National Sports Collectors Convention co-founder who passed away last month). Mike and (Bob) Wilke were just part of the texture of the whole thing. They were quick on their feet, got people engaged, and when I learned of Berkus I was stunned. That's going to be a tough one for me.
Beckett: What do you feel that Hawaii offers as a conference destination and why do you think it works so well for the Industry Summit?
Young: "I think it is the effect it has on people. One, people stay much longer. We toyed with having a meeting in Los Angeles or San Diego where I lived. But the feeling is, particularly with the higher part of the food chain, licensors and manufacturers, that their people would come in for two or three days and head back to Brooklyn or Charlotte or wherever they were. Here, for common sense reasons, people in the old days would stay longer. The ability to sit around the pool drinking or going on a boat ride or driving up to the North Shore was the only chance in the year where they could do that. I think you'll find that the average person stays in Honolulu twice as long as as Vegas. That's what makes it so special and it's a relaxed environment. People in the old days were really open. I love the island environment and people are very relaxed. Maybe it was the mai tais! I hope people bring spouses like they did in the old days. Spouses put up with baseball card dealers, but they also added a lot to the conversation."