Hobby challenge: Build an autographed card set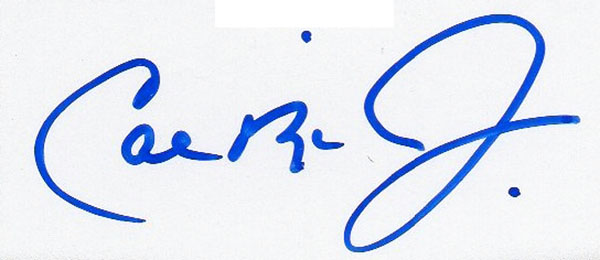 By Chris Olds | Beckett Baseball Editor
We all want the best player possible as the autograph every single time we open a box, but we should realize that's not possible.
Why? Simple economics.
Every time a card company puts a card of The Iconic Veteran Player into a pack of cards that sells for $5, it's actually losing money on that pack and the box that it's in. Why? Because the player dictates his cost of signing — you take it or leave it — and that's got nothing to do with how much the card will sell for on eBay or what your product might cost.
What do you do? Who makes it onto your checklist and who doesn't? That's up to you as the brand manager — but your goal is to hit your production numbers while also creating the best lineup you can that will appeal to the most people.
Do you load up on quality bargain players? Do you go for the big chase cards? Do you create a balanced product that would appeal to more people but not necessarily draw in the gambler types hoping for a crazy find?
Take our challenge … after the jump.
Your challenge … build a set with the needs below. 
Total cards: 12
Total volume of cards: 300
Your autograph cost budget: $10,000 (you can't go over; you can be under)
—-
You can use any of these players below. Their hypothetical cost is listed after their name. This is their cost per autograph. No added inscriptions on combo cards are allowed — that only raises costs and complicates the signing process when it comes to deadlines.
Player, hypothetical cost (per signature)
Derek Jeter, $300 (minimum 10)
Reggie Jackson, $17.50
Pete Rose, $15
Jose Canseco, $5
Bo Jackson, $75
Hank Aaron, $100
Sandy Koufax, $120
Ken Griffey Jr. $110
Frank Thomas, $65
Cal Ripken Jr., $50
Nolan Ryan, $55
Dave Parker, $12
Al Kaline, $50
Albert Belle, $18
Omar Vizquel, $9
Frank Robinson, $65
Carl Yastrzemski, $100
Johnny Bench, $42.50
Fergie Jenkins, $10
Jim Abbott, $7
Will Clark, $22
Will Ferrell, $250
Rob Manfred, free (limit 50 from the MLB commissioner)
Randy Johnson, $100
Greg Maddux, $110
Tom Glavine, $25
Wade Boggs, $30
Tommy Lasorda, $12
Tony LaRussa, $7
Juan Gonzalez, $5
Chris Sabo, $4
Herb Washington, $3
Dave Justice, $5
Ryne Sandberg, $50
Dennis Eckersley, $12
Mariano Rivera, $90
Willie Mays $200 (maximum 10)
—
Just to show that it's do-able to build a set — and come in under cost — using these hypothetical numbers, here is an example: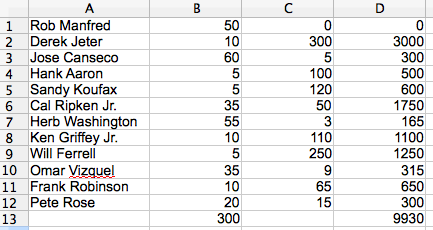 Presuming my math is correct (B = number of cards, C = cost per card, D = total cost … if it's wrong I blame some dude in accounting), here's my lineup. It came in under budget.
In the comments below, give us your checklist of 12 players and their quantity/cost.
And, remember, you can't go over budget — if you do, you'll be fired. The same could happen if you put out an awful set, too. (How do they package and sell these 300 cards? Well, that's another piece for another day.)
How will your checklist look if you opt to take the challenge? Show us below.
Chris Olds is the editor of Beckett Baseball and Beckett Sports Card Monthly magazines. Have a comment, question or idea? Send an email to him at colds@beckett.com. Follow him on Twitter @chrisolds2009.