Historic Willie O'Ree memorabilia up for bids via Goldin Auctions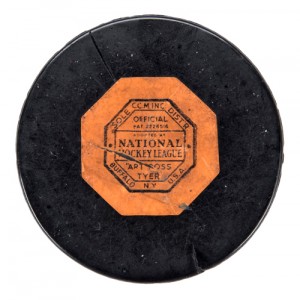 By Stephen Laroche | Beckett Hockey Editor
Nearly 60 years ago, Willie O'Ree broke the NHL's color barrier as a member of the Boston Bruins and two remarkable pieces of memorabilia related to his time with the team are now on the auction block.
In addition to the letter inviting O'Ree to attend training camp with the Boston Bruins, collectors also have a chance to bid on the first puck the hockey pioneer scored a goal with. Goldin Auctions is presently holding the Jackie Robinson 70th Anniversary Auction which benefits the Jackie Robinson Foundation and in addition to these items, there are also some historically significant items related to the worlds of sports, entertainment, politics, and civil rights.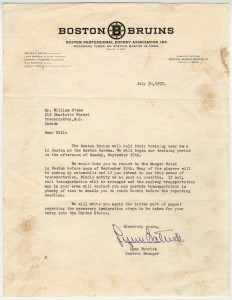 The auction is set to end on April 29 and includes some incredible pieces of history such as game-used Robinson bats and other treasures related to his career, Muhammad Ali's robe from his first bout with Sonny Liston, Martin Luther King Jr.'s "We Shall Overcome" speech that features handwritten notes, signed Malcolm X letters, plus memorabilia from such sporting icons as Arthur Ashe, Michael Jordan, and LeBron James. To view some of the featured lots, click here.
For those not familiar with the career of O'Ree, he made history by making his NHL debut on January 18, 1958 when the Boston Bruins came to Montreal to face the Canadiens, who were the reigning Stanley Cup champions at the time. The letter from Bruins General Manager Lynn Patrick was dated July 30, 1957 and invited him to training camp that September.
At the time of his promotion to the NHL, O'Ree was playing for the Quebec Aces of the American Hockey League. It was his first season as a pro – but he was keeping a secret as he was legally blind in one eye due to an injury sustained at the junior level. After playing a second game with Boston, he was back to the minors once again before getting called up again during the 1960-61 campaign.
Back with the Bruins for a longer look, he rang in 1961 by scoring his first career goal on New Year's Day against Charlie Hodge at the 10:07 mark of the third period. That tally proved to be the winner and he handed it to coach Milt Schmidt for safe keeping until the game came to an end. The winner of the auction will receive a letter of authenticity signed by O'Ree which attests to the puck's origin.
Each of these items is estimated to close in the neighborhood of $20,000.00 and the puck currently sits at $5,500.00 with just over 11 days left. Both of these letters have also been authenticated by Steve Grad of Beckett Auction Services.
Not long after playing his last NHL game that season, O'Ree was traded to the Canadiens, but never made the club. Instead, he became a minor league star and thrived in the old Western Hockey League with the Los Angeles Blades and San Diego Gulls. In 1972, he was drafted by the Los Angeles Sharks of the World Hockey Association, but did not end up playing for them. He played his last professional game in 1978-79.
O'Ree has been an ambassador for the NHL for nearly two decades and is their Director of Youth Development. He appears at several events throughout the year promoting diversity and inclusion in the game.
Card collectors have been able to get cards of O'Ree in several modern products, but he did not have a solo card during his playing days. In the 1961-62 Topps set, he can be seen on the Boston Bruins team card (the same photo was repeated the following year), but he did not appear on a solo card until Upper Deck produced a promotional item back in 1997-98. He has had several certified autograph cards and even had a memorabilia card in some products as well.
Stephen Laroche is the editor of Beckett Hockey, Beckett Basketball, and Beckett Sports Card Monthly magazines. Have a comment, question or idea? Send an e-mail to him at slaroche@beckett.com or follow him on Twitter @Stephen_Laroche.